Media
Keyframe-Entertainment is a media network that inspires, informs, and entertains through Transformational films, visionary projects, and Electronic Music. Keyframe produces, supports, and distributes cutting edge work in order to generate growth for its partners and strengthen community-building worldwide. Keyframe was launched in 2004 as an Electronic Dance Music label and artist management company and has since expanded its scope to include Executive Production, Marketing Services, Social Media Strategy and A&R.
Keyframe-Entertainment is the Executive Producer of "Electronic Awakening," "The Bloom Series #3," and "ReInhabiting the Village".
Keyframe also supported the production of Darren Minke's Visionary Art book "Alchemistas," and sponsored The Polish Ambassador's "Permaculture Action Tour."
Most recently, Keyframe Executive Produced Fifer Garbesi's "Con Te Damanhur", a Virtual 360° experience of Damanhur, the "laboratory of the future for humankind," and is currently working on electronic music and festival culture VR-related projects.
Keyframe-Entertainment Website: www.keyframe-entertainment.com
Keyframe-Entertainment Facebook: Keyframe-Entertainment: Transformational Media
Keyframe-Entertainment Twitter: Keyframe_Ent
---
Keyframe logo EPS – download (right-click)
Keyframe logo JPEG – download (right-click)

---
Keyframe-Entertainment logo EPS – download (right-click)
Keyframe-Entertainment logo PNG – download (right-click)

---
Download Keyframe EPK – download (right-click)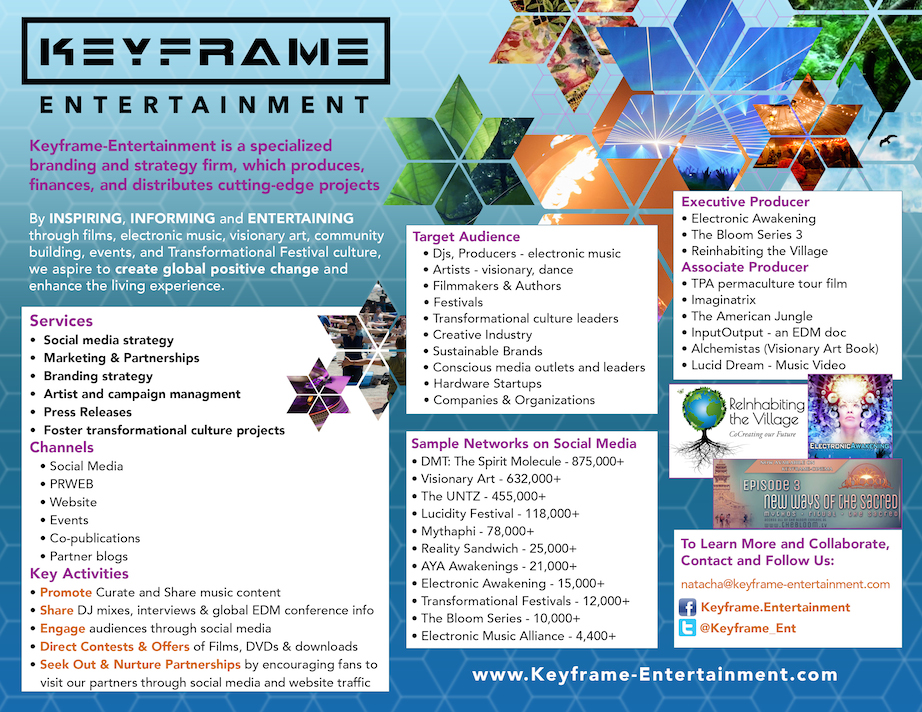 ---
Click to download all Keyframe media (ZIP file includes Keyframe logo and EPK)