Media
Keyframe-Entertainment is a creative technology agency that produces engaging, fully interactive VR experiences for startups and festivals. Our emphasis on immersive brand interactions results in thoughtful, cutting-edge VR design and development. We collaborate with our clients to create unique experiences that increase brand equity. We currently serve companies that are eco-conscious, energy efficient, focused on green tech and regenerative culture. With our years in demonstrative evidence, technology and entertainment, we look forward to assisting you on your next VR project.
Keyframe creates campaigns and events at the intersection of electronic music , regenerative culture and XR. Given our long history in executive producing media, brand strategy, and new technology leadership, we are committed to working with like-minded organizations at the forefront of XR and the betterment of our planet.
Keyframe-Entertainment is the Executive Producer of "Electronic Awakening," "The Bloom Series #3," and "ReInhabiting the Village".
Keyframe also supported the production of Darren Minke's Visionary Art book "Alchemistas," and sponsored The Polish Ambassador's "Permaculture Action Tour."
Keyframe is also the Executive Producer of Fifer Garbesi's "Con Te Damanhur", a Virtual 360° experience of Damanhur, the "laboratory of the future for humankind," and is currently working on electronic music and festival culture VR-related projects.
Keyframe-Entertainment Website: www.keyframe-entertainment.com
Keyframe-Entertainment Facebook: Keyframe-Entertainment: Transformational Media
Keyframe-Entertainment Twitter: Keyframe_Ent
---
Keyframe logo EPS – download (right-click)
Keyframe logo JPEG – download (right-click)

---
Keyframe-Entertainment logo EPS – download (right-click)
Keyframe-Entertainment logo PNG – download (right-click)

---
Download Keyframe EPK – download (right-click)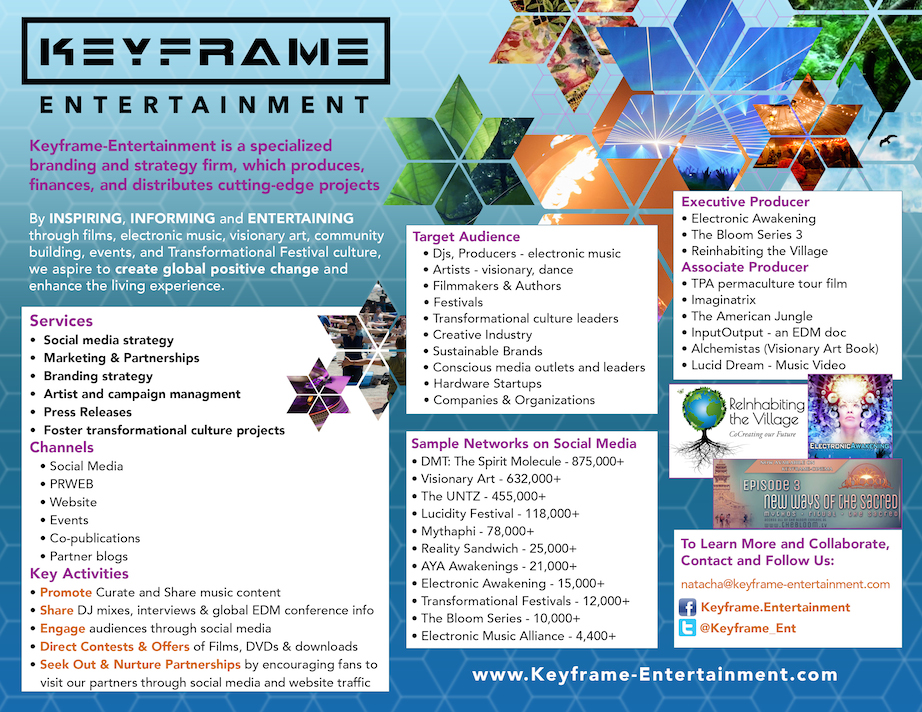 ---
Click to download all Keyframe media (ZIP file includes Keyframe logo and EPK)