Ingrid Land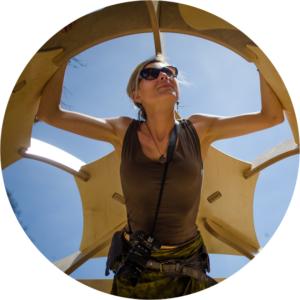 Ingrid is a French photographer, specialized in events (transformational festivals), destination weddings, nature (landscape, travel) photography and is the official photographer of Keyframe-Entertainment. She collaborates with artists, conscious enterprises, non-profit organizations, and passionate entrepreneurs.
Ingrid was born and raised in the flat land of North of France. Intrigued by other cultures and captivated by the idea of living overseas, at the age of 25, she set off on a solo journey to Australia. This experience transformed her forever. Traveling has expanded her consciousness of infinite possibilities and realities.
She is now based in Vancouver, Canada, but travels frequently to create her clients' wildest dreams. She is emotionally invested in her clients and loves working with organizations connected to her own creativity.
She enjoys solving new challenges with clarity and simplicity. When photographing, she strives to search out the spiritual aspects inherent in life and translate them into images that speak to a diverse audience. She consistently challenges her own imagination in the pursuit of true, vivid photography, and takes an unobtrusive approach that fosters compelling candid moments.
On her future professional goals on the festival culture:
"One of my ambition is to help diffuse the ongoing evolution of intentional festival culture and its potential for life-changing impacts. I want to illustrate the evolution of consciousness we are currently experiencing. I believe the philosophy that emanates from festivals has been largely contributing to this transformation and I aspire to participate to alike gatherings across the world and exhibit their common values centered around community, co-creation, knowledge sharing and participatory ritual. My intent is to embody the community of people who contribute to the immersion of the artistic process, personal growth and healing, environmental and social responsibility."