Events
Keyframe-Entertainment has been involved in the production of music events and film screenings for many years. We welcome the opportunity to work with you on future events or festivals. Please contact us to explore ways to collaborate.
---
Upcoming Events
NOV 30: The SF pre-party of Mayan Heart Festival & Cosmic Convergence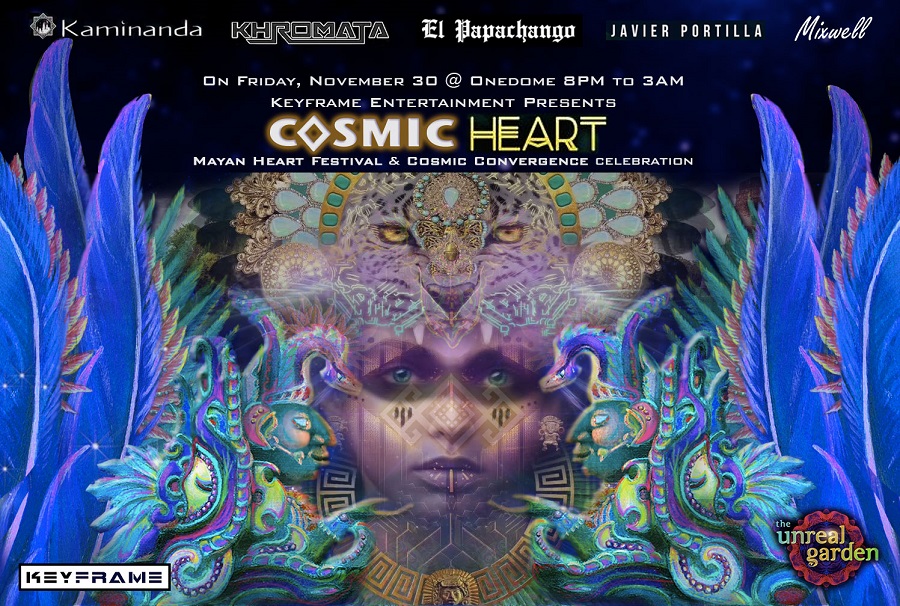 On November 30, KEYFRAME is honored to host "COSMIC HEART", the San Francisco PRE-PARTY to two very special festivals happening in Guatemala in December: Mayan Heart Festival & Cosmic Convergence 2018! The event will take place at the Onedome Mixed Reality Art Experience, a space where Augmented Reality, projection mapping, soundscapes, food and drink, and even the physical space itself all work together to immerse you in a fantastical other world known as The Unreal Garden.
There will also be a cacao ceremony honoring both festivals and a musical journey spanning multiple genres & cultures. Featuring:
Kaminanda – https://soundcloud.com/kaminanda
Kaminanda's ever-evolving sound is a playground of original Midtempo grooves, tribal rhythms, Psy-Dub, and bouncy four on the floor. Using a generous dose of musical instruments and applied music theory designed to take the listener/dancer on a journey traversing landscapes reflecting a myriad of diverse influences; Focusing more and more on hypnotic elements of House, Techno and Trance while remaining in the slower tempos. A kaleidoscope of warm melodies and twisting, winding compositions. With six albums in his repertoire, this organic spaceship of frequencies balances musicality and micro-detail to evoke a deeper experience.
Khromata – https://soundcloud.com/khromata
With a finger on the pulse of the global electronica scene, she draws the essence of tech-driven music to the surface with DJ sets inspired by the sounds of the underground. Khromata stands in the vanguard of storytelling and sensory manipulation in the modern era. Following years of experience playing shows and festivals around the world, Khromata now brings her versatile and spirited approach to sound weaving to Iboga Records. Driven by fun, energy and technical purity, she cannot be summarized by any single set or sound, making every Khromata performance an intoxicating, one-of-a-kind experience.
El Papachango – soundcloud.com/elpapachangomusic
El Papachango, originally from Argentina, moved to the States as a young adult and brought with him a love of music from South America that he blended with west coast underground beats to create a groove that is unique and infectious to dance floors everywhere. Sexy, soulful and funky sounds come out of him even when he's fast asleep. El Papachango is one of the core creators of the legendary El Circo, one of San Francisco's most prominent avant-garde performance groups that has been delivering music with a grip like Bassnectar, The Glitch Mob, Freq Nasty, Antennae, Dj Laura Low and many others. His Latin fusion, tropical, hip hop influence creates fire on the dance floor.
Javier Portilla – https://soundcloud.com/javierportilla
(Natura Sonoris, Moonchild Records, Armada Music, Asymmetric, Global Underground, Frisky Radio) –
Music has the ability to connect us all together, no matter where we are. Javier Portilla has been living this truth throughout his life, traveling around the world to inspire long-lasting connections and create magical moments, sharing meaningful messages through mindful music. Combining a powerful blend of lightness and darkness into a seamless flow, Javier transmits his distinctive and deep sound through his personal productions and diverse DJ sets.
Mixwell – https://soundcloud.com/mixwellmusic
Charged with the ancient Mayan energy of Guatemala's volcanic Lake Atitlan, this Montreal-born producer fuses an eclectic blend of indigenous and world music textures over juicy Global Bass beats. A regular at such renowned festivals as Envision, Symbiosis / Oregon Eclipse, Lucidity and Cosmic Convergence, Mixwell's notorious events GLOBO and Pachangon have become staples of Montreal and Atitlan's respective music scenes (now even listed in Montreal's legendary Jazz Festival), and his award winning productions have been recognized by the Canadian government, earned him scholarships and many other accolades. Fresh off his latest release of "Tropical Remixes" on Mexico City legend Borchi's netlabel Cassette Blog, Mixwell will also be previewing material from upcoming collaborations with SOOHAN, Garifuna Collective, DISSØLV, Nomadic Massive and more.
GET YOUR TICKETS and confirm your attendance on Facebook!
~~~~~~~For more info about the festivals being honored, please see the next 2 event postings below ~~~~~~~~
---
DEC 20 – 23: Mayan Heart Festival – Tikal, Lake Peten, Guatemala
Be present to witness and be part of the unification of the Tribes of planet Earth… On the Solstice/Full Moon conjunction of Friday, December 21st, 2018, you will join with Indigenous peoples from each continent of this Earth, as we focus our collective intention of Earth liberation, into an ANCIENT Maya Fire ceremony in the center of the main plaza in Tikal… completing the Cycle started 5,000 years ago in Tikal. This will open the new cycle of prosperity, liberation and galactic freedom for all the peoples of the Earth… BE PART OF HISTORY! Four days and nights of celebration, dance and joy as the tribes, wisdom keepers and artists showcase their art, dances, music and wisdom.
Get more info and tickets on the website!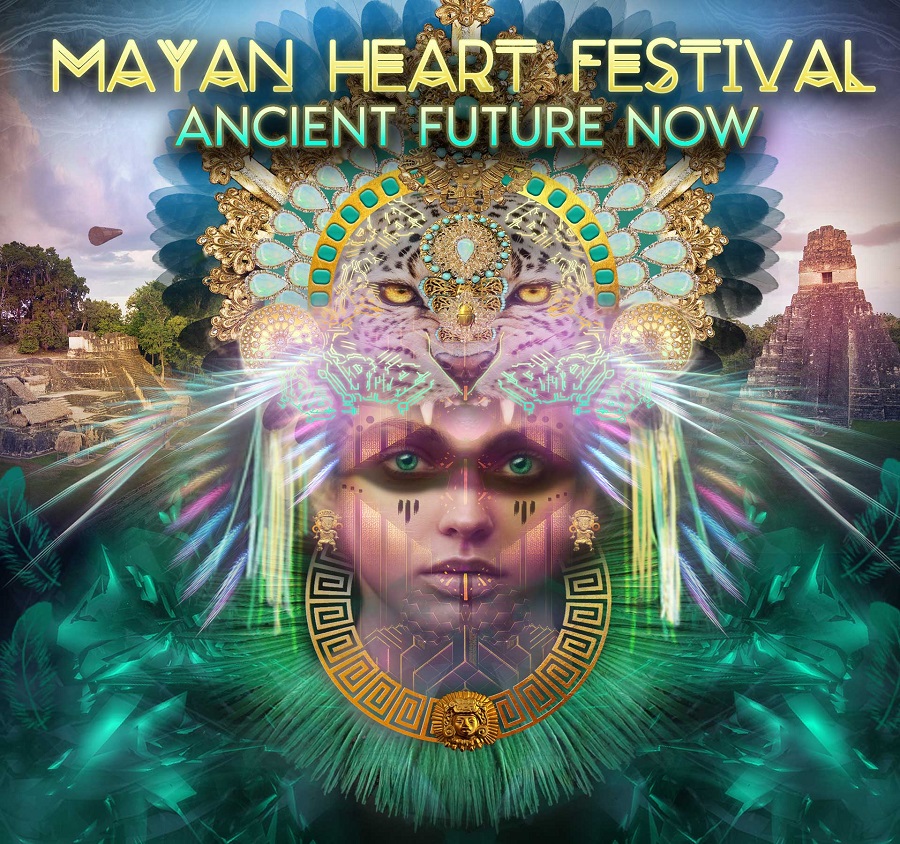 ---
DEC 29 – JAN 1, 2019: Cosmic Convergence – Lake Atitlan, Guatemela
Cosmic Convergence Festival is a 4-day gathering celebrating Mayan culture and conscious living.
The festival hosts a diverse array of music, performances, workshops, art installations, local foods, healing modalities, ancient Mayan traditions, and ecological and social impact activities. All this in one of the most breathtaking landscapes, the sacred ancestral site of Lake Atitlan, Guatemala. It is a convergence of past, present, and future, designed to provoke a shift in consciousness to rethink what lifestyles are possible today.
Get more info and tickets on the website!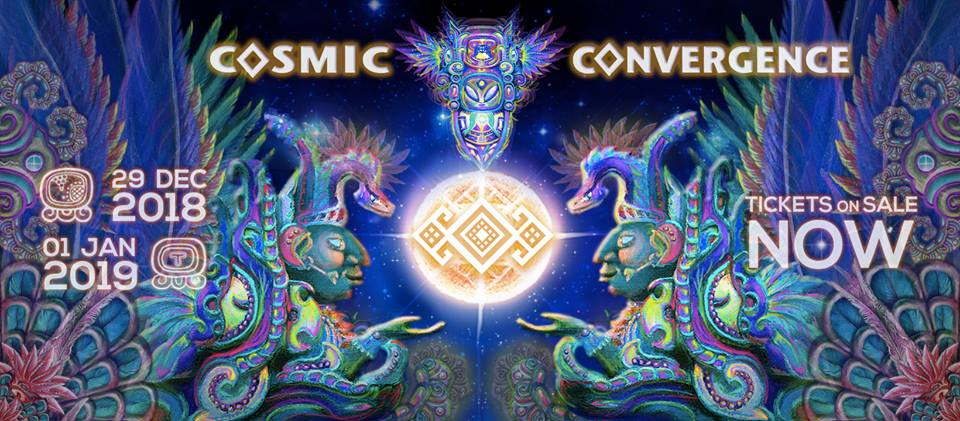 ---
Past Events
OCTOBER 17: Keyframe presents the convergence of VR and Electronic Dance Music
On October 17th @The Great Northern in SF, Keyframe showcased the intersection of VR and Electronic Dance Music with talks from Nathan of Survios (Electronauts), TheWaveVR, TribeXR, The Virtual Rave and SwanVR. The event included demos from High Fidelity, Exit Reality, Liquid Light Project, NewPathVR, Visual Reality, and performances by Solar Theory, Torkom Ji, and Michael Strauss. The event was co-produced with ImagineX Productions and ARTandVR, and had sponsor support from SUBPAC, Pyramind, Chronos Global Academy, VRARA, EMA and the VRS Conference. For more details, please visit our VR and Electronic Dance Music event page.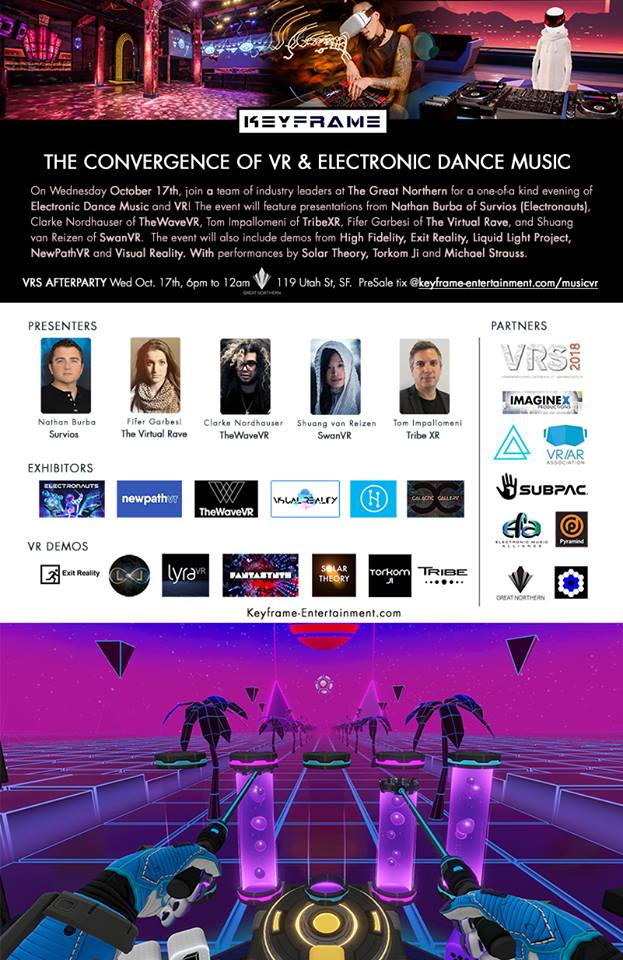 ---
SEPTEMBER 22: Pulse SF Presents – Psynickers Dark!
Keyframe hosted the back Techno Room at Psynickers Dark while also celebrating the birthdays of the two Pulse SF co-founders Mr. Chris Tobal and Psynthetic!!!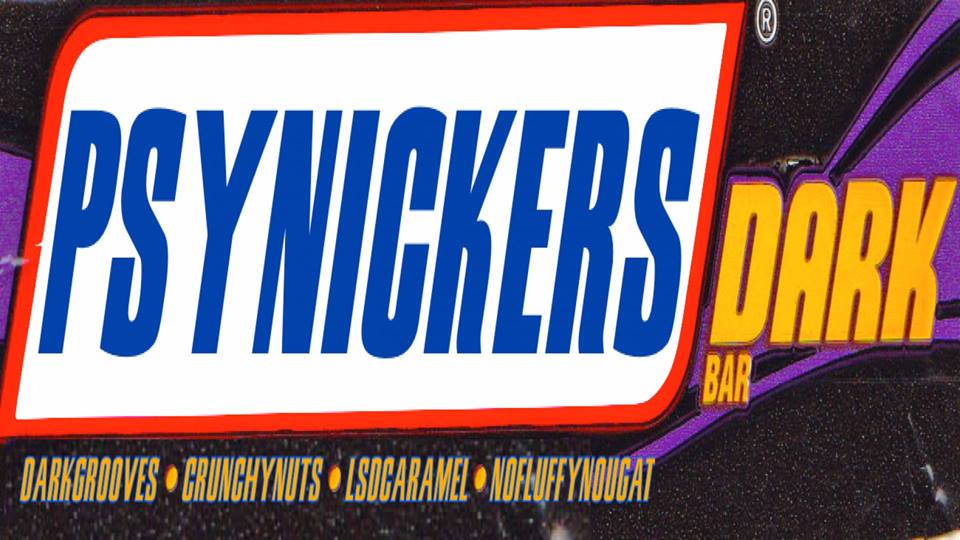 ---
SEPTEMBER 7: The Afterburn w/ Monolink (LIVE), Sabo, Goldcap, DJ Three & More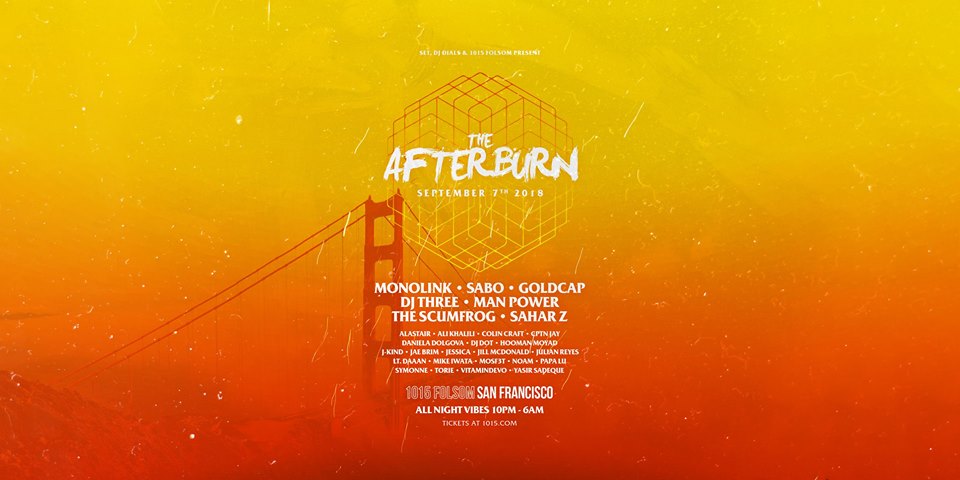 ---
JULY 30 – AUG 5 – OZORA
Keyframe is honored to have screened films, conducted a talk, and played a DJ set at
Ozora 2018
!
View the Reality Sandwich post to learn more about the presentation:
http://realitysandwich.com/323091/artifacts-of-festival-culture-inspire-transformation-keyframe-at-ozora-festival/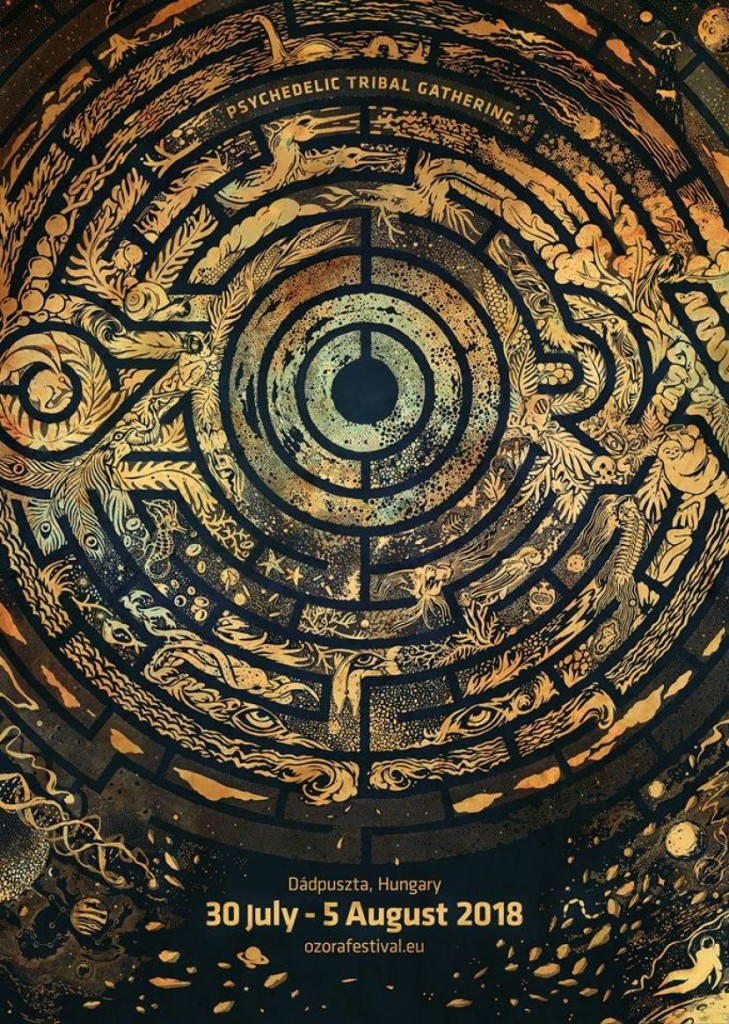 ---
JULY 22 – JULY 29 – BOOM
Keyframe is honored to have presented at BOOM 2018! Amplify Her screened at LIMINAL VILLAGE:
https://boomfestival.org/boom2018/program/liminal-village/amplify-her/

---
JULY 13 – The Return of Spun Records – Bansi GMS Tribute featuring Shanti
On July 13, we paid tribute to the amazing body of work Bansi GMS left behind. Not only was Bansi a driving force behind our label's origins, his musical and cultural influence has helped propel psychedelic trance into a remarkable global movement.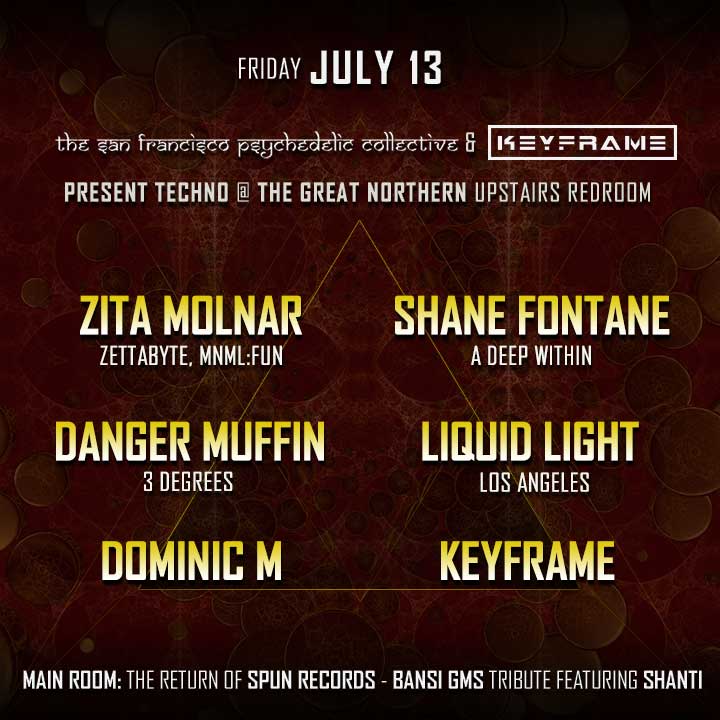 ---
APRIL 6-8: LUCIDITY – RISING DAWN
More Than A Festival, Lucidity is a collaboratively built "village" with a vision. Following an ongoing storyline, this year's theme, Rising Dawn, invites attendees to "Awaken the New Story", and create a world where humanity can thrive. As groups of attendees bring their piece of the vision to the experience, a village is built for all to enjoy over a three-day campout weekend.
Stages offer a wide range of music, as well as dance, flow arts and theatrical performances. A healing arts village offers everything from massage to chiropractic to herbal remedies. Beyond the art gallery are interactive installations and immersive environments that are sure to evoke the inner child. The festival features a plethora of yoga classes, as well as workshops focused on personal growth, technology, environmental activism, creativity, and more! Also, an entire realm for families features fun activities for little people and their taller sidekicks. There will also be a Courseweek prior to the festival event.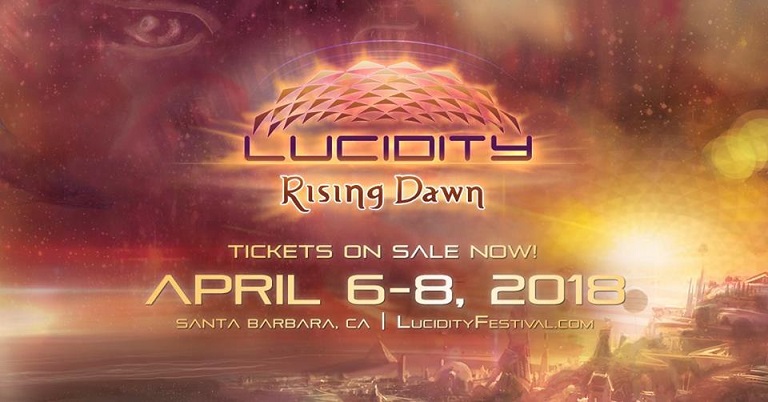 ---
MARCH 8TH, SAN FRANCISCO – Keyframe & FilmHero presents: Amplify Her SF + International Women's Day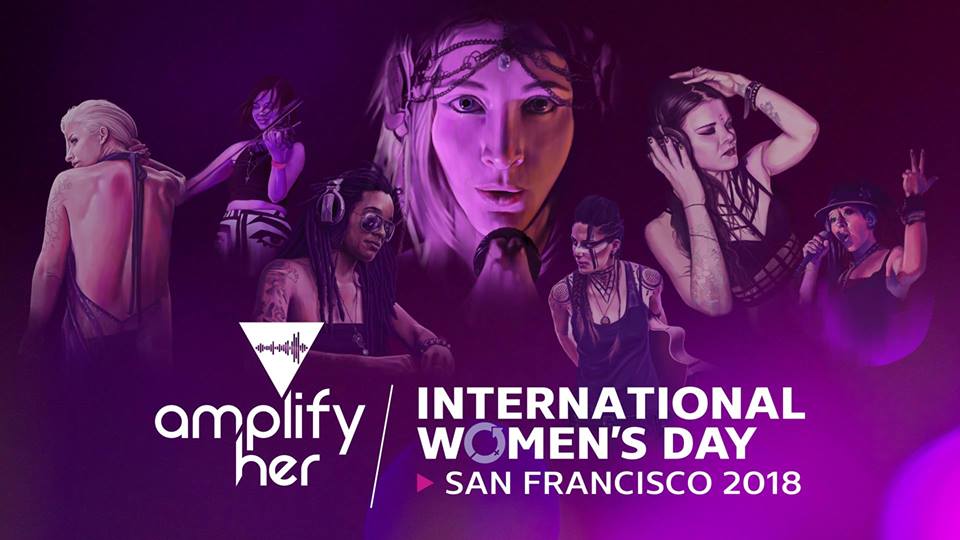 ---
FEBRUARY 9-11 – MAULI OLA FESTIVAL, Pahala, Hawaii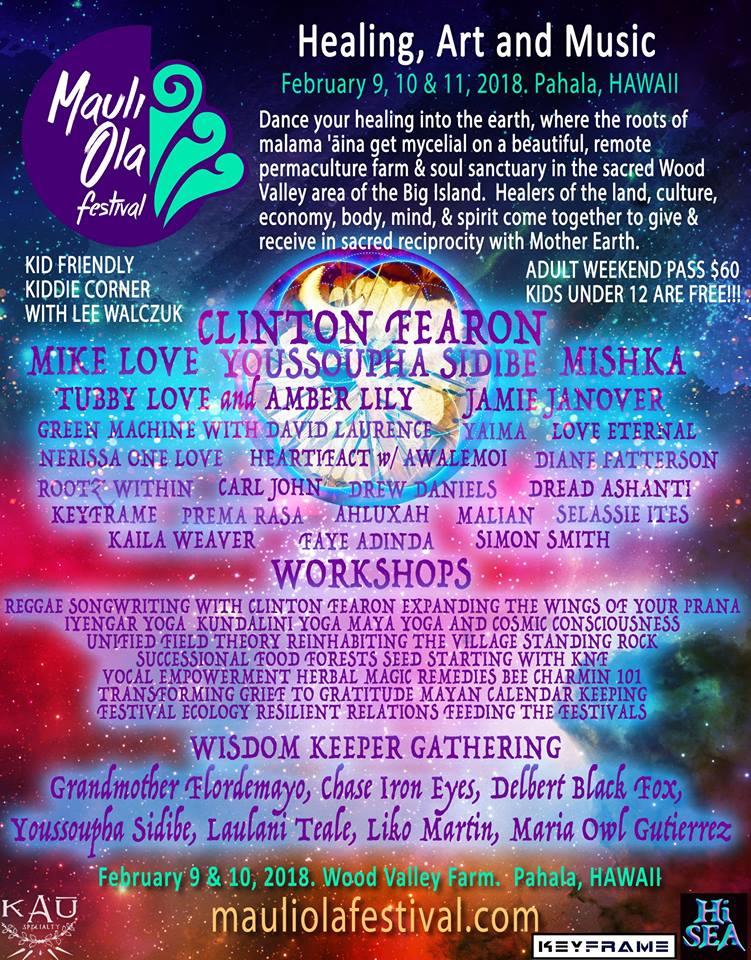 ---
JANUARY 20 – 21, 2018 – ANNUAL FLORIDA FLOW FEST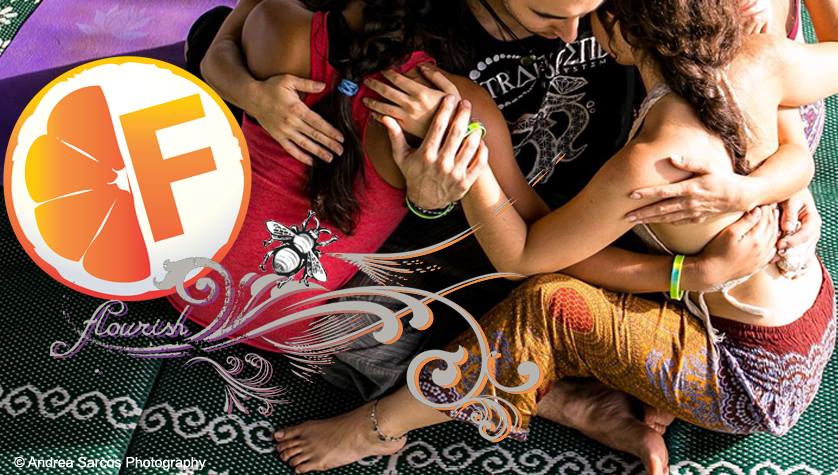 ---
JANUARY 18th: Keyframe presents THE AMERICAN JUNGLE SAN FRANCISCO film screening
Keyframe-Entertainment and Public Works hosted "The American Jungle" San Francisco Film Screening & After Party!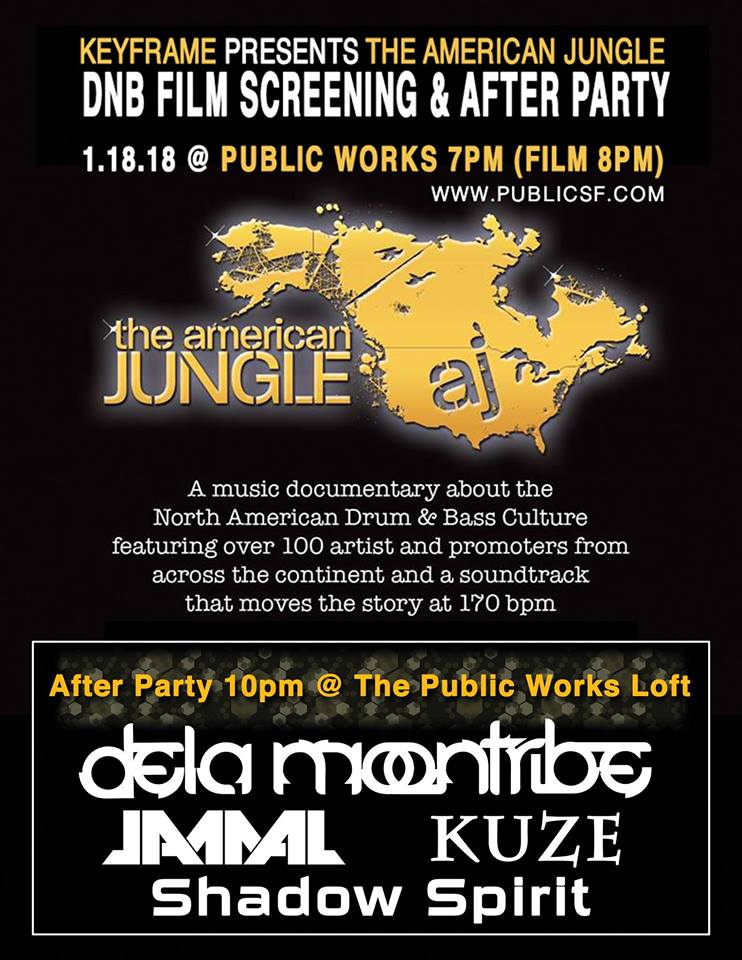 ---
JANUARY 12TH: KHROMATA NIGHTS! – F8, SAN FRANCISCO
Khromata Nights, We Out Here Events, and Keyframe-Entertainment are pleased to have celebrated the third installment of Khromata Nights at F8 1192 Folsom in San Francisco with a night of psytrance and fun! Featured music by Khromata, DJ Christine, and Coral, and more.

---
NOVEMBER 16TH: 'AMPLIFY HER' SAN FRANCISCO PURPLE CARPET PREMIERE – CASTRO THEATRE
"Amplify Her" is a cross-platform project encompassing a feature documentary, a graphic novel, and an animated motion comic series – imagined and brought to life by female creators across North America.
Keyframe showcased Fifer Garbesi's "¡Viva La Evolución!" and HelloEnjoy's "Fantasynth" in the Castro Theatre lobby.
Fifer Garbesi's "¡Viva La Evolución!" is a 360° Documentary set in Havana, Cuba. As American culture streams into Cuba for the first time in 50 years, DJ Joyvan Guevara struggles between the new opportunity for global success and a responsibility to the culture he helped build in the face of commercialization.
HelloEnjoy's "Fantasynth" is an audio-reactive experience designed for Virtual Reality. Glide through a procedurally populated environment that comes alight with the music. Featuring the song Chez Nous by N'to.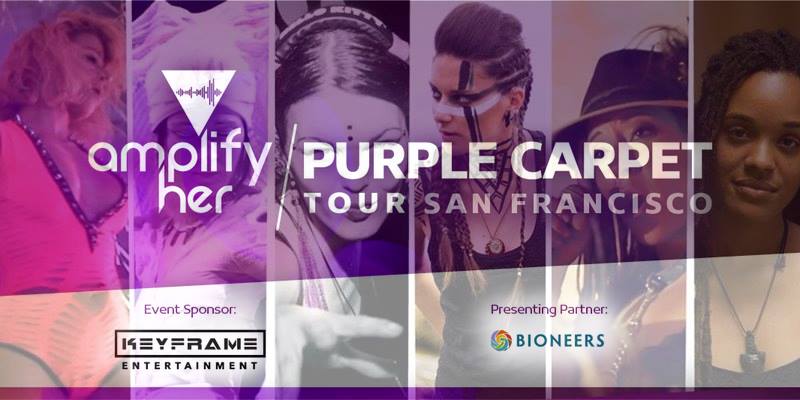 ---
AUGUST 17TH – 23RD: OREGON ECLIPSE, Big Summit Prairie, OR
We're thankful that REINHABITING THE VILLAGE was featured, with several contributing authors in attendance such as: David Casey, Andrew Ecker, Wren LaFeet, and The Polish Ambassador! Other attending partners included: Michael Gosney, Phutureprimitive and Random Rab.
There is nothing like the spectacular phenomena of a Total Solar Eclipse. One part beautiful, one part mystical, and one part mathematical, a Total Solar Eclipse is an experience that inspires the mind, body, and spirit and demonstrates the elegant nature of our cosmos.
We added the massive Psytrance SUN STAGE in our "PSYTRANCE ASCENDING IN NORTH AMERICA" article, along with interviews with DJs Khromata, Ace Ventura, and Symbiosis founder Bosque Hrbek, to name a few!
DESERT DWELLERS also performed at the event, and released their album compilation "Autumbral Shadow" on August 14th in honor of the eclipse. Check out our album review, and exclusive track preview by GUMI here!
View the WEB OF LIFE DOME!

---
MAY 13th, SAN FRANCISCO, LOCZIdesign STUDIOS: LOCZIdesign & KEYFRAME present: SANCTUARY: FUNraiser for San Francisco Design Week's Opening Reception
LOCZIdesign – INNOVATION : INCLUSION: ACTIVISM: HEART: SANCTUARY
The event's intention was to come together to celebrate the many things that make this city great, get an exclusive look at what we're designing for SFDW's Opening Reception at Pier 27 in June, meet the artists and contribute to help make this vision possible.
The VISION: Transport the participant through a visual and sonic experience. Proceeds went to fund the Opening Reception for SAN FRANCISCO DESIGN WEEK, June 14th, at Pier 27.
Featured project collaborators HEAVY.IO, Props2c, Can Buyukberber, Rhonda Holberton, and Aimee Friberg, and music by Mystik (Downtempo), Kuze (Tech House), VITAMINDEVO (Bass House), and Emanate (Techno).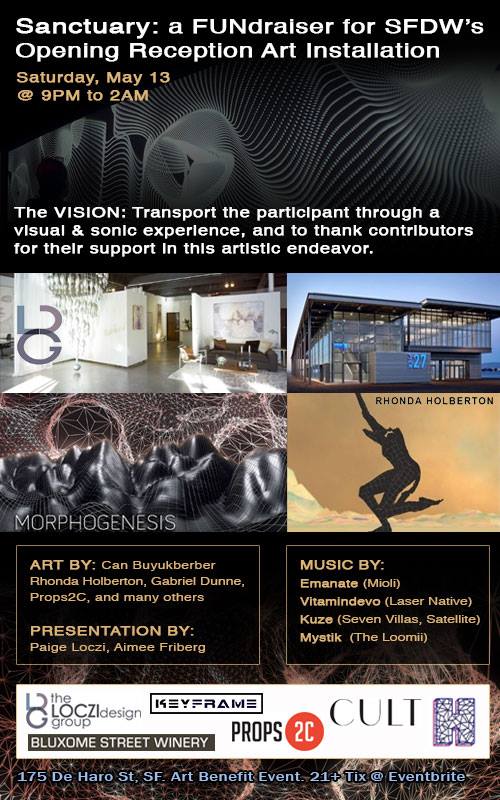 ---
MAY 6th, SAN FRANCISCO – LIBERATION MOVEMENT @ The Independent
We sponsored the Liberation Movement + The Dogon Lights at The Independent!
A Live Liberation Movement performance consists of a 50 channel analog Live PA sonic journey with live instrumental contribution from a variety of musicians and vocalists. The LM live journey travels through many levels of depth and experience and can at times be challenging, inspirational and empowering.
LM was founded in the Peruvian Amazon in 2010 in collaboration with participants from the Shipibo Tribe. Since that time it has grown to include more than 75 artistic participants from 6 continents and it represents more than 1000 years of combined collective mastery in a variety of revolutionary fields.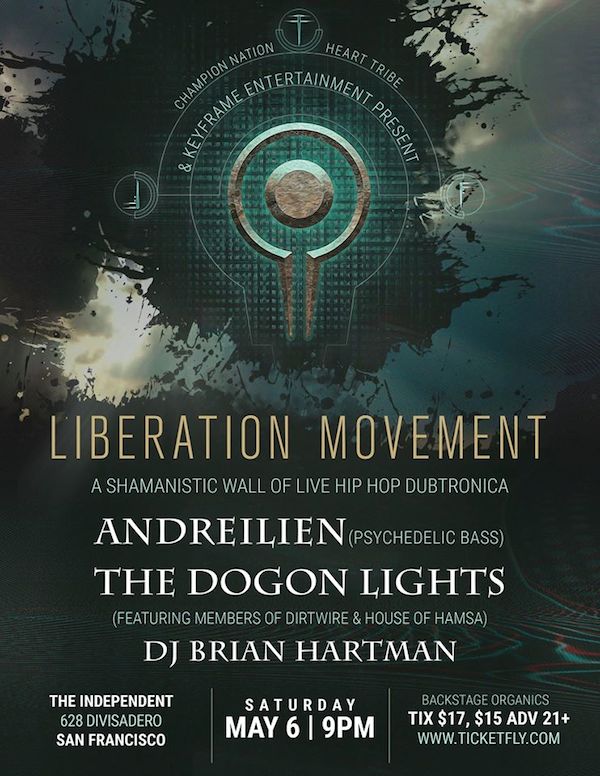 .
---
APRIL 28TH, SAN FRANCISCO at F8 – Khromata Nights presents: S>Range (Spiral Trax, Sweden)
Says Khromata: Pulse SF is focusing on the awesome Pulse Family Gathering 2017 coming this September and no longer doing indoor events. I would love for us to keep what we have going and I have decided to start my own Khromata nights! I cordially invite you all to come dance it up with me and the pham as we feature the best in progressive and #psytrance!
Front room was hosted by Khromata, back room was hosted by KEYFRAME-ENTERTAINMENT, with some Keyframe PsyDub and Techno: Chloro Djinn / Xipil / Asiga Mind / Jeff Richmond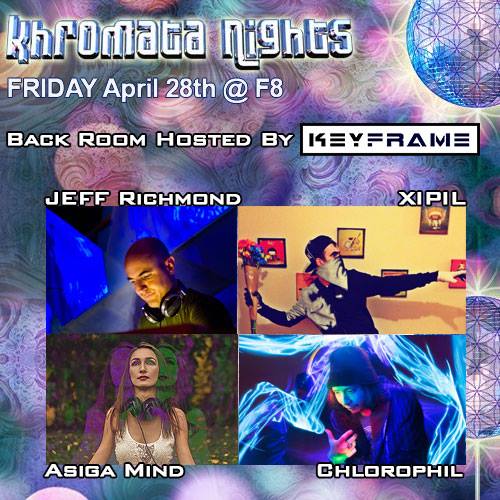 ---
APRIL 14: MINNA ART GALLERY, Genesis Blockchain Collective Social : Where tech meets art
Keyframe supported the SF Blockchain Collective's social gathering of cryptographers, bitcoin/cryptocurrency enthusiasts, entrepreneurs, artists and musicians; a night intended to celebrate the strides the blockchain community has made since the dawn of bitcoin in 2009.


---
APRIL 7 – 9TH, LIVE OAK CAMPGROUND – LUCIDITY FESTIVAL 2017
Keyframe is honored to have Sponsored Lucidity Festival 2017 AND had its talented collaborator Dissolv perform at the main Lucid stage! Lucidity also showcased "ReInhabiting the Village: CoCreating our Future", a project for which they are Associate Producer.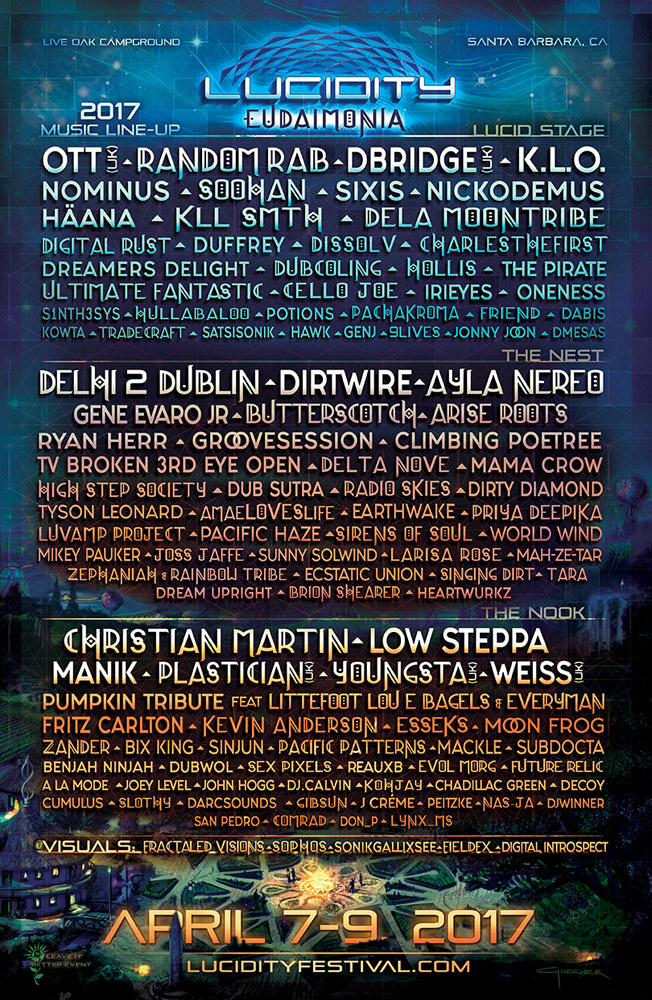 ---
THURSDAY MARCH 16TH, 7:30 – 11:30pm – HOME, TREASURE ISLAND SF
ALIA AND KEYFRAME-ENTERTAINMENT PRESENT: A NIGHT OF FEMININE MEDICINE: ALBUM RELEASE EVENT
Keyframe is proud to have sponsored and celebrated the release of ALIA's album "Feminine Medicine™ Volume 1″, whose album can be listened to here: https://aliamusic.bandcamp.com/

.
---
ARTandVR – February 18th, 2017 – Hack Temple
On February 18th, the newly renovated HACK Temple hosted the San Francisco-based ARTandVR exhibition. With over thirty featured artists, performers, and exhibitors, every part of the church presented a novel experience.
Read the ARTandVR event review by Jesse Dimiani.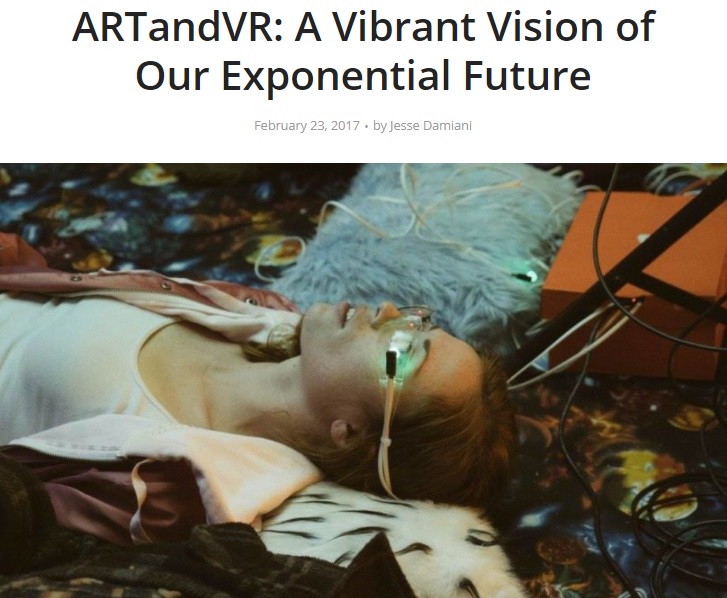 ---
Produced by Keyframe-Entertainment. Filmed on March 18th @ Mighty in SF, CA.
ROAD TO ULTRA, Pre-Party for The Ultra Music Festival.
---
To view more, please go to our Past Events page.