Keyframe Blog April 2017
Hello Keyframers!
Please enjoy this month's featured music and upcoming events!
KHROMATA – "A Fool's Delight"
Khromata will be performing on April 28th at F8 in San Francisco!

DJ SEVEN – "Visionquest"
DJ Seven will be performing on April 14th at the Genesis' event at 111 Minna Gallery!

---
EVENT: APRIL 14TH, SAN FRANCISCO at Minna Art Gallery – Genesis Blockchain Collective Social: Where Tech Meets Art
SF Blockchain Collective invites you to a social gathering of cryptographers, bitcoin/cryptocurrency enthusiasts, entrepreneurs, artists and musicians. This is a night to celebrate the strides the blockchain community has made since the dawn of bitcoin in 2009.
The beautiful 111 Minna Art Gallery in the heart of San Francisco will host the event in collaboration with SF Blockchain Collective.
Read the press release for more info and view the event on Facebook.

---
EVENT: APRIL 28TH, SAN FRANCISCO at F8 – Khromata Nights presents: S>Range (Spiral Trax, Sweden)
Says Khromata:
Pulse SF is focusing on the awesome Pulse Family Gathering 2017 coming this September and no longer doing indoor events. I would love for us to keep what we have going and I have decided to start my own Khromata nights! I cordially invite you all to come dance it up with me and the pham as we feature the best in progressive and #psytrance!
Front room hosted by Khromata, back room hosted by KEYFRAME-ENTERTAINMENT. Both rooms are curated to feature the best in psydub, techno, tech house, progressive psy and full-on psytrance!
View the event on Facebook.
---
Our Keyframe Store Offerings
Looking for some inspiring, conscious-based gift ideas? Visit our Keyframe store for ReInhabiting the Village books & workbooks, the Tribal Revival book, Alchemistas Visionary art book, various Electronic Awakening viewing options, as well as film screening licenses through Keyframe-Cinema!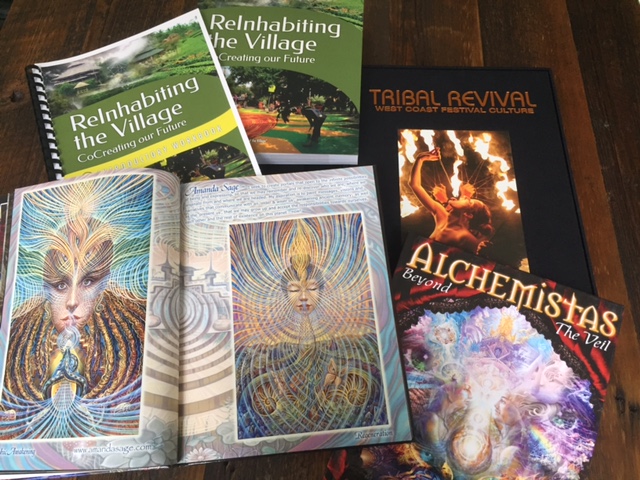 ---
Thanks for your continued support! We value being part of this change-making community and co-creating through our shared values!
As always, feel free to share with us projects that inspire you so that we can we can post in our network. We strive to make this blog an avenue by and for the Transformational community.
If you have music mixes and memes that you'd like to have featured, send them to: Natacha .at. keyframe-entertainment.com
Connect with us on social media: