Keyframe Blog December 2017
Hello dear Keyframe community!
The end of the year is upon us, and we're THANKFUL FOR ALL your support! We're honored to continue the journey with you in the new year and beyond! Please note we'll be on holiday hiatus until early January; we look forward to reconnecting with you then!
In the meantime, please enjoy this month's mixes, film screening opportunity, upcoming events, and holiday gift ideas!
Enjoy dela Moontribe's Oregon Eclipse – evening dnb set on the Moon Stage on eclipse day! It includes some favorites from Moontribe's August Full Moon Gathering! Features full track listing:

Dive into Illuminertia's 'Activation', whose great work we've been tracking! Illuminertia is a lush diverse omni-tempo musical experience that is influenced by rhythms & melodies from around the globe:

---
AMPLIFY HER – Become a Community Screening Host!
We want to send a BIG THANK YOU to all for making the Amplify Her – San Francisco screening a great success! We hope you'll feel inspired to share the message with your own communities.
"Amplify Her" is a cross-platform project encompassing a feature documentary, a graphic novel, and an animated motion comic series – imagined and brought to life by female creators across North America. Directed by Ian MacKenzie and Nicole Sorochan, the film follows three Electronic Dance Music artists battling demons from their painful pasts to emerge as beacons in the global festival scene.
YOU CAN NOW HOST A SCREENING IN YOUR COMMUNITY! Screenings can be groups of friends, an industry event, a community fundraiser and more. We'll help guide you with strategy and resources toward holding a successful event; cost is $250.
Check out the film trailer below, described as "real people from all over, telling real stories," and "activating and refreshing", and don't hesitate to reach out to us to get you set up!
---
EVENT: JANUARY 2 – Live Interactive Online Course- ReInhabiting the Village
Are YOU ready to deepen your understanding of Regenerative practices, tools & perspectives? Let's co-create the Modern Village… Together! The course begins Jan. 2, 2018 and will run 8 weeks ending on Feb.20, 2018. Ticket prices go up on Dec. 12th & Registration ends Dec. 21. We have group discounts and scholarships available!
Register now to engage with a global community in this 8-week live interactive online course led by "ReInhabiting the Village" Author Jamaica Stevens and Editor Keala Young.
Early bird tickets now available- visit RIVONLINECOURSE.EVENTBRITE.COM for more information, and confirm your attendance on Facebook!

---
EVENT: JANUARY 18TH: Keyframe and Public Works present: "The American Jungle" San Francisco Film Screening & After Party!
FILM SCREENING: DOORS @7pm, Public Works main room
Directed by Joshua "Phenetic" Freeman and Jeremy "Onket" Ballard, this music documentary studies the roots of Drum & Bass and Jungle, as well as their influences on Electronic Music in North America. "The American Jungle" will explore the past 20 years of Drum & Bass music, its present and future, featuring artists such as DJ Hype, Dieselboy, Aphrodite, DB & Dara, Andy C, AK1200, and many more. Keyframe-Entertainment is supporting the film as Associate Producer. In early 2017, the film screened in Chicago, New York, and LA.
FILM SCREENING: 10pm-2am, Public Works Loft
The after party will feature dela moontribe, Jamal, Kuze and Shadow Spirit, with visuals by FieldFXVisuals, and Deco by Props2C!
Get your early discounted screening & afterparty tickets now and confirm your attendance on Facebook!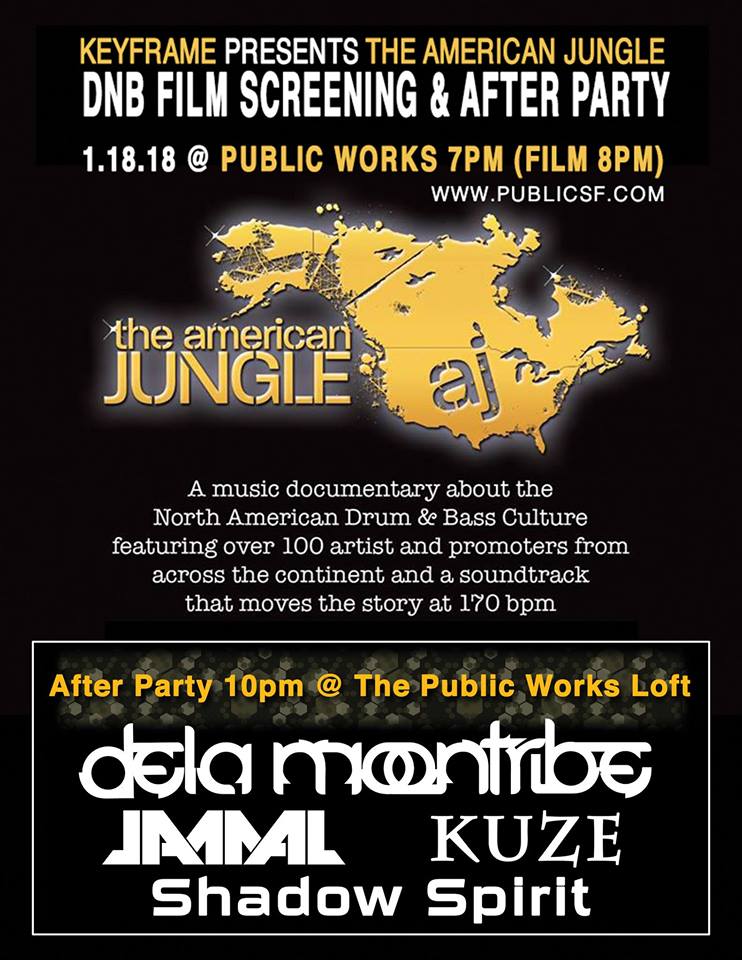 ---
EVENT: JANUARY 20 – 21 – ANNUAL FLORIDA FLOW FEST
Florida Flow Fest will be held in Ft. Lauderdale's Esplanade Park, celebrating our 7th event as a FREE Performing Arts Festival
2 days of workshops in CIRCUS ARTS, DANCE, YOGA & ACROYOGA, & more!
Workshop passes on sale now: https://www.eventsprout.com/event/florida_flow_fest_flourish!
Unique Vendors, Spontaneous Dance Parties, Delicious & Healthy Delights, MindBlowing Performances & FREE activities to Get into the Flow of Flow Fest!
FEATURED ARTISTS include: Exuro Piechocki, Jaquie Imhoff, Justin Hinde
View the event on Facebook and get your tickets!
---
EVENT: Feb 2-3rd – MAULI OLA FESTIVAL 2018 – Hawaii
Mauli Ola Festival
returns on February 2-3rd, in Pahala, Hawaii. Join us for this conscious community gathering featuring vendors, art, and music by
Mike Love
,
Youssoupha Sidibe
,
Mishka
, and much more!
There will also be a screening of "Amplify Her", showcase of Reinhabiting the Village, and our in-house DJ Keyframe will be playing a PsyDub DJ set!
Get your tickets HERE and confirm your attendance on Facebook.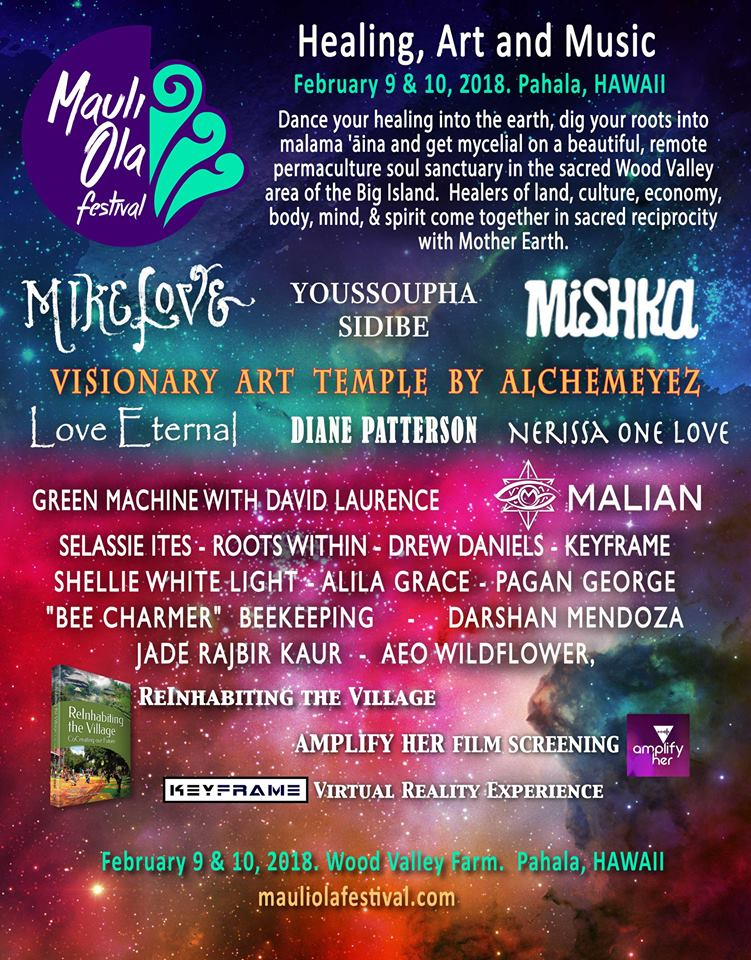 ---
CONSCIOUS GIFTING!
Please note, we will be closing our shop for the last 2 weeks of December, so please make your purchases now!
Take advantage of our last batches of books to order directly from us! They make for great educational gifts for your friends and family! Purchase books and workbooks in our store: http://keyframe-entertainment.com/store/.
View our ReInhabiting the Village video:

Want to gift your friends the chance to view Electronic Awakening? Electronic Awakening is now available on VOD on Vimeo!
The film ELECTRONIC AWAKENING offers insight into the inner workings of the brain and its metaphysical connection to the repetitive beats that create at sense of oneness, unity and freedom that millions feel on the dance floor.
Watch it on Vimeo here: https://vimeo.com/ondemand/electronicawakening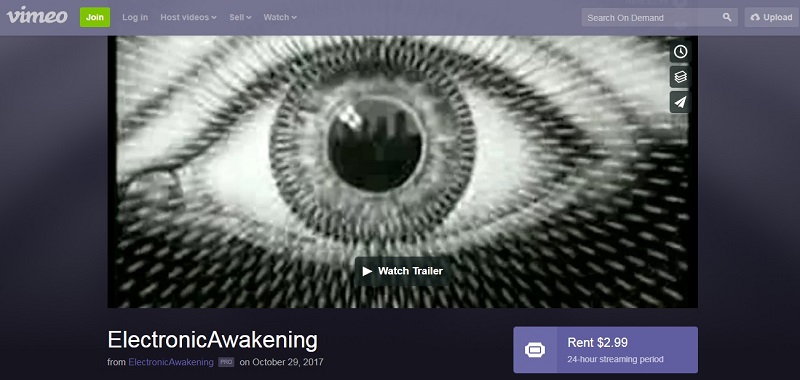 ---
WE WISH YOU A VERY HAPPY, BOUNTIFUL NEW YEAR! We look forward to continuing to serve with you!
As always, feel free to share with us projects that inspire you so that we can we can post in our network. We strive to make this blog an avenue by and for the Intentional community.
If you have music mixes and memes that you'd like to have featured on Evolver EDM, send them to: Natacha .at. keyframe-entertainment.com.
Connect with us on social media: