Keyframe Blog June 2018
Hello Keyframers!
We hope you're having a fabulous summer!
Enjoy our featured mixes, Outersect's video "Kinnari", Malian's new remixes, upcoming event info, and a new VR experience!
Please enjoy DJ Anna's mix! She and Audiofly will be performing at the upcoming June 29th Arboria TechnoLabs & Public Works event; get details and tickets here!

And Kalya Scintilla's glitch-hopping 'Open Ancient Eyes' Remixed:

---
OUTERSECT'S NEW EP & VIDEO: KINNARI
Outersect is Rob Rayle, a San Francisco Bay Area based audio technologist, composer and producer of genre-bending psychedelic electronic music that synergizes psychill, techno-bluegrass, and 70s progressive rock styles. Inspired by sights and sounds from around the world, Outersect fuses acoustic instruments and sounds with digital production to emerge with his own unique sonic experience. Outersect's 'one-man electronic jam band' shows include live keyboard improvisation and sound loops to inspire ecstasy on the dance floor and auditory bliss.
The Kinnari video features over 70+ Bay Area fire dancers, flow artists, designers, videographers and underground partiers that make for a visual feast! Watch it below and read the interviews!
*Reality Sandwich: Psychedelic Beats and Underground Culture: An Interview with Outersect
*EDM Magazine: Outersect Reveals Psychedelic Glimpse Into Flow Arts With New Music Video For "Kinnari"
---
DISSOLV's NEW EP: KINTALA
We are proud supporters of Dissolv's alluring World Bass vibes, and their latest ep, "Kintala" is no exception!
Kintala transforms the Dissølv experience into a nomadic journey through bass music, featuring live violin & instrumentation from across the globe. By infusing entrancing elements of electronic synths with acoustic instrumentation, over a hypnotic bed of sub frequencies, this EP provides an eclectic twist to the global bass music scene. Reflecting its name, "Kintala" balances the vast polarities of the human experience, with primal pulses of heavy bass harmonizing with majestic melodies.
Buy on Merkaba's Bandcamp: https://merkabamusic1.bandcamp.com/album/kintala

---
EVENT: The Return of Spun Records with special guests GMS – JULY 13, SAN FRANCISCO
The San Francisco Psychedelic Collective proudly presents: The Return Spun Records featuring special guests GMS (Spun), Ritkam, Khromata (Iboga), and Gizma (Spun).
KEYFRAME will be hosting the upstairs lounge (PsyDub into Techno), with: Zita Molnar (Zettabyte, MNML:FUN), Shane Fontane (a deep within), Danger Muffin (3 Degrees), Liquid Light (Los Angeles), and Dominic M.
Visuals and Video Mapping Environments by the *amazing* Mark Johns (Slide and Spin Productions).
Psychedelegant salon starts early wth a special progressive set by Ritkam.
Many more details to be announced!
View the event and get tickets on Facebook !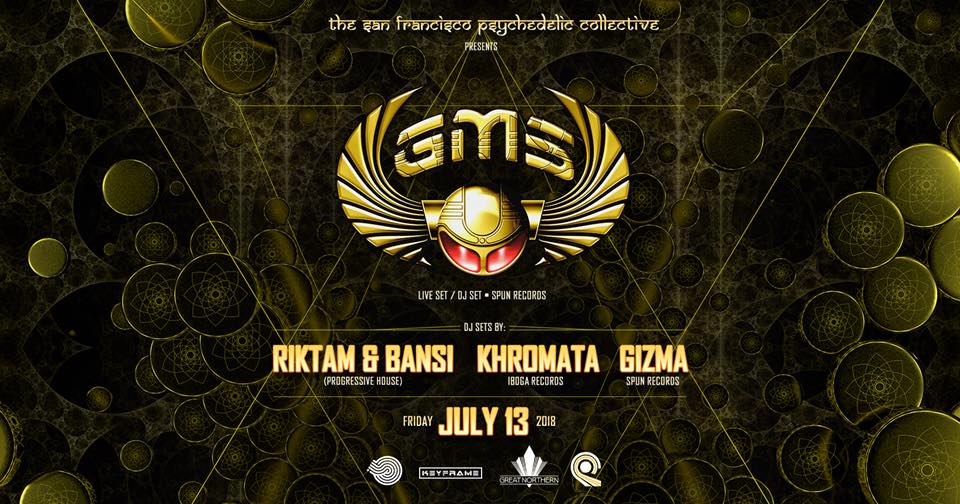 ---
DAMANHUR APP EXPERIENCE NOW AVAILABLE!
We're honored to be the Executive Producer of VR Producer / Director Fifer Garbesi's experience "Explore Damanhur"; a Virtual 360° experience of Damanhur, the "laboratory of the future for humankind." Located in the Italian Alps, Damanhur is home to singing plants, massive underground temples, and a remarkable community dedicated to autonomous, spiritual, and sustainable living.
Read our press release and experience this gamified documentary now on Gear VR through the downloadable link here.

---
MALIAN: That's Who You Are (Derek Ryan & Dandy Ryder Remix)
Malian Lahey is an artist-activist who communicates the earth's politics through song and visual art.
THATS'S WHO YOU ARE is the second abstract of her upcoming album; includes an amazing trance and broken beats Remix by the renown Derek Ryan and Dandy Ryder!
Remixes available on Beatport and Amazon.
Enjoy the teaser including the Derek Ryan & Dandy Ryder Remix:
---
As always, feel free to share with us projects that inspire you so that we can we can post in our network. We strive to make this blog an avenue by and for the Intentional community.
If you have music mixes and memes that you'd like to have featured on Evolver EDM, send them to: Natacha .at. keyframe-entertainment.com.
Connect with us on social media: