Keyframe Blog March 2019
Hello dear community,
We're back with some great new music, exciting upcoming events and a few videos we're happy to be featured in!
In celebration of Scarlet Crow's new 'Remembrance Remixes' album releasing on March 14th, Keyframe chatted with the team and selected to feature the Bone Shaman Woman Remix by Kalya Scintilla. The 'Remembrance Remixes' album is a collaboration with 16 producers that celebrates their debut album 'Remembrance.' Enjoy the track and learn more in the interview on Reality Sandwich!
And check out Kaminanda's 'The Crucible' in collaboration with Tribone, from his new album 'Elemental Garden':

---
EVENT: APRIL 12-14, LUCIDITY @Goleta, SoCal
We're happy to share that we'll be playing at Lucidity 2019!
Returning on April 12-15, the festival's Chapter 8: Moon's Eye View invites you to be a Witness of the World! While last year's story revolved around Dawn's awakening, and the fiery combustion of passion, purpose, and action, this year they will get to know Rivier, and the soothing feminine attributes of emotion, flow, and the preciousness of life. Prior to the festival event, Lucidity is also hosting its Course Week, inviting you to come for the classes, and stay for the Festival!
GET YOUR TICKETS:
Courseweek, April 9-12: https://www.facebook.com/events/361386321331590/
Lucidity Festival, April 12-14: https://www.facebook.com/events/332655017500764/!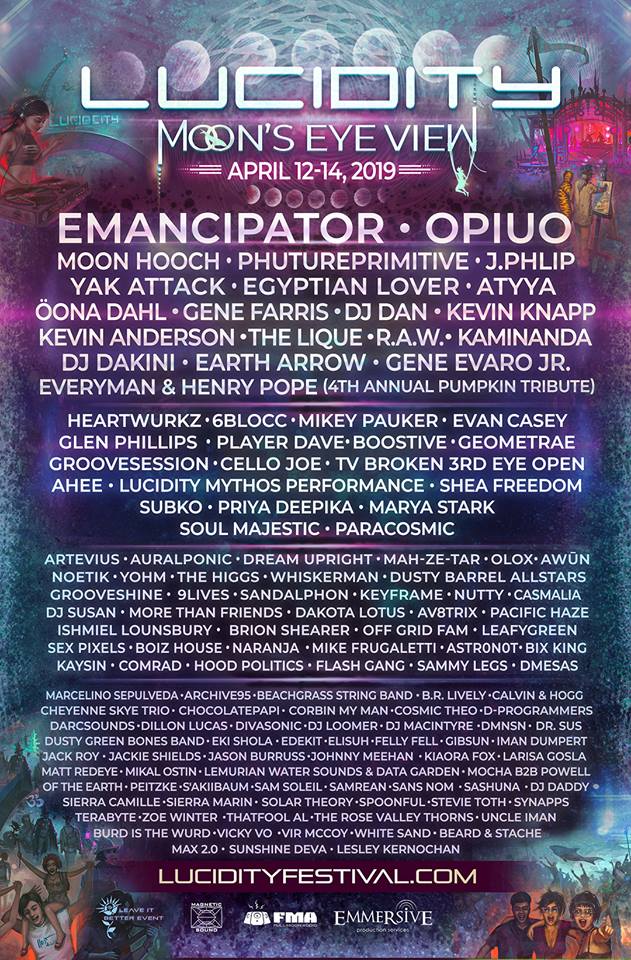 ---
EVENT: APRIL 25-28 – COLAB CAMPOUT, SoCal
CoLab Campout 2019 will feature OuterWork, InnerWork, Transformation, & Celebration!
Colab is building life 2.0 and this is Heartland Collective's showcase event. In collaboration with so many others they offer you an opportunity to join a new movement of regenerative living, taking participants through a curated experience which traverses through OuterWork, InnerWork, Transformation, and Celebration. It is their highest intention to move through the event as a collective group.
Some of the lineup includes: Heartwurkz | Geometrae | Shea Freedom | A Hundred Drums | Yemanjo | Kelli Love | AWŪN | Taylor Haydn | Kalyja Rain Bear | Kaila Weaver | Maitreya Wolf | Cozmic Theo, & more!
Get your tickets and confirm your attendance on Facebook!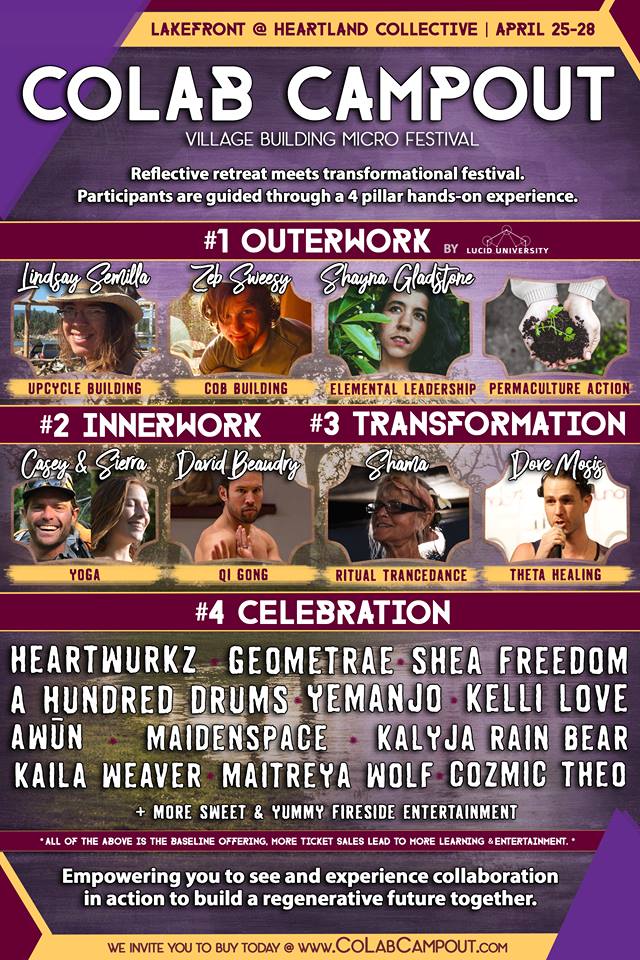 ---
TribeXR launches DJ School on Viveport
Tribe XR is an immersive VR application for aspiring and seasoned DJs. Play, learn and perform with their pro mix deck. Tribe XR features a fully functioning pro-style CDJ mix deck. Upload your own music and refine your own unique sound.
Get TribeXR at: https://vprt.co/tribexr
Thank you to the team for featuring Keyframe in its 'DJ School – Viveport Developer Stories' video, and in its 'Putting TribeXR to the test' video!
DJ Keyframe puts TribeXR to the test!
---
Scarlet Crow's'Remembrance Remixes' album is now available!
Scarlet Crow's 'Remembrance Remixes' album is a collaboration with 16 producers that celebrates their debut album 'Remembrance.'
"We are delighted to at last birth this co-creation. Thank you for being on the ride with us. Your musical medicine, time, and effort is a great blessing to our hearts. It is a blessing to be forever woven together into the great tapestry of the music of all time. What a trip.
We invite and appreciate any social media sharing, playlist adding, and any other amplifying of these sounds you are inspired to do in this coming week," says Scarlet Crow.
Here is the link to the album through Merkaba: https://merkabamusic1.bandcamp.com/album/remembrance-remixes-2
Here is the Spotify album: https://open.spotify.com/album/0EuNfByD2PITPm8KKFyh6E?si=s_bT5XHlSAyuLDchs0_SvA
Here is the Soundcloud Playlist: https://soundcloud.com/scarletcrow/sets/remembrance-remixes
Scarlet Crow will have a few animations coming over the week on Insta and Facebook. If you are inspired or have any additional creative ideas for sharing the magic, they are open to suggestions and co-arising visions.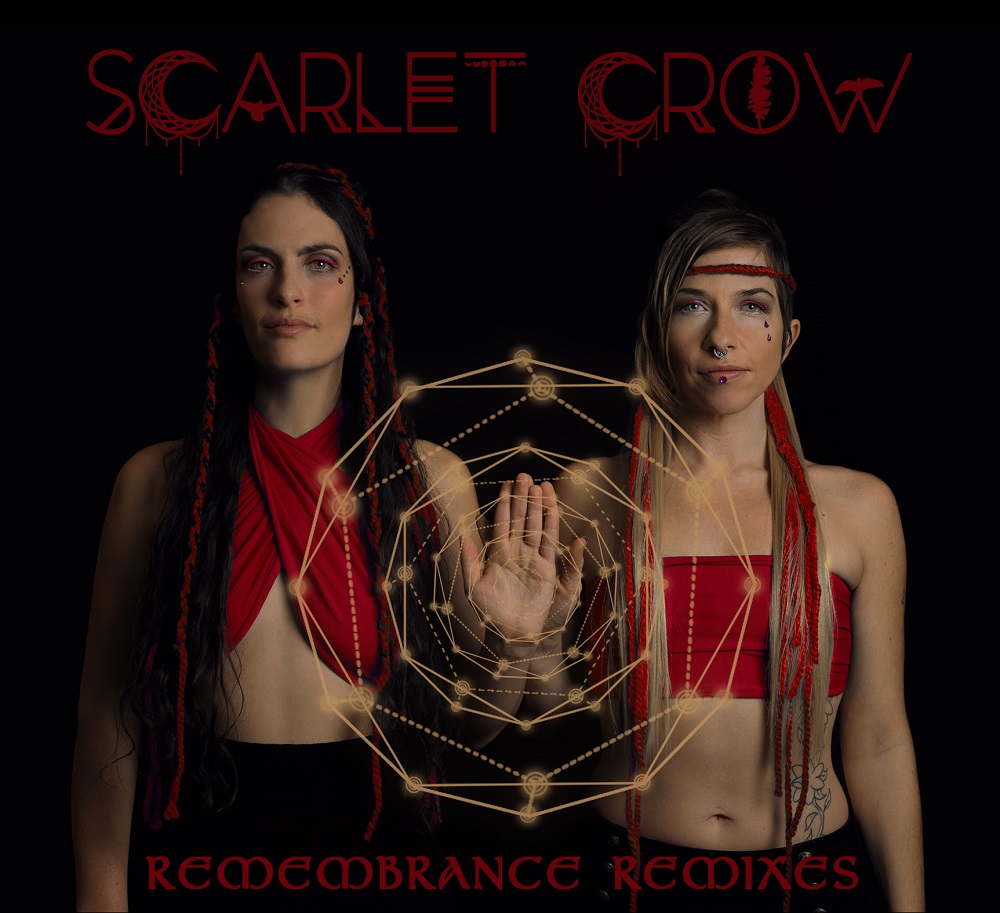 ---
As always, feel free to share with us projects that inspire you so that we can we can post in our network. We strive to make this blog an avenue by and for the Intentional community.
If you have music mixes and memes that you'd like to have featured on Evolver EDM, send them to: Natacha .at. keyframe-entertainment.com.
Connect with us on social media: