Keyframe Blog November 2018
Hello dear community,
The holiday season is upon us and we hope you enjoy this month's mixes and join us at our exciting upcoming event!
First off, enjoy this Chill mix Keyframe played at the 25 year anniversary Qool party at 111 Minna in SF!

Then slide into some Kaminanda Medicine Dance remixes:

---
EVENT: NOVEMBER 30 – The San Francisco pre-party of Mayan Heart Festival & Cosmic Convergence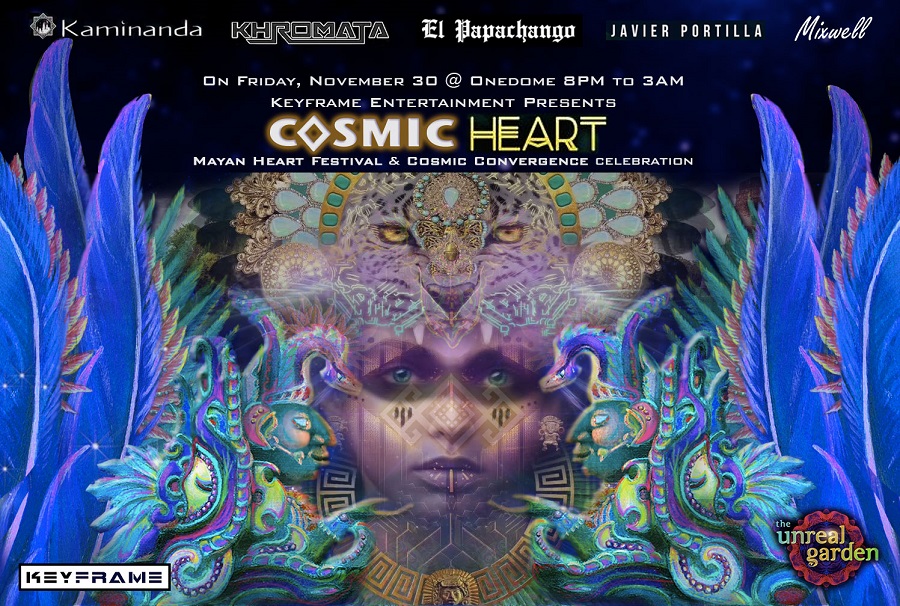 On November 30, KEYFRAME is honored to host "COSMIC HEART", the San Francisco PRE-PARTY to two very special festivals happening in Guatemala in December: Mayan Heart Festival & Cosmic Convergence 2018! The event will take place at the Onedome Mixed Reality Art Experience, a space where Augmented Reality, projection mapping, soundscapes, food and drink, and even the physical space itself all work together to immerse you in a fantastical other world known as "The Unreal Garden".
There will also be a cacao ceremony honoring both festivals and a musical journey spanning multiple genres & cultures. Featuring:
Kaminanda – https://soundcloud.com/kaminanda
Kaminanda's ever-evolving sound is a playground of original Midtempo grooves, tribal rhythms, Psy-Dub, and bouncy four on the floor. Using a generous dose of musical instruments and applied music theory designed to take the listener/dancer on a journey traversing landscapes reflecting a myriad of diverse influences; Focusing more and more on hypnotic elements of House, Techno and Trance while remaining in the slower tempos. A kaleidoscope of warm melodies and twisting, winding compositions. With six albums in his repertoire, this organic spaceship of frequencies balances musicality and micro-detail to evoke a deeper experience.
Khromata – https://soundcloud.com/khromata
With a finger on the pulse of the global electronica scene, she draws the essence of tech-driven music to the surface with DJ sets inspired by the sounds of the underground. Khromata stands in the vanguard of storytelling and sensory manipulation in the modern era. Following years of experience playing shows and festivals around the world, Khromata now brings her versatile and spirited approach to sound weaving to Iboga Records. Driven by fun, energy and technical purity, she cannot be summarized by any single set or sound, making every Khromata performance an intoxicating, one-of-a-kind experience.
Khromata has headlined shows around the United States and Canada, and has been direct support for legendary artists, playing opening and closing sets for acts such as Astrix, Liquid Soul, Perfect Stranger, Captain Hook, Ticon, Emok, Critical Choice, Atmos, Mad Maxx, Gaspard, Hypnoise, Deedrah, and more.
Khromata has played shows across the States and the world, a few highlight venues include KB18 kødboderne in Denmark, and Fabrika.bar in Ukraine. Highlight gigs include the Iboga Records and FM Booking Hologram Show at Dreamstate SoCal, Symbiosis Gathering's Oregon Eclipse, six consecutive years at the How Weird Street Faire in San Francisco, Dreamstate Mexico, Astral Harvest festival in Canada, Psytribe's Spring Frequency, Pulse Family Gathering, and Panama Tribal Gathering.
El Papachango – soundcloud.com/elpapachangomusic
El Papachango, originally from Argentina, moved to the States as a young adult and brought with him a love of music from South America that he blended with west coast underground beats to create a groove that is unique and infectious to dance floors everywhere. Sexy, soulful and funky sounds come out of him even when he's fast asleep.
El Papachango is one of the core creators of the legendary El Circo, one of San Francisco's most prominent avant-garde performance groups that has been delivering music with a grip like Bassnectar, The Glitch Mob, Freq Nasty, Antennae, Dj Laura Low and many others. His Latin fusion, tropical, hip hop influence creates fire on the dance floor.
Javier Portilla – https://soundcloud.com/javierportilla
(Natura Sonoris, Moonchild Records, Armada Music, Asymmetric, Global Underground, Frisky Radio) –
Music has the ability to connect us all together, no matter where we are. Javier Portilla has been living this truth throughout his life, traveling around the world to inspire long-lasting connections and create magical moments, sharing meaningful messages through mindful music. Combining a powerful blend of lightness and darkness into a seamless flow, Javier transmits his distinctive and deep sound through his personal productions and diverse DJ sets.
His story began in Costa Rica, where his artistic nature was born and fueled by the beautiful surroundings and culture. At the age of 20 he moved to Madrid, then London, where he solidified his distinctive style and began to build his burgeoning musical career. After returning to San José, Costa Rica to start a residency at renowned Club Vertigo, Javier followed by finding a new home base in Barcelona, while he began traveling the world as a true nomad DJ. His adventures have taken him from Buenos Aries to Reykjavik, Goa to Singapore, Mexico City to Dubai, Sri Lanka to New York, and all across the edges of the planet. Not only has he represented his harmonic and hypnotic style at some of the most legendary festivals and clubs such as Burning Man, Envision Festival, Off Sonar, Cafe Del Mar, and La Boite, he has also played in isolated and intimate events which have created magical moments on the dance floor.
On a mission to spread the love of music on a global scale, Javier has produced and released tracks alongside artists including King Unique, Marc Marzenit, Dmitry Molosh, Audio Junkies, Justin Marchacos, Facundo Mohrr, Cid Inc, and more, and has been supported by DJs including Hernan Cattaneo, Henry Saiz, DJ Harvey, Third Son, AFFKT, Nick Warren, Maceo Plex, Sasha, and Josh Digweed. His own label Moonchild Records features a diverse and experimental discography, representing the depths of his musical perspective.
Mixwell – https://soundcloud.com/mixwellmusic
Charged with the ancient Mayan energy of Guatemala's volcanic Lake Atitlan, this Montreal-born producer fuses an eclectic blend of indigenous and world music textures over juicy Global Bass beats.
A regular at such renowned festivals as Envision, Symbiosis / Oregon Eclipse, Lucidity and Cosmic Convergence, Mixwell's notorious events GLOBO and Pachangon have become staples of Montreal and Atitlan's respective music scenes (now even listed in Montreal's legendary Jazz Festival), and his award winning productions have been recognized by the Canadian government, earned him scholarships and many other accolades.
Fresh off his latest release of "Tropical Remixes" on Mexico City legend Borchi's netlabel Cassette Blog, Mixwell will also be previewing material from upcoming collaborations with SOOHAN, Garifuna Collective, DISSØLV, Nomadic Massive and more.
CONFIRM YOUR ATTENDANCE ON Facebook!
~~~~~~~ More info about the festivals being honored ~~~~~~~~
*Mayan Heart Festival – DEC 20-23, 2018 @ Tikal, Lake Peten, Guatemala – https://mayanheartfestival.com
Discount code SF2018 offers 15% off on entry tickets.
THE CYCLE BEGINS – SOLSTICE – FULL MOON –
Completing the Cycle started 5,000 years ago in Tikal. This will open the new cycle of prosperity, liberation and galactic freedom for all the peoples of the Earth…BE PART OF HISTORY!


*Cosmic Convergence 2018 – DEC 29, 2018 – JAN 01, 2019 @ Santiago Atitlán, Guatemala – https://www.facebook.com/events/1527031537424159/
DANCE / MEDICINAL PLANTS / YOGA / MEDITATION / SACRED MEDICINE – Cosmic Convergence is a portal of entry to step into an emerging contemporary planetary tribal culture, and a platform for the expression of new and ancient ways of being. Theme of 2018 – 2019: "Ancestral Awakening"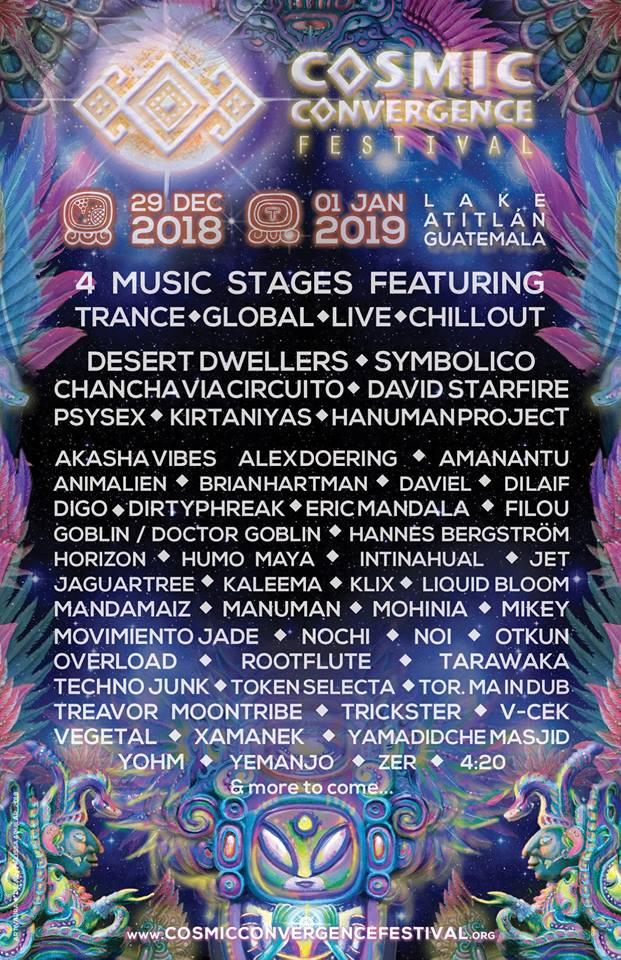 CONFIRM YOUR ATTENDANCE AND GET YOUR TICKETS ON Facebook!
---
ATTENTION! DECEMBER 12: KEYFRAME STORE CLOSING DOWN DEFINITIVELY!
Please note that will be shutting down our Keyframe store definitively on December 12!
If you'd like to order your goodies directly from us, please head over to our shop page: http://keyframe-entertainment.com/store/
Amplify Her comic books, Lucidity Mythos card decks, ReInhabiting the Village book and workbooks are all in stock! Happy shopping and we thank you for your continued support!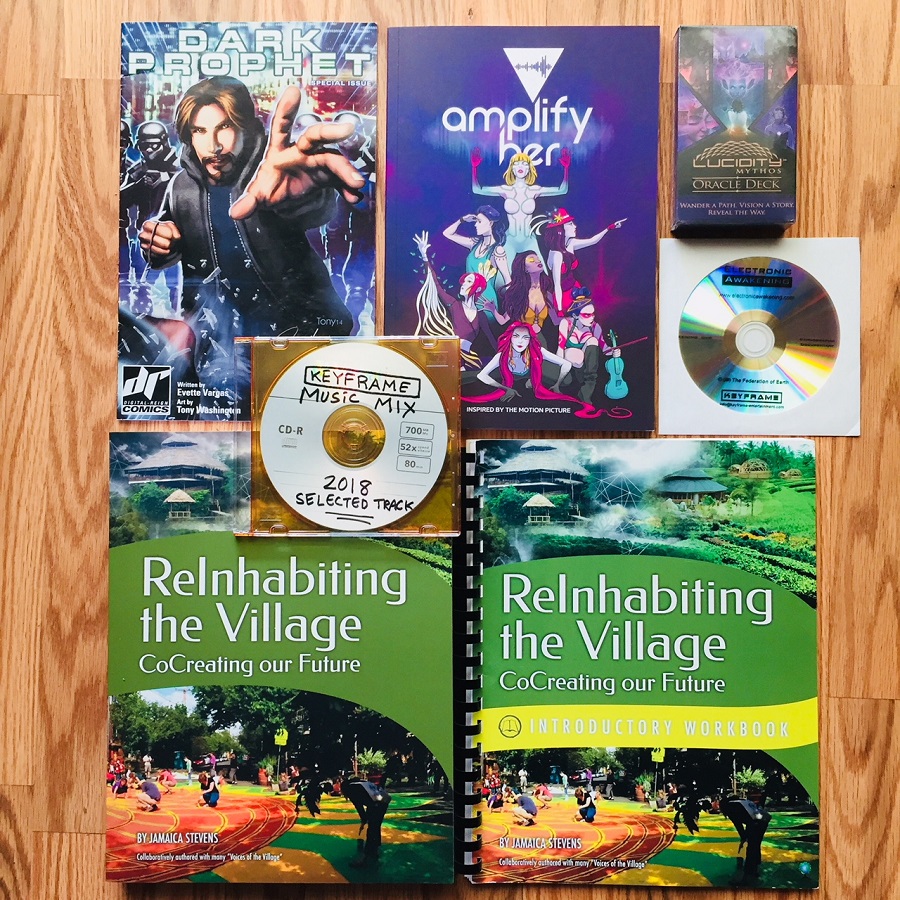 ---
As always, feel free to share with us projects that inspire you so that we can we can post in our network. We strive to make this blog an avenue by and for the Intentional community.
If you have music mixes and memes that you'd like to have featured on Evolver EDM, send them to: Natacha .at. keyframe-entertainment.com.
Connect with us on social media: