Keyframe Blog October 2018
Hello hello Keyframers!
Enjoy 'Ancients Calling' from Merkaba's new release, Tribal Technology! And be sure to read the album preview by Christian Cortes on Reality Sandwich!

And here's the pumpin' mix by Jill Mcdonald VS Boris Levit at Public Works' 8 year anniversary!

---
EVENT: SAN FRANCISCO, OCTOBER 17 – Keyframe presents the Convergence of VR & Electronic Dance Music
On October 17th @The Great Northern in SF, Keyframe showcased the intersection of VR and Electronic Dance Music with talks from Nathan of Survios (Electronauts), TheWaveVR, TribeXR, The Virtual Rave and SwanVR. The event included demos from High Fidelity, Exit Reality, Liquid Light Project, NewPathVR, Visual Reality, and performances by Solar Theory, Torkom Ji, and Michael Strauss.
We're also honored to have had sponsor support from SUBPAC, Pyramind, Chronos Global Academy, VRARA, EMA and the VRS Conference. Read all about it in our press release!
The VRS Conference is part of Greenlight Insights' XRSWeek, the premier annual gathering of senior executives, innovators and honored officials offering dialogue and insight into the future of immersive technology. We're honored to have been the Afterparty for the evening of Day 2 of the VRS Conference!
We welcome volunteers and sponsors in LA and NYC for events in 2019 located there, as we want to make this a multi-city event! Please contact natacha@keyframe-entertainment.com for next steps!
Read the post on VR Focus, and check out the video below: Tribe XR Partners With DJ David Starfire For Live VR Set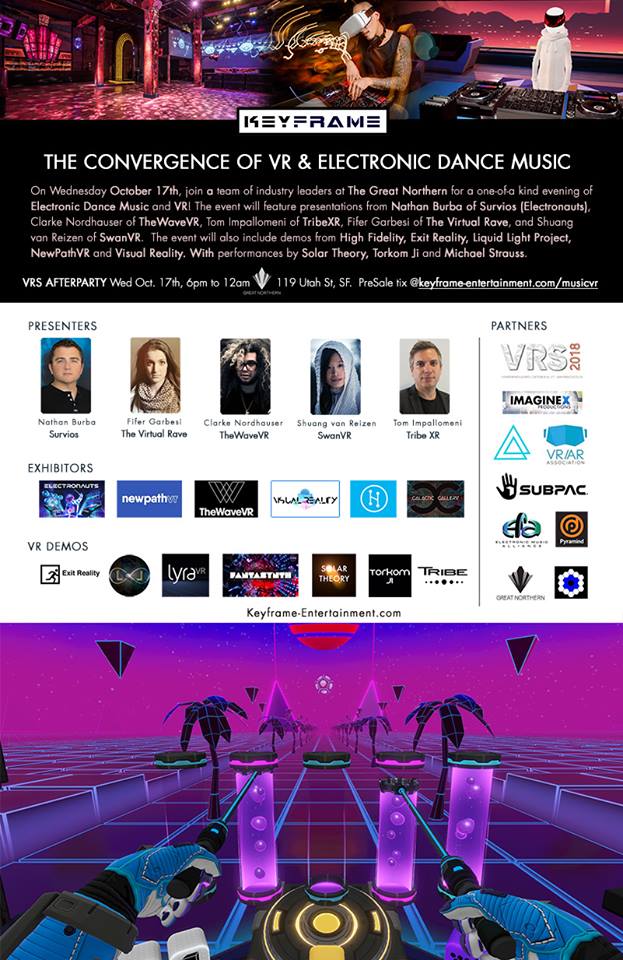 FEATURED EXHIBITORS:

Galactic Gallery
The
Galactic Gallery
is an award winning aesthetically driven interactive Virtual Reality Art Gallery which explores intersections between traditional art and new media. The experience allows you to interact and go inside of the art. It's a fully immersive experience available on STEAM for the HTC VIVE, Oculus, and Microsoft Mixed reality platforms. ~~ The Galactic Gallery, the 2nd place winner of the Arts & Culture Viveport Developer Award.
The experience takes you on a journey with art from the world's top visionary artists featuring Android Jones, Chris Dyer, Mugwort, Xavi, Raul Casillas, Luke Brown, Amanda Sage, Hans Haveron, and Simon Haiduk. The art is processed with effects only possible in a virtual reality. New methods of creating and interacting with art are explored. The soundtrack features songs and remixes from David Starfire, CloZee, and Kalya Scintilla. The sound design and music production were created using the SUBPAC for a fully immersive experience.
Tribe XR
Tribe XR is a VR app that offers a virtual pro DJ deck, tutorials, and 1-on-1 live lessons. Tribe is building the platform for immersive real-world skills training, helping people level up, giving them the skills to succeed.
Survios: Electronauts
Immerse yourself in an interactive sonic environment where you build, drop, remix, and jam with your friends and top artists. Create songs, crush sets, and express yourself like never before. Electronauts sets the stage for you to DJ, perform, and make music magic in virtual reality.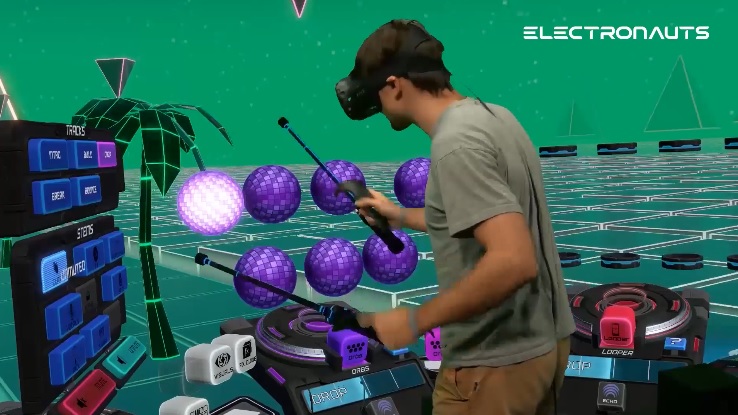 VR/AR Association SF Chapter Fall Dinner & Networking Event
The day before our event, on October 16, the VR/AR Association SF Chapter hosted its Fall Dinner & Networking Event! This event followed the Virtual Reality Strategy Conference (VRS 2018) of Tuesday, October 16th.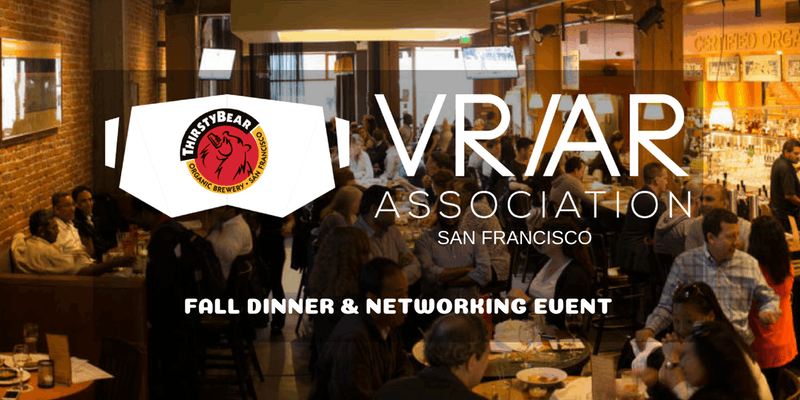 ---
As always, feel free to share with us projects that inspire you so that we can we can post in our network. We strive to make this blog an avenue by and for the Intentional community.
If you have music mixes and memes that you'd like to have featured on Evolver EDM, send them to: Natacha .at. keyframe-entertainment.com.
Connect with us on social media: