Store
Welcome to our store. Please view our products below.
The KEYFRAME BUNDLE PACKAGE IS HERE! Enjoy a range of conscious products at a discounted rate! (Currently a domestic offer only.)
The Keyframe bundle package includes the following: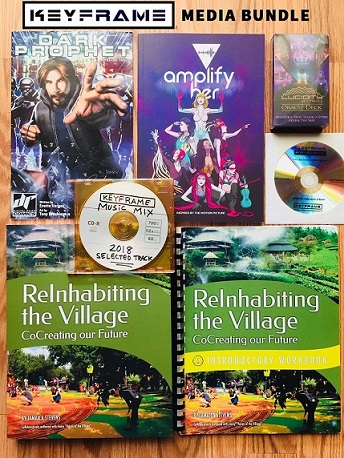 *ReInhabiting the Village paperback book & workbook – a multi-media community resource project co-created by an alliance of visionary partners sharing their knowledge and experience. The book features articles and Visionary art by 60 selected contributors of diverse backgrounds. The workbook features exercises, how to's, best practices, step-by-step instruction, and practical approaches to integrating the inspiration from the book in order to engage community development, interpersonal communication, project management, regenerative, holistic design, and more.
Lucidity Mythos Oracle Card deck – 55-card deck featuring the work of 22 visionary artists, comes with card interpretation guide
Amplify Her Motion Comic book – a six-chapter graphic novel and motion comic series that expands on some of the characters featured in the Amplify Her documentary film
Electronic Awakening screening DVD (not the retail version) – an ethnographic documentary film by Director / Producer Andrew Johner, Executive Produced by Keyframe, that investigates the spirituality of Electronic Dance Music culture and its ties to ancient shamanic rituals
Keyframe music mix – created by DJ Keyframe
Dark Prophet comic book – created by Evette Vargas, a present day sci-fi action thriller about gifted music student, Dai Shepherd, who discovers top secrets hidden in the binary codes of songs, and then finds himself framed for his girlfriend's murder. The comic book is Associate Produced by Keyframe
PACKAGE OFFER:
1 ReInhabiting the Village paperback book – 1 ReInhabiting the Village workbook – 1 Lucidity Mythos Oracle Card -deck – 1 Amplify Her Motion Comic book – 1 Electronic Awakening screening dvd – 1 Electronic Awakening sticker –
1 Keyframe music mix – 1 Dark Prophet comic book
Get this awesome rare package for only $99.99 + shipping—a 30% discount! Total merchandise value is $130+ !
DOMESTIC US ORDERS