Keyframe Blog July 2019
Hello dear community!
Please enjoy our selected mixes, Anthropos event shout out, Desert Trax's new music release, Amplify Her Amazon release, and exciting upcoming Free Earth Festival in Greece!
Let's kick it off with Techno vibes by Jill McDonald and Borrris @Public Works!

And dive into Gagarin Project's "Live, Love, Create"! Gagarin Project will be playing Keyframe's event on August 16th, venue TBD!

---
ANTHROPOS POST-EVENT REVIEW
Shout out to the Anthropos Festival team for hosting an amazing event!
Located in Baldock, UK, Anthropos is a new kind of festival with stunning visual art, diverse electronic beats and live acts, along with workshops, lectures, discussions, healing area, welfare, live painting, artistic involvement, spa & sauna spaces!
Photographer Amir Weiss, of Transformational Eye, captured great photos of his event experience; check out his Anthropos 2019 album here.

---
Desert Trax releases Hipnotic Earth's 'Extended Savasana'
In search of silence, ambient artist Hipnotic Earth has found a calling in ephemeral improvisational meditations that appear out of the stillness, linger a while, and then vanish from whence they came.
Extended Savasana is an inviting new album from the multi-instrumentalist, who has collected seven sonic journeys meant to guide the listener inward, to a place of deep stillness and even sleep. Desert Trax is thrilled to host this unique album, which almost never came to be. Hipnotic Earth's Harbin Hot Springs home and studio were destroyed by wildfire, but thankfully recordings of those very springs are a unifying feature of this collection. From the opening drones of "Slow Light," into "Footsteps of the Ancients," and on through "Perfect Quiet" and "Releasing" the centering beauty and quest for quiet is a truly meaningful experience.
Cosmos says: "Tension!!! Release… in large part is what compromises music. In breaking this rule and focusing on sustained, never-ending release, this music aims to increase the vagal tone and activate the para-sympathetic nervous system which increases the all-important heart rate variability (HRV), which is important for managing anxiety and stress."
GET Extended Savasana on Bandcamp
GET Extended Savasana on Beatport
Read the interview post on Reality Sandwich and enjoy our selected track!
---
FINAL DAYS OF AMPLIFY HER LOS ANGELES WEEK-LONG PREMIERE & FILM NOW AVAILABLE ON AMAZON!
The Amplify Her week-long LOS ANGELES premiere runs until July 4th! View the full schedule and get tickets on Facebook or at ArenaScreen.com.
Amplify Her is now available online via Amazon, initially available in US, Canada, and Australia. (More countries and platforms will be rolled out in the weeks to come.)
Amplify Her is a project that answers the question: what happens when we given women the space and support to shine? Weaving the talents of 30+ women (and many male allies) into an epic storyworld, this film, graphic novel, motion comic series and soundtrack are a memetic explosion of beauty and female power into the global culture.
HOW YOU CAN HELP RIGHT NOW:
It's a huge help for the team to post to your networks, Facebook, Instagram, Twitter, and beyond. They've made it really easy: just head here to download their social graphics and an easy template for you to copy/paste. Some other ideas include changing your Facebook profile banner, and/or recording a short video clip to post, sharing your experience of the film. (For inspiration, check out testimonials from their first public screening.) You can also leave a review and/or share on your social media, and be sure to tag them and use their hashtag, #amplifyher.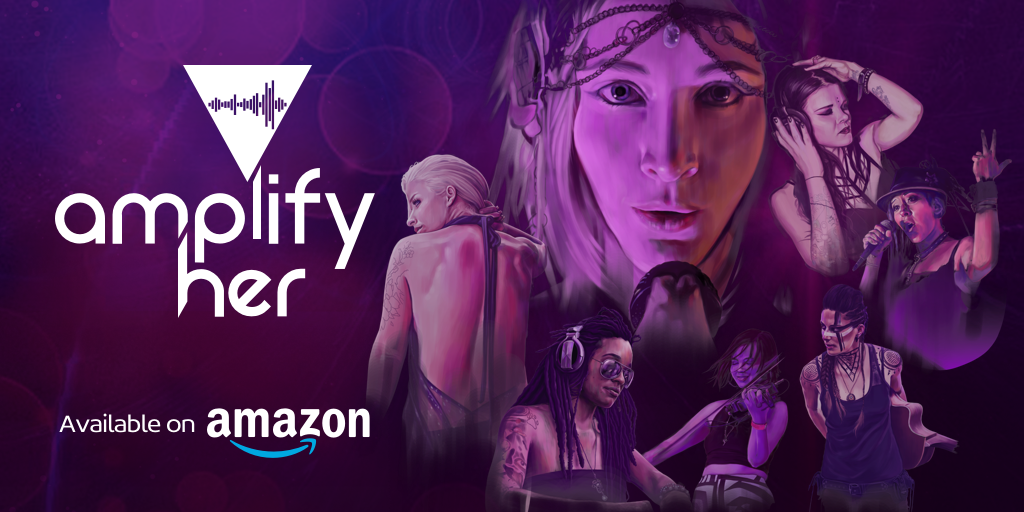 ---
EVENT: AUGUST 22 – 26 – FREE EARTH FESTIVAL @HALKIDIKI, GREECE
Free Earth is a collaboration of like-minded dedicated psychedelic freedom fighters determined to bring back the vibe to the outdoor party scene. A family gathering, with 3 music stages, at the Azapiko beach, an amazing remote seaside camping location in Halkidiki, Greece!
Keyframe is honored to be invited to play a set there this year, at the OXYGEN Stage! Get your tickets and confirm your attendance on Facebook!
---
As always, feel free to share with us projects that inspire you so that we can we can post in our network. We strive to make this blog an avenue by and for the Intentional community.
If you have music mixes and memes that you'd like to have featured on Evolver EDM, send them to: Natacha .at. keyframe-entertainment.com.
Connect with us on social media: