Our partners at The Bloom Series have created a spotlight on Visionary Culture. Through interviews with artists like Krystleyez, Autumn Skye Morrison, Alex & Allyson Grey, Android Jones, and Luke Brown, the clip highlights the sense of magic involved in spontaneous creation. By trusting in the creative spirit, we're able to note patterns–like colors and geometry–that reflect back to us the light within.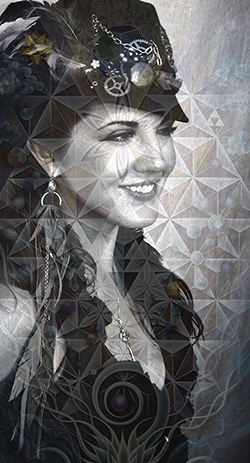 Krystleyez is an evolutionary artist, dream-weaver and emissary of light residing in Boulder, Colorado. Using art as a conduit for personal and planetary evolution, she has passionately dedicated her life to igniting a renaissance of consciousness through sacred expression and conscious collaboration. Be it the spiral of a flower, the organization of honeycomb, the branches of a tree, or even cracked, barren earth, Krystle gazes intently into the architecture of nature and draws her inspiration from the fundamental energetic rhythms of Creation. Her artwork explores sacred geometry as a transparent window into the infinite, interconnected web of being. Dissolving the separation between science and spirituality, self and other, inner and outer, dream and reality, her artwork is an invitation to see the divine reflection in everything.
An important facet of Krystle's artistic offering to the world is her dynamic and far-reaching roots as a live performance painter. Her illuminating presence at festivals internationally has been influential in the emergence of the live painting movement and the evolution of concert and festival culture. Her performances are an invitation to expand one's perception of art away from a static image into a conscious co-creative process that is at the core of who and what we are. The essence of a collective dream is reimagined with every brushstroke, heArtbeat of the drum, and spiral of the dance…opening a space for deep personal and cultural/collective transformation through these experiences.
Visit her website and Facebook.
"Heart of the Mirror" by Krystleyez :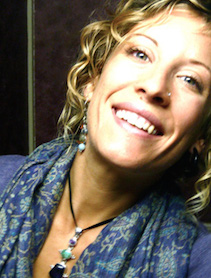 Born in Nova Scotia, Autumn Skye moved with her family West across Canada. She spent her youth between the majesty of the Rocky Mountains with her Father, and the lush coastal rainforests with her Mother. Autumn Skye has been painting since she could hold a brush, developing a deep wonder for nature and the world around her. Amidst journeys to explore the world and share inspiration with the ever blossoming community, Autumn Skye otherwise lives and paints in her home north of Powell River on the Sunshine Coast of British Columbia, Canada. In her studio, she overlooks a sweeping expanse of ocean, islands, mountains, and sky. She considers herself among the blessed of the blessed.
"I aim to share honesty and awakening.
To celebrate this fantastic adventure.
To inspire and be inspired." — Autumn Skye
Visit her website and Facebook.
"Healing" by Autumn Skye Morrison :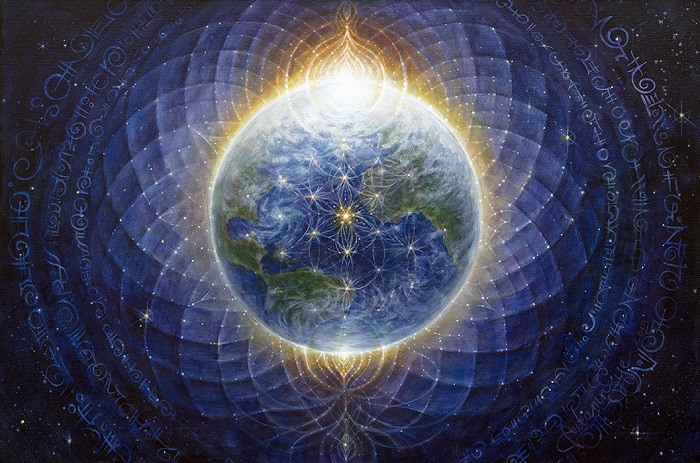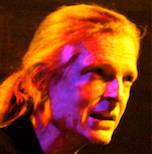 Alex Grey is an American artist specializing in spiritual and psychedelic visionary art. He and his wife Allyson Grey are the co-founders of The Chapel of Sacred Mirrors, CoSM, a non-profit church supporting Visionary Culture in Wappinger, New York. Grey's paintings can be described as a blend of sacred, visionary art and postmodern art. He is best known for his paintings of glowing anatomical human bodies, images that "x-ray" the multiple layers of reality. His art is a complex integration of body, mind, and spirit. The Sacred Mirrors, a life-sized series of 21 paintings, took 10 years to complete, and examines in detail the physical and metaphysical anatomy of the individual. "The inner body is meticulously rendered – not just anatomically precise but crystalline in its clarity".[4] Many of his paintings include detailed representations of the skeleton, nervous system, cardiovascular system, and lymphatic system. Grey applies this multidimensional perspective to paint the universal human experience. His figures are shown in positions such as praying, meditating, kissing, copulating, pregnancy, birth and death. His work incorporates many religious symbols, including auras, chakras, and icons with geometric shapes and tessellations in natural, industrial, and multicultural situations. Grey's paintings are permeated with an intense and subtle light that is rare in art history. Alex Grey's achievements also include publications and film appearances, including "Electronic Awakening".
Visit his website and Facebook.
"Net of Being" by Alex Grey :

Android Jones is at the forefront of the Electro-Mineralist art movement, a wave of artists who's medium is electricity and their hardware and tools are forged from mining elementsfound deep inside the earth. Android's body of work aims to emphasize creativity as the foundation of consciousness and an agent of social change. As an Electro-Mineralist, Android builds on the technical developments of past centuries in art history while pushing the boundaries of the imagination with new technologies and media forms. Moving beyond the traditional organic vegetable and animal technologies of pencils, ink, and brushes, Android develops latent possibilities within software programs such as Painter, Photoshop, ZBrush, and Alchemy, discovering new combinations and uses for tools that exceed the original intentions of their programmers.
Visit his website and Facebook.
"Forward Escape" by Android Jones :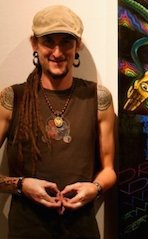 Luke Brown is an intrepid explorer, part of a new generation of visionaries recontructing the templates of culture as we know it. His art speaks of the spiritual mysteries in the human imagination.
Mystical experiences, dreams, medicine journeys, and channelled lucid dialogues with the source of creativity itself, seem to guide and be guided by the colourful symmetries and living surfaces of his art. Much of his work emerges from a graceful synthesis of digital and painting mediums. Developing his work through mix and remix technologies, Luke is constantly redefining his style as a spiritual medium for growth. He is intent on mapping his hyperspatial experiences with utmost accuracy, with whichever medium seems best suited, as a form of multidimensional cartography.
His art has been shown internationally with such visionary heavyweights such as Alex Grey, HR Giger, Robert Venosa and Ernst Fuchs. He is currently a resident of the lush Elfinstone rainforest in BC Canada, one of an infinite number of parallel universes in which he resides within simultaneously.
Visit his website and Facebook.
"Yamantaka" by Luke Brown Spectraleyes :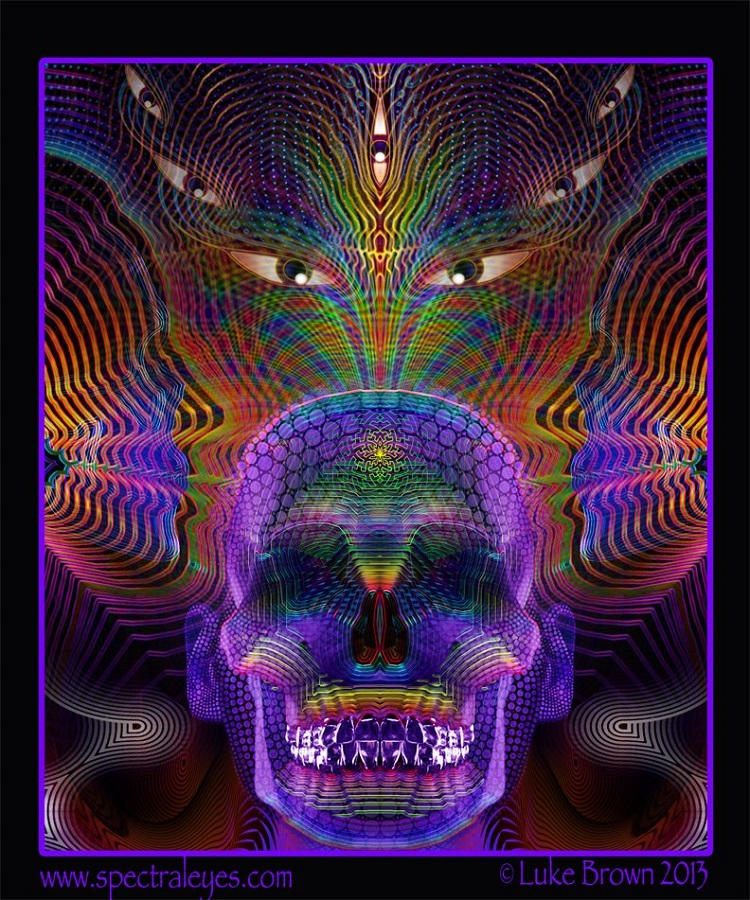 THE BLOOM is a groundbreaking documentary web series by Jeet-Kei Leung and Akira that illuminates the blossoming phenomenon of Transformational Festivals; immersive participatory realities that are having profound life-changing effects on hundreds of thousands of lives. Keyframe is the Executive Producer of The Bloom Episode 3: New Ways of the Sacred and Screening Director of all episodes.
For more info, go to http://keyframe-entertainment.com/the-bloom/