Keyframe-Entertainment continues to support the production of Darren Minke's Visionary Art book "ALCHEMISTAS"


What is Visionary Art? It is the child of surrealism and fantasy, but with a stronger message of conscious evolution. Art that captures the depths of imagination, the infinite potential of other dimensions, the journey of altered states of being, and the quest for spiritual enlightenment. It is a glimpse into other worlds, or what our world could become…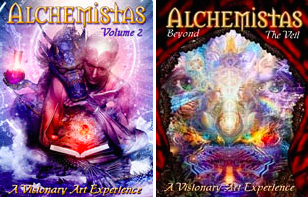 PLEASE NOTE THAT WE ARE OUT OF STOCK, BUT IT CAN STILL BE PURCHASED HERE: https://visionaryartbooks.com/product/alchemistas-vol-1/
"ALCHEMISTAS" Volume 1 features these Visionary Artists and more:
Andrew Gonzales, Andrew Jones, Luke Brown, Cameron Gray, Robert Venosa, Martina Hoffman, Mark Henson, Mariela de la Paz, Amanda Sage, Carey Thompson, Darren Minke, Chris Dyer, Xavi Panneton, Adam Scott Miller, Michael Divine, Hans Haveron, Ishka La, Autumn Skye Morrison, Michael Garfield, Brian Paul Smith, Mark Lee, Krystleeyez, Jessica Pearlstein, Dave Lawell, Viandara, Justin Totemical, Mugwort Artemisia, Geoglyphiks, Tourmaline Todd, Michael Heltebrake, Adam Fu Reed, Keerych Luminokaya, Ka Kathryn June Amorastreya, Jamie Kaminskas, Laura Borealisis, Ashley Foreman, Emma Watkinson, Brig Marlin, Laurence Caruana, and many more.
The Volume 2 edition is currently in production. This project is being produced by Darren Minke – Founding Visionary Artist, edited and written by Angela Russell of Know Wonder Entertainment, and promoted/produced by Julian Reyes of Keyframe-Entertainment.
For more info or to contribute to the development of the book, please contact Julian .at. keyframe-entertainment.com
Visit the Facebook page here.