Keyframe-Entertainment has been involved in the production of XR/music/Tech events, film screenings, and conference afterparties for many years. We welcome the opportunity to work with you on future events or festivals. Here are some events we produce, promote, or support:
---
Upcoming Events
---
JULY 20th – JULY 27th – BOOM FESTIVAL 2023
BOOM Festival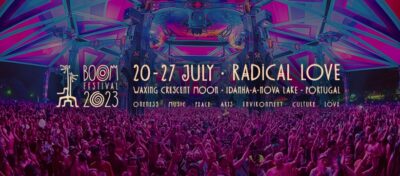 returns to Portugal! BOOM is not a festival only, it is a state of mind. BOOM mirrors the changes that evolve in the universe by developing a unique experience that includes enjoying nature, neo-tribalism, some of the best contemporary music, mind-stimulating lectures by global activists, and inspiration of the finest art and performing arts. The idea is to create a space in this time continuum in which people from across the world can converge to experience an alternative reality – thus inspiring us to collectively channel the universal truth. Keyframe (Julian Reyes) will be speaking at an XR tech panel and showcasing Keyframe films.
---
JULY 31 – AUG 6 – OZORA 2023

OZORA returns to Hungary! One of OZORA's pillar of experience is reaching out into the deepest realms of your imagination and displaying, sharing that glorious, that grotesque, that unparalleled treasure you find within. A universe of openness, togetherness, where we can evolve towards becoming one with cosmic energies, with nature, with consciousness, with wholeness through dance, trance, creation, invention, transformation and peace. ManyNames is honored to return this year and play at The Dome!
---
Past Events
---
Past Keyframe Events list
To view and learn more about our past events, such as 'Amplify Her' screenings, Oregon Eclipse, ALIA's Feminine Medicine, and ARTandVR, please go to our Past Events page.
---
MAY 5TH – 7TH – PULSE FAMILY GATHERING: LUNAR BLOOM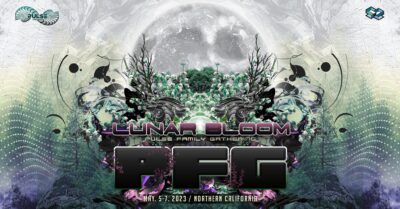 Pulse Family Gathering returned with a stunning new and fresh location to host a spring time phamily reunion! They chose the spring full moon which coincided with the yearly wildflower bloom on the property to create a lush and verdant playground for us all. It included all of the things you love Pulse for; from a proper and varied psychedelic lineup to top notch sound and immersive colorful deco.
ManyNames is honored to have joined its lineup!
---
APRIL 7TH – 9TH – LUCIDITY FESTIVAL
2023 marked 10 years of Lucidity Festival! From April 7-9th, participants enjoyed Live Oak Campground outside Santa Barbara for this lineup of incredibly talented music acts. The wide variety of genres and names offered something for everyone.
Lucidity Festival is more than just a festival; it's also an immersive story that features YOU! Each festival is a chapter in a larger narrative whose story is based on a framework of theories about the expansion of consciousness, developmental psychology, and The Hero/Heroine's Journey. As a longtime friend and supporter, ManyNames is honored to have celebrated its 10 years and played the late night Nook Stage!
---
MARCH 15TH – VIRTUAL METAVERSE WORKSHOP – XR INDUSTRY SPOTLIGHT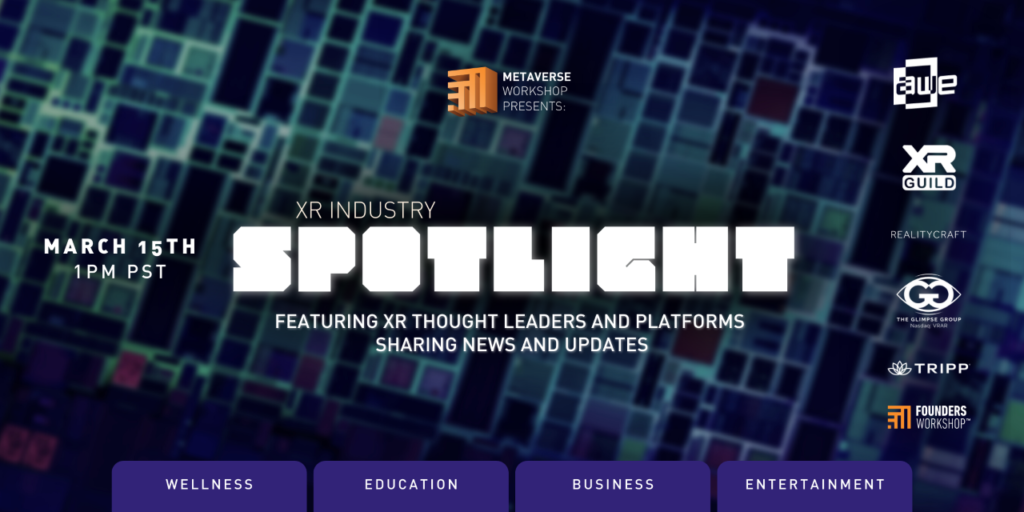 Metaverse Workshop brought together XR companies and professionals in Spatial.io to share their upcoming projects, news, events, and developments. Four pillars were represented: Wellness, Business, Education, and Entertainment.
The event was hosted by Sophia Moshasha of The Polys – Web XR awards and Evo Heyning of XR Guild. The event also welcomed XR Guild President Avi Bar-Zeev, AWE XR's Head of Programming Sonya Haskins, CCO of The Glimpse Group DJ Smith, David Starfire of TRIPPinc, and Vincent Serpico of Metaverse Workshop.
---
DEC 21 @SAN FRANCISCO: Electronic Awakening 11 Year Anni: AC Johner, Ken Jordan, Forest Green, JIVANA, Satsi, Random, CODE369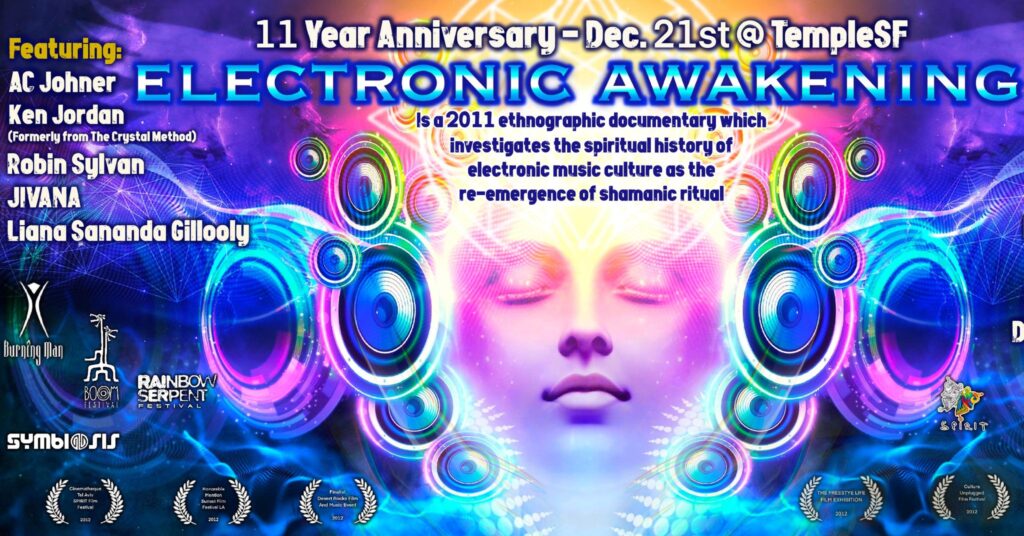 After 11 years of the film Electronic Awakening being screened at over 250 locations worldwide, AC Johner and Julian Reyes celebrated with a special event in San Francisco, Wed, Dec 21st, 2022, at Temple SF! The event featured a presentation, a panel discussion, a memorial, and a dance party with DJs affiliated with the film. Speakers included: AC Johner (Writer, Director, and Producer of Electronic Awakening), Ken Jordan (Formerly one half of The Crystal Method), Robin Sylvan (Author of: Trance Formation: The Spiritual and Religious Dimensions of Global Rave Culture), Liana Sananda Gillooly (Strategy Officer for the Multidisciplinary Assoc. for Psychedelic Science – MAPS), and JIVANA (Janine Jordan, Author + Co-Founder of Electronic Music Alliance).
---
SEPTEMBER 8-12 @BELDOCK, UK: ANTHROPOS FESTIVAL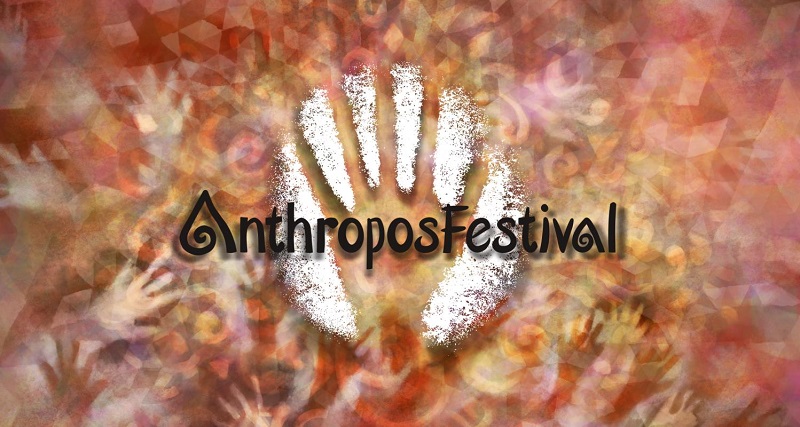 ManyNames played at UK's Anthropos Festival. This new kind of festival features stunning visual art, diverse electronic beats and live acts held near London, UK.
Each year, Anthropos invites you to the forest and the fields, out into nature: to re-wire yourself to the source.
---
SEPTEMBER 3RD, 2022 – KEYFRAME Presents Lo.Renzo (Italy), Kaminanda, Billy Casazza, and Fractal Cowboys!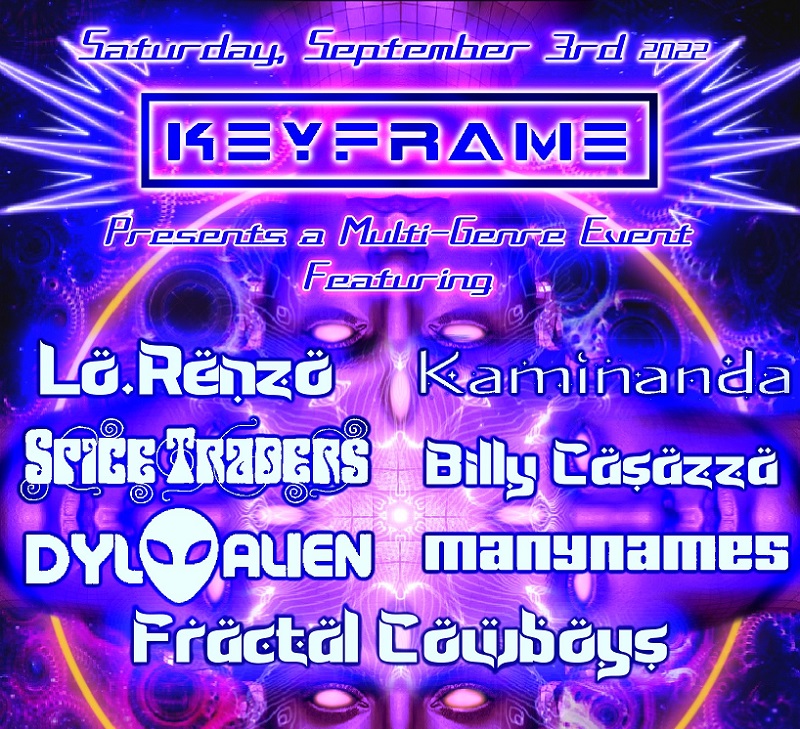 KEYFRAME is honored to have hosted Lo.Renzo who visited us from Italy! Along with the one and only Kaminanda, alongside Billy Casazza (Opulent Temple), Spice Traders, Dyl
Alien (Fractal Cowboys), and yours truly as ManyNames (Sofa Beats / Denmark). The event also featured Live Visionary Art Painting by Kashi Deco by Yuliya.
Lo.Renzo combines global bass music with the unique voice of the sarangi, searching for every possible interaction. This musical journey is the translation of the complex path taken by the study of this instrument integrated with many others like different kind guitars, flutes, percussions and cumbus. PAST GIGS: Ozora (H), Tribal Gathering (PA), Boom (PT), Psyfi (NL), Tree of life (GR), Own spirit (E), Elysium island ( Andra Vaerlden Gathering (SWE), Ekodrom (HR), Modem (HR), Goulash disko (HR), Dragon's quest (HR), Vibronica (UA), Wao (IT), Sonica (IT), One love festival (CH), Shankra festival (CH), Yaga Gathering (LT), Blackmoon festival (IT), Taurus connection (IT), Ambiosonic (FR), Ufo Bufo (CZ).
---
APRIL 23RD, 2022 – PULSE Resequenced feat K.I.M (Zero1) @F8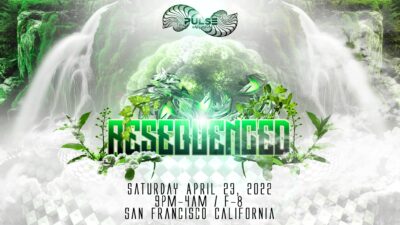 PulseSF hosted a night of curated music immersed in a vibrant atmosphere in that special way that only Pulse does. Systems are powering up. Switches are being thrown as they prepared to resequence Pulse and the community as a whole with this exciting relaunch.
Front Room Navigation featured K.I.M (Zero1) from Sweden.
Pulse Residents: KHROMATA (Iboga), PARADIGM (Sculpted Sounds), PAUL LONDON (Trick Music), KANAIIYA (Space Elevator) and OSO (Shadow Maker), and more. ManyNames is honored to have performed as DJ MetaNames.
---
APRIL 17TH, 2022 – FERNANDA PISTELLI IN SAN FRANCISCO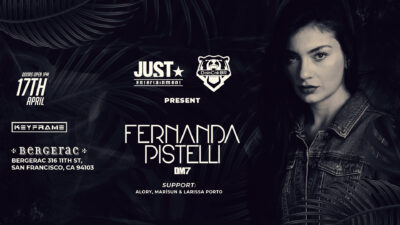 Special Easter Sunday with Brazilian techno DJ Fernanda Pistelli. A 27-year-old from São Paulo, Fernanda Pistelli has always been passionate about different ways of interpreting the Universe through her senses, and music allows her to explore sensations capable of creating a unique atmosphere. "Life is cyclical, so we are constantly changing and through music it is possible to find an axis that is in harmony with everything that exists, and that is the key to connect our mind to our body". She believes that music is capable of awakening awareness at different levels and builds her sets by mixing mystical sounds surrounded by striking beats that highlight her identity.
Support by Allory, Marisun & Larissa Porto. Presented by DaleCali BR and Just Entertainment. Support by: Keyframe.
---
APRIL 9TH, 2022 – Secret Psychedelica: ARIES 2022 with QUADRA, CAPT TRIPPS, DJ METAMATE, INSPECTOR GADGET & MIB @DNA LOUNGE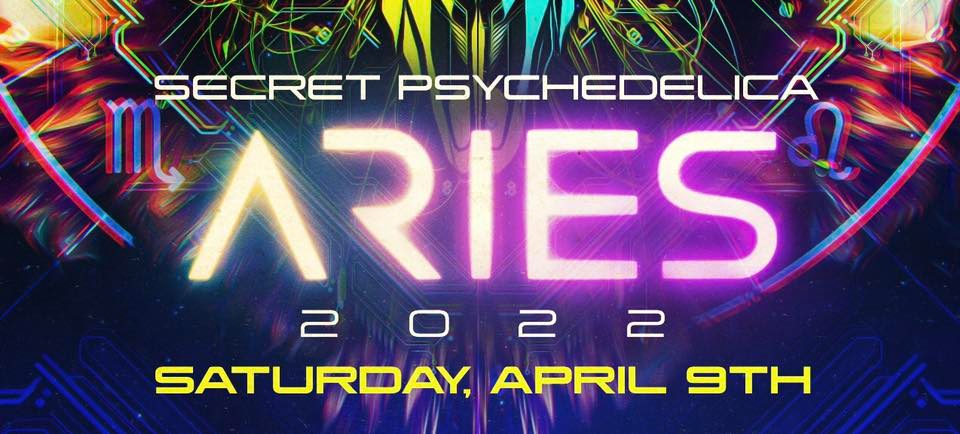 Springtime is here and the horns of Aries are sounding off! Will you heed the call of San Francisco's psytrance movement? Leading the charge is Secret Psychedelica, the city's only ongoing psytrance party! To start the new season, they welcomed back Quadra from Israel. Backing him up was a select group of Aries DJs including Capt Tripp, Inpector Gadget, and MIB. ManyNames is also honored to have performed as DJ MetaMate.
---
FEBRUARY 4th, 2022 – Keyframe presents Elias Doré, Dela Moon, and Subjacent
KEYFRAME-ENTERTAINMENT hosted some amazing artists to share their music with the Bay Area.
The event featured an evening of engaging visuals, unprecedented Electronic Music, and beautiful vibes with Elias Doré (SF debut), dela Moon, Subjacent, ManyNames, and the Pyramind DJ Showcase featuring CODE369, Free Us, and Matryx @The Public Works Loft.
---
NOV 20TH, 2021 – Mioli Music Presents: Kausmic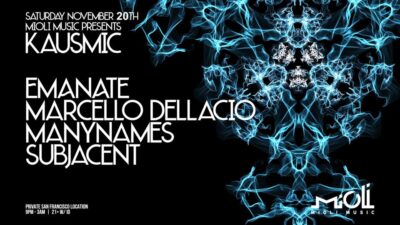 On November 20th, Mioli Music welcomed us to party in a San Francisco historical ballroom style space with a Burning Man playa art structure.
Channeling our Creativity and yearning for the burn, rave, festivals, and club life, we expressed our vibrancy and adventured into the realm of possibility.
Featured DJs included Emanate, Marcello Dellacio, ManyNames, and Subjacent.
---
DEC 9 – 10TH, 2020 – Reuters Events MOMENTUM Virtual Forum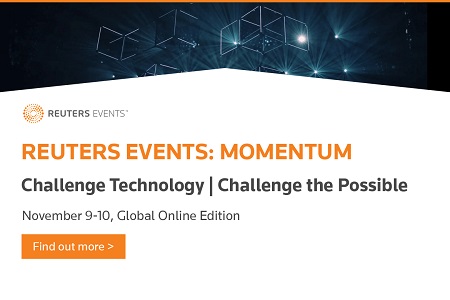 MOMENTUM: Challenge What's Possible at the Premier Technology Virtual Forum
Reuters Events MOMENTUM Virtual Forum is the place to discuss changing consumer behavior, new offerings and business models as well as future technological innovation.
Together we can challenge the possible and determine technology's future impact, making our world a better place.
---
OCT 23 – 24th, 2020 – Unison 5: A Fundraiser for the Oakland Fund for Public Innovation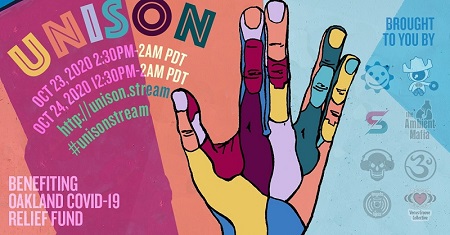 Unison 5 is reaching for the next level of COVID-safe connection, fun and adventure. The Opening Ceremonies both days of the event were broadcasted on the Orange Stage.
They also added some new creative content with a performance by Cello Joe, a Treasure Hunt Fitness Class by Bliss Fitness, and magical dance performances!
Charity: Oakland Fund for Public Innovation COVID-19 Relief Fund
Each Unison event supports an organization aligned with their community's values. For Unison 5, they're returning to COVID-19 relief. The Oakland COVID-19 Relief Fund provides immediate grants focusing on four priority areas: food, homelessness, community health & education, and economic security. They work with established nonprofit partners to quickly allocate resources to those in need.
---
OCT 22nd, 2020 – LEARY DAY: A Cyberdelic Celebration Honoring Timothy Leary's 100th Birthday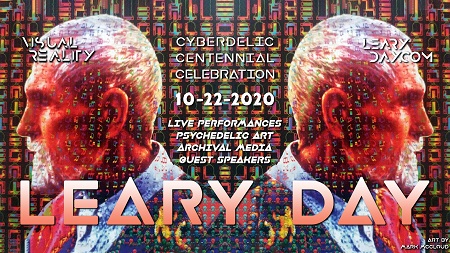 The controversial pioneer of consciousness, Dr Timothy Leary was born 100 years ago on October 22nd. This event established a new holiday to celebrate the psychedelic experience – LEARY DAY.
Featured audio/visual experiences by: MerKaBa, Birds of Paradise, Imagika Om, David Starfire, Dr. Fiorella Terenzi, Torkom Ji, Solar Theory, Itom Lab, D'rok The menace, and J-Walt's Lucid Dreamscapes. With live visuals and art curated by Michael Strauss Visuals Suprise guests and more! We're honored to have played a set at the event alongside this lineup!
---
OCT 18th 2020 – Mioli Music Open Air @Midway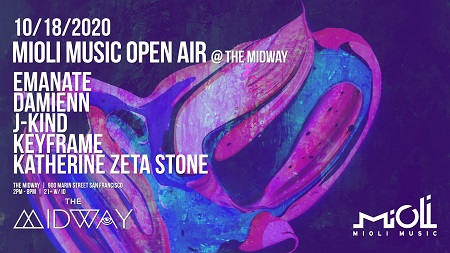 Mioli Music Open Air offered an Outdoor Dining Experience with live stream: twitch.tv/themidwaysf
🎵 Music Line-up 🎵included Emanate, Damienn, J-Kind, Keyframe, and Katherine Zeta Stone
---
OCT 14th, 2020 – VR Producers Mixer & Tech Talks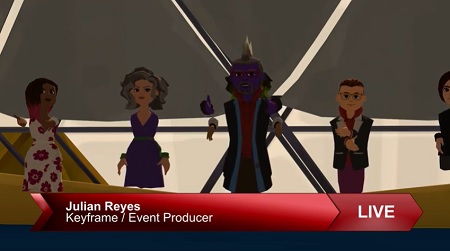 In 2018, Keyframe-Entertainment hosted an event at San Francisco's Great Northern focused on the intersection of Electronic Music and VR. Fast forward to October 2020, DJ Celeste teamed up with Keyframe to host a VR event Producers Mixer & Tech Talks in Altspace to continue the discussion of the exciting evolution of events and festivals in VR. The goal of the mixer and tech talks was to continue building bonds within the AltspaceVR community, and share experiences so that event organizers, aspiring world builders, and performers can have a more thorough understanding and potentially inspire the expansion of new ideas moving forward into the future.
---
SEPT 30 – Oct 2, 2020 – VR/AR Global Summit ONLINE Conference+Expo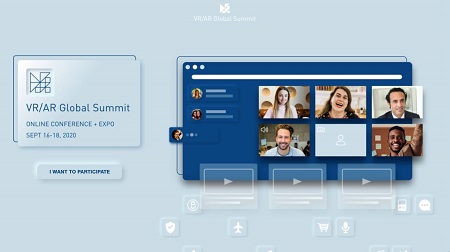 The VR/AR Global Summit Online is the largest and fastest growing immersive tech event in the world. Attendees were aligned with a content-driven VR / AR show, featuring important conversations, talks, exhibits, and events led by globally leading companies and organizations, who are sharing practical and valuable real-use cases from the immersive industry. The online summit used a next-gen online event platform that enabled different ways to interact with the attendees, including the Expo Area with Virtual Booths.
---
AUGUST 30 – SEPT 6 – BURNING MAN IN VR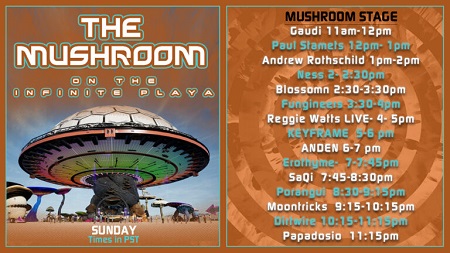 Burning Man went virtual in 2020! We're honored to have been part of Wisdome and to have been booked alongside Reggie Watts at THE MUSHROOM! From creative designer Android Jones with Vision Agency, in partnership with the foremost steward of mycology magic – Paul Stamets. The Mushroom art installation resides in The Infinite Playa (www.infiniteplaya.com) a platform at the cutting edge of technology for experiential viewing. Designed by dedicated burners, this virtual desert allows the user to get the most authentic experience the digital realm can possibly provide. With two stages on the Mushroom, they curated the week to host a broad selection of artistry and education with an awesome lineup!
Learn more about Burning Man VR in our post!
---
AUGUST 28 – AUG 30 – UNISON 4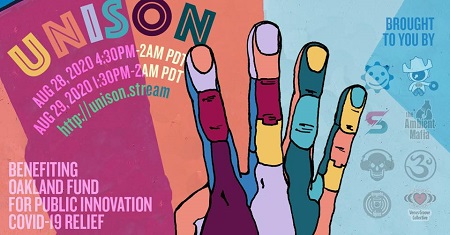 Unison creates celebrations of generosity through creativity and community. Unison events harness the collective talent and energy of communities towards a single event, raising money for a single charity. The event collected donations benefiting The Community Foundation of Santa Cruz County. They've established a Fire Response Fund to aid residents who have been displaced by the CZU fire.
We're honored to have played Unison 4 on Saturday Aug 29th, at 3:15 on the Blue Stage!
---
JUNE 26 – 27 – ONLINE EVENT: Unison III — 1 Party, 2 Days, 3 Stages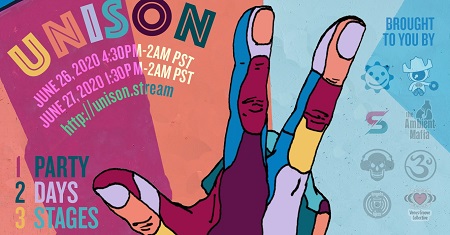 Unison came together In the spirit of community unity, shared values and talent to support those in need.
---
JUNE 12 – 14, 2020 – ANTHROPOS STREAM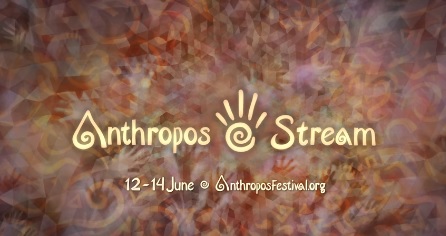 We're honored to have been part of Anthropos Festival 2020's Livestream event! Featured:
LIVE ART
LIVE MUSIC
LIVE WORKSHOPS
LIVE LECTURES & PANELS
LIVE PERFORMANCES
LIVE CEREMONIES
---
MARCH 18th, 2020 – Playable.GDC2020 @online streaming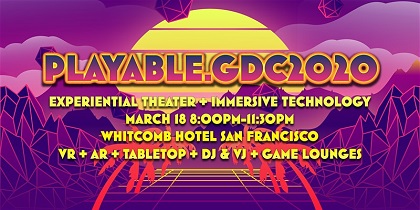 In light of the canceled Game Developer's Conference 2020, Playable Agency hosted virtual reality streams from the event accessible from anywhere on the planet. The event featured:
*Mixed Reality Dance Party in NeosVR – https://neosvr.com/
*Mozilla Hub Party – https://hubs.mozilla.com/
*Twitch Stream – https://www.twitch.tv/playableagency
AND VJ artists, game demos, and DJs!
---
FEBRUARY 8th, 2020 – Intimate Night with Perfect Stranger @The Midway SF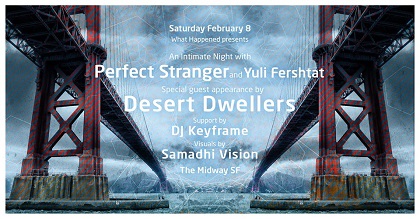 In this edition of Intimate Night we celebrated Perfect Stranger's 50th bday with a special guest appearance by Desert Dwellers. View the event video here.
~We believe the electronic scene is so much more than just music, its an experience, a philosophy, a journey.
---
DECEMBER 29 – JAN 1: COSMIC CONVERGENCE @LAKE ATITLAN, GUATEMALA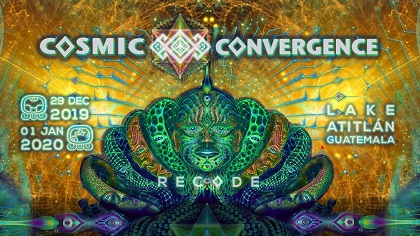 Keyframe is honored to have been invited to play a set at Cosmic Convergence 2019!
Cosmic Convergence is a transformative cultural initiative designed to leave a positive social and local impact. The festival supports different artists, organizations and community projects, encouraging a platform between cultures, Individuals and social impact projects.
---
DECEMBER 12 – 13: VRX Conference & Expo @SF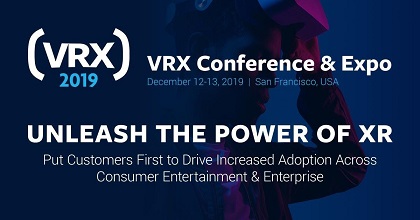 VRX Conference & Expo provides a forum between some of the world's largest brands and investors to discuss strategies for getting XR successfully integrated into the workplace, the public domain and into people's homes.
VRX 2019 highlighted case studies from global brands spanning more than 10 key verticals across the XR ecosystem.
---
To view and learn more about our past events, such as 'Amplify Her' screenings, Oregon Eclipse, ALIA's Feminine Medicine, and ARTandVR, please go to our Past Events page.