Keyframe-Entertainment has been involved in the production of XR/music/Tech events, film screenings, and conference afterparties for many years. We welcome the opportunity to work with you on future events or festivals. Please contact us to explore ways to collaborate.
Here are some events we produce, promote, or support:
---
Upcoming Events
NOV 6 – NOV 9th, 2020 – LUCIDITY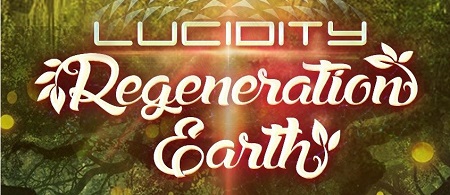 Chapter 9: Regeneration Earth: Seed a New Garden
Awakening and watching, watching and learning, learning and doing. We are engaged in a beautifully entangled process of expansion that we know through our feeling, sending, observing, behaving, and growing…We step confidently into this big place, knowing our actions and deeds affects all of life and ripple outward in infinite directions. We are ready to sound the horns and call it back in. Water is life. Breath is life. Soil is life. Heartfully grown food is life. We resolve to be Guardians, Stewards and Engaged Activators, not just for our own backyards, not just for the village we call home, but for our communities of communities and for our precious garden plant.
Regeneration Earth is a calling for our human community to claim Home and do the work necessary for this planet to remain our Home for many generations. There is much to be undone, ways of being to be remembered, and songs of peace and healing to be sung! Let the regeneration begin.
---
Past Events
---
Past Keyframe Events list

To view and learn more about our past events, such as 'Amplify Her' screenings, Oregon Eclipse, ALIA's Feminine Medicine, and ARTandVR, please go to our Past Events page.
---
JUNE 26 – 27th – ONLINE EVENT: Unison III — 1 Party, 2 Days, 3 Stages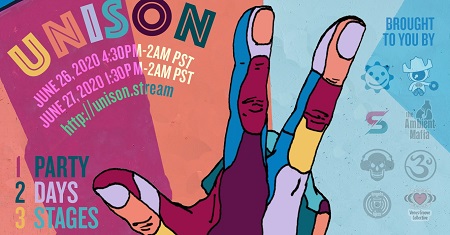 Unison came together In the spirit of community unity, shared values and talent to support those in need.
---
JUNE 12 – 14TH, 2020 – ANTHROPOS STREAM
We're honored to have been part of Anthropos Festival 2020's Livestream event! Featured: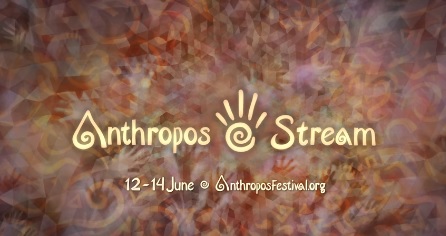 LIVE ART
LIVE MUSIC
LIVE WORKSHOPS
LIVE LECTURES & PANELS
LIVE PERFORMANCES
LIVE CEREMONIES
---
MARCH 18th, 2020 – Playable.GDC2020 @online streaming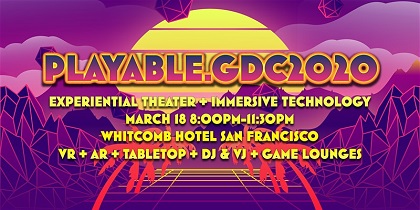 In light of the canceled Game Developer's Conference 2020, Playable Agency hosted virtual reality streams from the event accessible from anywhere on the planet. The event featured:
*Mixed Reality Dance Party in NeosVR – https://neosvr.com/
*Mozilla Hub Party – https://hubs.mozilla.com/
*Twitch Stream – https://www.twitch.tv/playableagency
AND VJ artists, game demos, and DJs!
---
FEBRUARY 8th, 2020 – Intimate Night with Perfect Stranger @The Midway SF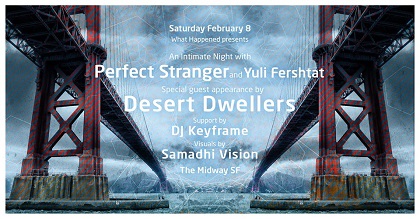 In this edition of Intimate Night we celebrated Perfect Stranger's 50th bday with a special guest appearance by Desert Dwellers.
~We believe the electronic scene is so much more than just music, its an experience, a philosophy, a journey.
---
DECEMBER 29 – JAN 1: COSMIC CONVERGENCE @LAKE ATITLAN, GUATEMALA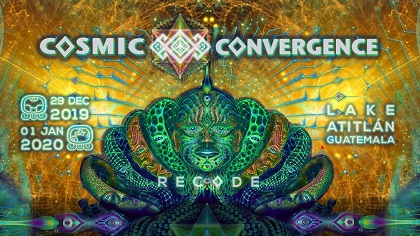 Keyframe is honored to have been invited to play a set at Cosmic Convergence 2019!
Cosmic Convergence is a transformative cultural initiative designed to leave a positive social and local impact. The festival supports different artists, organizations and community projects, encouraging a platform between cultures, Individuals and social impact projects.
---
DECEMBER 12 – 13: VRX Conference & Expo @SF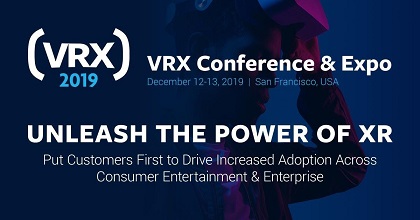 VRX Conference & Expo provides a forum between some of the world's largest brands and investors to discuss strategies for getting XR successfully integrated into the workplace, the public domain and into people's homes.
VRX 2019 highlighted case studies from global brands spanning more than 10 key verticals across the XR ecosystem.
---
NOVEMBER 30: Shpongle (Simon Posford Live), Android Jones, Kalya Scintilla @Midway SF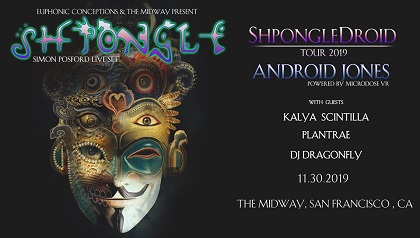 Euphonic Conceptions & The Midway SF presented RE:CREATION: SHPONGLEDROID SF: Shpongle (Simon Posford) LIVE with visuals by Android Jones, plus Kalya Scintilla, Plantrae, DJ Dragonfly, & more.
Event featured Art Gallery, Live Painting, Dance Performances, Tasty Food & Drink, and Vendors.
---
OCTOBER 25: KHROMATA NIGHTS PRESENTS EMOK @F8, SAN FRANCISCO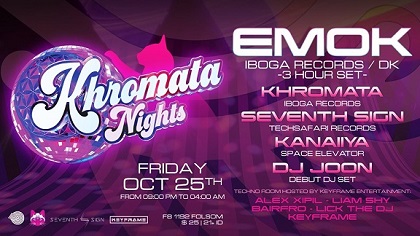 Khromata Nights and The San Francisco Psychedelic Collective are pleased to have presented Emok (Iboga Records)! Mikael is one of the most accomplished DJs and producers out there, as well as being a label boss for one of the most prolific, enduring, and successful psytrance labels in the world, Iboga Records, over 20 years now and going stronger than ever. Lineup also featured Khromata, Seventh Sign, Kanaiiya, and the debut of DJ Joon! Back techno room hosted by YOURS TRULY, featuring Alex Xipil, Liam Shy, Bairfro, and Lick the DJ.
---
OCTOBER 16: The xRS Week Happy Hour: Electronic Music Culture & XR Training @Hotel Kabuki, SF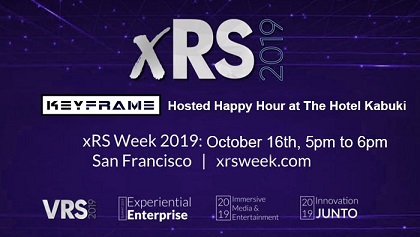 Keyframe's 2nd edition of the convergence of Electronic Music Culture and XR Training, at this after-party we explored the intersection of both industries. Info of the 2018 event: http://keyframe-entertainment.com/musicvr/
Keyframe hosted the Happy Hour for xRS week 2019 @ the Kabuki Hotel, featuring VRARA, Pyramind, and TribeXR: https://greenlightinsights.com/xrs-week
xRS Week 2019: xRS Week is VR/AR's top executive conference and expo, offering strategic dialogue and insight into the future of virtual & augmented reality.
– Hear from more than 100 high-caliber speakers across a program of over 50 sessions.
– Gain valuable insight for managing through turbulent times facing the future of immersive technologies.
– Build relationships with a community of more than 800 decision-makers from all facets of the VR/AR industry.
---
SEPTEMBER 20-22: RED MARINES FESTIVAL 2019 @Sopiago Creek, CA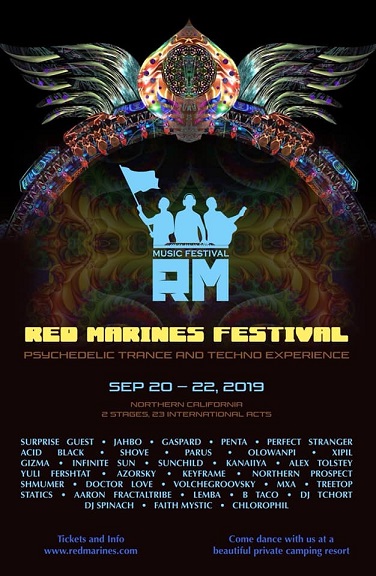 The 12th installment of the RED MARINES MUSIC FESTIVAL returned to Northern California! Lineup included:
SPECIAL GUEST (Sonic Loom Records) – First ever US appearance! AND: JAHBO (Parvati Records), GASPARD (Sangoma / Peak Records), PENTA (Auraquake Records), PERFECT STRANGER (Iboga Records), ACID BLACK – (Boshke Beats Records), SHOVE (Old Skull), PARUS (Red Marines), OLOWANPI – (Dropout Productions / Red Marines), XIPIL (Red Marines), GIZMA (Spun Records), and more! Keyframe is honored to have been invited to play a set at Red Marines 2019!
---
SEPTEMBER 14: Psychedelic In San Francisco ft. Dickster, Poli+! – SF, CA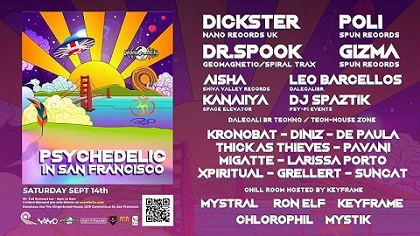 Saturday Sept 14th 2019, the iconic Ginger Bread Danzhaus in San Francisco welcomed Dick Trevor aka Dickster from the UK to present his full musical spectrum of mind mending mayhem! There was also Austin Matkin aka Poli / Thick As Thieves (with Paul Arnold) and DJ Aisha, and many more! Main Room featured Psychedelic Fullon Goa Trance [SF Psychedelic Collective] and Chill Out Lounge Parlour with Downtempo PsyChill Grooves hosted by yours truly!
---
SATURDAY, AUGUST 17: Keyframe presents "Chill Beats" with Gagarin Project @Asiento, SF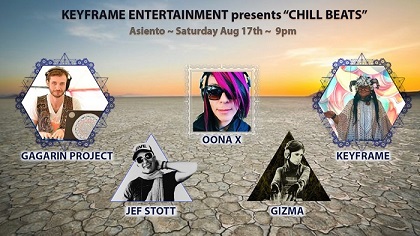 This intimate free community gathering welcomed our International friend Gagarin Project visiting SF before the Burn and celebrated CHILL MUSIC: * Gagarin Project – https://soundcloud.com/gagarinproject | * JEF STOTT – https://soundcloud.com/jef-stott-embarka | * OONA X – https://soundcloud.com/oonaxiss | * GIZMA (special Chill set) – https://soundcloud.com/gizma-1
---
AUGUST 3rd: SINGULARITY by Visual Reality @Wisdome, Los Angeles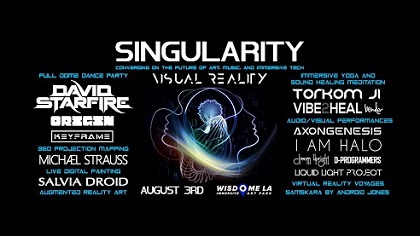 Visual Reality Presents SINGULARITY at WISDOME – Converged on the future of art, music, and immersive tech. This single-day new media festival in the heart of LA featured David Starfire Live in 360! Visual Reality returned to the massive 360 projection domes of Wisdome.LA for a deeper exploration into sight, sound, and new dimensions of creative expression. SINGULARITY explored a variety of technologically enhanced art forms that are designed to inspire wonder and enhance perceptions. Participants explored a curated selection of awe-inspiring multi-sensory meditations, visionary VR voyages, and augmented reality experiments. We're honored to have played a DJ set and showcased VR experiences as part of the event!
---
JUNE 13 – 18, 2019 – ANTHROPOS FESTIVAL @Baldock, UK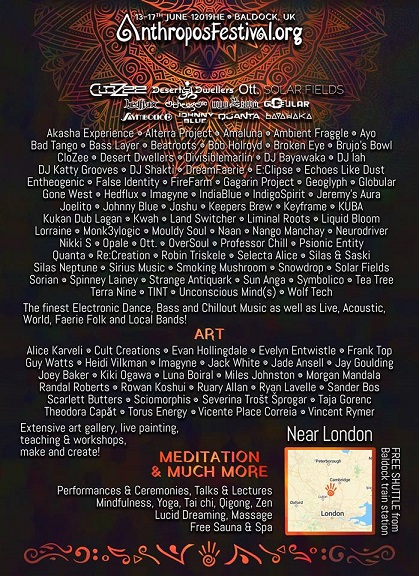 Arts, Music and Meditation: Anthropos is a new kind of festival with stunning visual art, diverse electronic beats and live acts. Workshops, lectures, discussions, healing area, welfare, live painting, artistic involvement, spa & sauna spaces!
Anthropos invites you to the forest and the fields, out into nature: to re-wire yourself to the source. From an ancient seed an unforgettable and unique tribal celebration is growing. Stunning visual art, collective diverse electronic beats and live acts. Human connection, ceremonies and deep meditation. Teaching and learning.
Keyframe is honored to have been invited to play a set at Anthropos! Performers included CloZee, Desert Dwellers, Johnny Blue, Kukan Dub Lagan, Ott, Hedflux, and many more!
---
May 24, 2019 – Keyframe presents Illuminertia's "Mystery School" @Onedome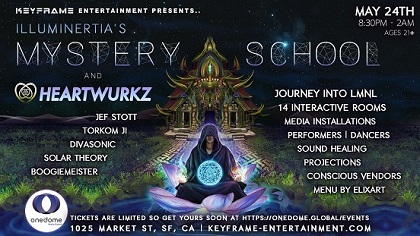 Illuminertia shared his "Mystery School" sonic offerings and took us on a journey from Onedome to the beyond… alongside Heartwurkz, Jef Stott, Solar Theory, TORKOM JI, Divasonic, Boogiemeister, and Keyframe.
---
APRIL 26 – 29 – Serenity Gathering @Oakdale, California

Serenity Gathering is a 3-day experience of art, music and open air education. Diverse musical lineups, innovative artists, experiential art and natural environments invite you to escape your day-to-day and find your Serenity. Performers included Dela Moon, Dissolv, Andreilien, Kaminanda, Tribone, Spektrum, Syd Gris, Plantrae, Soulacybin, and many more!
---
APRIL 12-15, 2019 – Lucidity Festival 2019 – Moon's Eye View @Goleta, CA

Returning on April 12-15, the Lucidity Festival's Chapter 8: Moon's Eye View invites you to be a Witness of the World! While last year's story revolved around Dawn's awakening, and the fiery combustion of passion, purpose, and action, this year they will get to know Rivier, and the soothing feminine attributes of emotion, flow, and the preciousness of life. Prior to the festival event, Lucidity is also hosting its Course Week, inviting you to come for the classes, and stay for the Festival!
We're happy to share that we played at Lucidity 2019! Performers included Marya Stark, Solar Theory, Phutureprimitive, Kaminanda, Emancipator, and many more!
---
MARCH 8TH, 2019 – PYRAMIND 2.0 @SAN FRANCISCO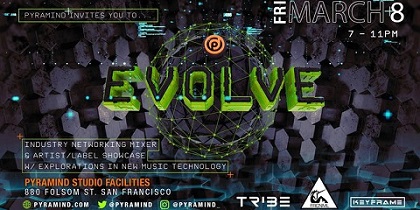 Produced and hosted by PYRAMIND, at its 880 Folsom Street facilities, this was an invitation only, industry networking mixer and label showcase featuring established Bay Area talent alongside up-and-coming new artists and explorations in new music technology. They enhanced the night with an active networking Q&A session with sponsors and attendees.
---
DEC 31 – JAN 1: The Midway NYE 2019 (SAN FRANCISCO): Little Dragon, Modeselektor, TOKiMONSTA, Mayan Warrior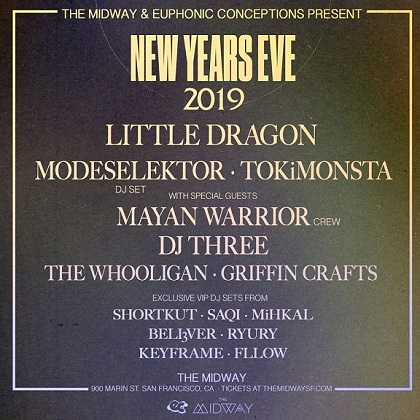 Keyframe is honored to have played the VIP room @TheMidwaySF on New Year's!
NYE 2019 was celebrated in style at The Midway's New Year's Eve extravaganza – the most ambitious event to date with more surprises than ever before. It had a stacked and eclectic lineup featuring music from Swedish electronic band Little Dragon, German underground heroes Modeselektor (DJ set), versatile DJ/producer TOKiMONSTA, Burning Man sound camp Mayan Warrior, plus many more.
---
DEC 29 – JAN 1, 2019: Cosmic Convergence – Lake Atitlan, Guatemela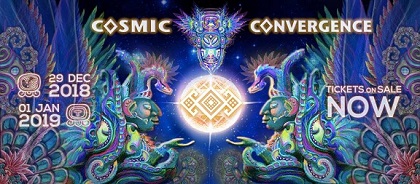 Cosmic Convergence Festival is a 4-day gathering celebrating Mayan culture and conscious living. The festival hosts a diverse array of music, performances, workshops, art installations, local foods, healing modalities, ancient Mayan traditions, and ecological and social impact activities. All this in one of the most breathtaking landscapes, the sacred ancestral site of Lake Atitlan, Guatemala. It is a convergence of past, present, and future, designed to provoke a shift in consciousness to rethink what lifestyles are possible today.
---
DEC 21: ONEDOME's Official LMNL Launch Party
Be the FIRST to experience San Francisco's immersive Labyrinth of Digital Art with headliner ADAM FREELAND.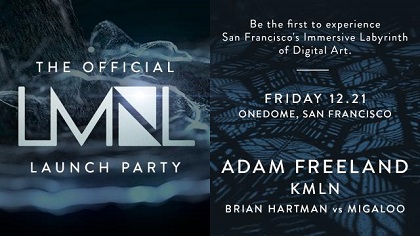 Attendees got to access the launch party, the resident herbal elixir bar Elixart, and were the first to experience LMNL – 14 interactive installations and rooms, a 60+ minute, open flow (museum-like) immersive experience, located within the 10,000 sq ft lower level of Onedome, San Francisco's interactive arts & entertainment venue. Headliner Adam Freeland, one of the pioneers of electronic music was supported by rising stars KMLN, Brian Hartman and Migaloo… for a night of sultry beats and magical experiences to remember.
---
DEC 20 – 23: Mayan Heart Festival – Tikal, Lake Peten, Guatemala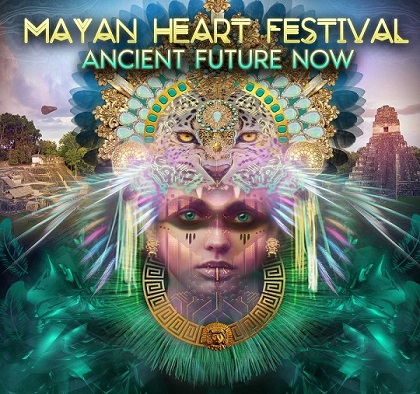 On the Solstice/Full Moon conjunction of Friday, December 21st, 2018, attendees joined with Indigenous peoples from each continent of this Earth, as we focused our collective intention of Earth liberation, into an ANCIENT Maya Fire ceremony in the center of the main plaza in Tikal… completing the Cycle started 5,000 years ago in Tikal. This opened the new cycle of prosperity, liberation and galactic freedom for all the peoples of the Earth… Featured four days and nights of celebration, dance and joy as the tribes, wisdom keepers and artists showcased their art, dances, music and wisdom.
---
NOV 30: The SF pre-party of Mayan Heart Festival & Cosmic Convergence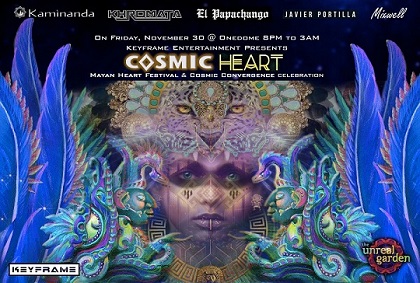 On November 30, KEYFRAME is honored to have hosted "COSMIC HEART", the San Francisco PRE-PARTY to two very special festivals happening in Guatemala in December: Mayan Heart Festival & Cosmic Convergence 2018! The event took place at the Onedome Mixed Reality Art Experience, a space where Augmented Reality, projection mapping, soundscapes, food and drink, and even the physical space itself all work together to immerse you in a fantastical other world known as The Unreal Garden. There was also a cacao ceremony honoring both festivals and a musical journey spanning multiple genres & cultures.

The event featured:
Kaminanda – https://soundcloud.com/kaminanda
Kaminanda's ever-evolving sound is a playground of original Midtempo grooves, tribal rhythms, Psy-Dub, and bouncy four on the floor.
Khromata – https://soundcloud.com/khromata
With a finger on the pulse of the global electronica scene, she draws the essence of tech-driven music to the surface with DJ sets inspired by the sounds of the underground. Khromata stands in the vanguard of storytelling and sensory manipulation in the modern era.
El Papachango – soundcloud.com/elpapachangomusic
El Papachango, originally from Argentina, is one of the core creators of the legendary El Circo, one of San Francisco's most prominent avant-garde performance groups that has been delivering music with a grip like Bassnectar, The Glitch Mob, Freq Nasty, Antennae, Dj Laura Low and many others. His Latin fusion, tropical, hip hop influence creates fire on the dance floor.
Javier Portilla – https://soundcloud.com/javierportilla
(Natura Sonoris, Moonchild Records, Armada Music, Asymmetric, Global Underground, Frisky Radio) –
Music has the ability to connect us all together, no matter where we are. Javier Portilla has been living this truth throughout his life, traveling around the world to inspire long-lasting connections and create magical moments, sharing meaningful messages through mindful music.
Mixwell – https://soundcloud.com/mixwellmusic
Charged with the ancient Mayan energy of Guatemala's volcanic Lake Atitlan, this Montreal-born producer fuses an eclectic blend of indigenous and world music textures over juicy Global Bass beats. Mixwell's notorious events GLOBO and Pachangon have become staples of Montreal and Atitlan's respective music scenes, and his award winning productions have been recognized by the Canadian government, earned him scholarships and many other accolades.


---
OCTOBER 17: Keyframe presents the convergence of VR and Electronic Dance Music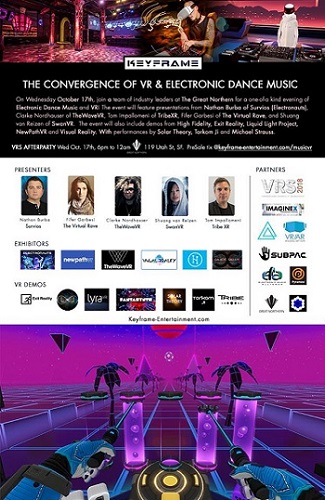 On October 17th @The Great Northern in SF, Keyframe showcased the intersection of VR and Electronic Dance Music with talks from Nathan of Survios (Electronauts), TheWaveVR, TribeXR, The Virtual Rave and SwanVR. The event included demos from High Fidelity, Exit Reality, Liquid Light Project, NewPathVR, Visual Reality, and performances by Solar Theory, Torkom Ji, and Michael Strauss. The event was co-produced with ImagineX Productions and ARTandVR, and had sponsor support from SUBPAC, Pyramind, Chronos Global Academy, VRARA, EMA and the VRS Conference. For more details, including talks and photos, please visit our VR and Electronic Dance Music event page.
---
JULY 30 – AUG 5 – OZORA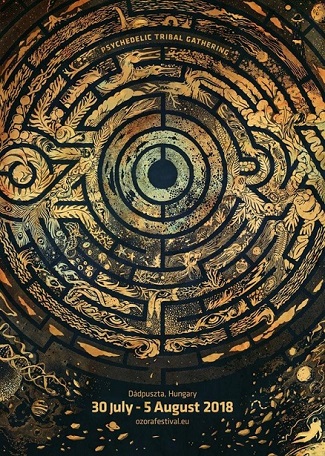 Keyframe is honored to have screened films, conducted a talk, and played a DJ set at Ozora 2018!
View the Reality Sandwich post to learn more about the presentation: http://realitysandwich.com/323091/artifacts-of-festival-culture-inspire-transformation-keyframe-at-ozora-festival/
---
JULY 22 – JULY 29 – BOOM

Keyframe is honored to have presented at BOOM 2018! Amplify Her screened at LIMINAL VILLAGE: https://boomfestival.org/boom2018/program/liminal-village/amplify-her/
---
To view and learn more about our past events, such as 'Amplify Her' screenings, Oregon Eclipse, ALIA's Feminine Medicine, and ARTandVR, please go to our Past Events page.