This music documentary studies the roots of Drum & Bass and Jungle, as well as their influences on Electronic Music in North America. The film is directed by Joshua "Phenetic" Freeman and Jeremy "Onket" Ballard, both of whom are well-respected DJ's in the Drum & Bass genre. "The American Jungle" will explore the past 20 years of Drum & Bass music, its present and future, featuring artists such as DJ Hype, Dieselboy, Aphrodite, DB & Dara, Andy C, AK1200, and many more.
Keyframe-Entertainment is supporting the film as Associate Producer. In early 2017, the film screened in Chicago, New York, and LA, and San Francisco in January 2018.
Read the interview with the Producers on Trial & Error Collective.
Our Mission Statement:
To create a documentary / film that educates, entertains, and stimulates the senses while capturing the energy, love, and individualism that seperates Drum and Bass from any other type of music. We will show the world Drum & Bass / Jungle's impact on the North American Electronic Music scene.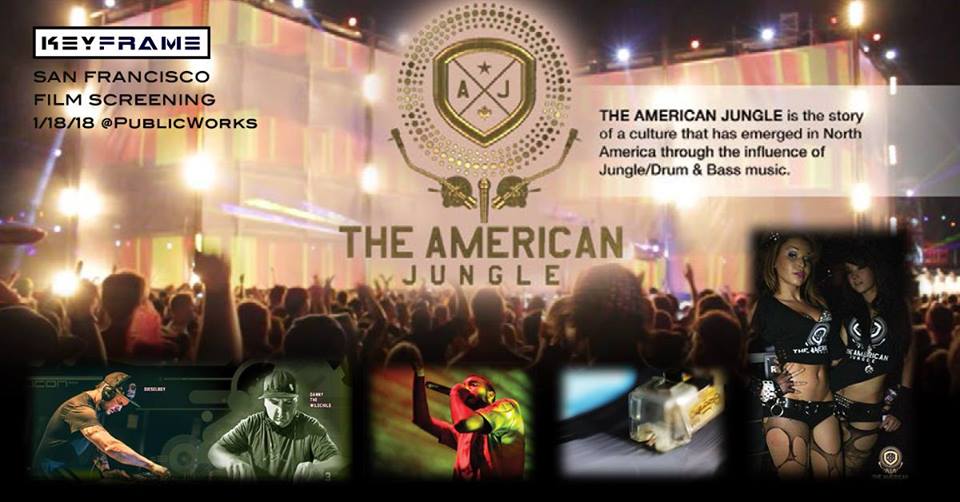 What is Jungle & Drum and Bass Music:
Jungle is a high-energy style of dance music that originated on the streets of London around 1992. Jungle is the term originally used at the time of the genre's inception. While Drum and Bass is the standard reference to the music, the Junglist term is still used today. The term "Junglist" was associated with those committed to the lifestyle.
"The American Jungle" submerses the viewer right into the deep end of the Drum and Bass lifestyle and scene with the people that support it. The Drum and Bass /Jungle genre is quite vast and has a diverse array of musical sounds from jazzy, melodic tones to heavy, dark beats. The music takes most of its roots and culture from the Electronic, Reggae, Dancehall, Hip-Hop, and Punk Rock scenes. This is a culture that thrives in almost every city in North America. You will see firsthand what it is like to be at some of the massive events featuring the top talents of Drum & Bass to the smaller, more intimate local scenes around North America. The crew will attend and document dozens of major events across the continent. The film will explore the past, present, and future covering 20 years of Drum & Bass.
"The American Jungle" film submerges the viewer directly into the deep end of the Drum & Bass lifestyle and scene, featuring the people that support it. "The American Jungle" will be screened in Denver, Los Angeles, New York City, San Francisco, Philadelphia, Miami, Charlotte, Las Vegas, Phoenix, Austin, Kansas City, Springfield, Minneapolis, St. Louis, Milwaukee, Richmond (VA), Kentucky, Atlanta and Nashville.
For fans of Drum & Bass and Jungle music interested in participating in the future release of "The American Jungle" film, please visit: http://theamericanjungle.net and support the effort.