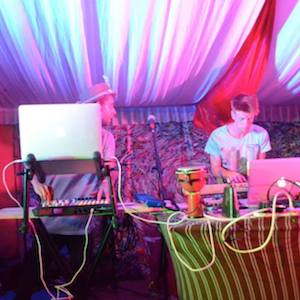 The Wisdom of Shankara (Brendan Evans and Elijah Wilson-Kelly) is an electronic music duo from Lyttelton, New Zealand on an exploration through the musical galaxy to discover the possibilities of sound. Collecting inspiration from the farthest reaches of the globe and condensing them into sonic vibrations and evolving entities, expect to hear a wide range of genres rolled together with hypnotic bass lines, ethnic melodies, deep tribal energy and psychedelic dub effects.
Keyframe-Entertainment released The Wisdom of Shankara album "Doors to the Digital Dimension" in 2015.
Buy the album on Amazon: https://www.amazon.com/gp/product/B00RCH4MF8
For booking and licensing enquiries, please email Natacha .at. keyframe-entertainment.com.
Album: Doors to the Digital Dimension (Keyframe Music label) track list:
Ancient Astronauts (feat. Arna Warrander and Jiin Christou) :

Shankara En Latino :

The Magic Carpet :

The Forgotten Temple (feat. Tegan McGowan) :

Doors to the Digital Dimension :

Reflective Perspective :

Undergrowth (feat. Jaswho and Jiin Christou) :