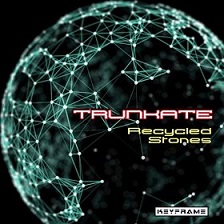 Trunkate (Roy Madmoni) is a Psydub / Psychill DJ from Israel with a background in sound engineering and music production. Keyframe released the EP in May 2015.
About 15 years ago, Trunkate instantly fell in love with Electronic Music. Mainly influenced by Goa trance, he drew inspiration from artists like X-Dream, Total Eclipse, and Deedrah, to name a few. While Downtempo, Ambient & Dub elements have been featured in his work from the start, they've become a major part of his main style in the last 5 years, fueled by artists like OTT, Shpongle and Bluetech.
Trunkate's love of Dub and Reggae, as well as blending a variety of styles to create diverse tracks is apparent in his work; notably mixing old Goa style with new step style, in combination with acoustic instruments. Alternating between glitchy intensity and chill vibes, Trunkate takes audiences to otherwordly rides and intends to keep creating music that will inspire audiences around the world.
Trunkate is currently working on live sets, as well as his second project under the name Sybins along with Tuval Shiloah.
Buy the tracks on Amazon here:
http://www.amazon.com/Evolving-Formations-Single-Trunkate/dp/B00XKE0Y68/
http://www.amazon.com/Recycled-Stones-Single-Trunkate/dp/B00XKEDAQY/
Visit Trunkate's Soundcloud page.
Evolving Formations :

Recycled Stones :

For booking and licensing enquiries, please email Natacha .at. keyframe-entertainment.com.