*October 2020
In 2018, Keyframe-Entertainment hosted an event at San Francisco's Great Northern focused on the intersection of Electronic Music and VR: https://keyframe-entertainment.com/musicvr  Fast forward to October 2020, DJ Celeste teamed up with Keyframe to host a VR event Producers Mixer & Tech Talks in Altspace to continue the discussion of the exciting evolution of events and festivals in VR. The goal of the mixer and tech talks was to continue building bonds within the AltspaceVR community, and share experiences so that event organizers, aspiring world builders, and performers can have a more thorough understanding and potentially inspire the expansion of new ideas moving forward into the future.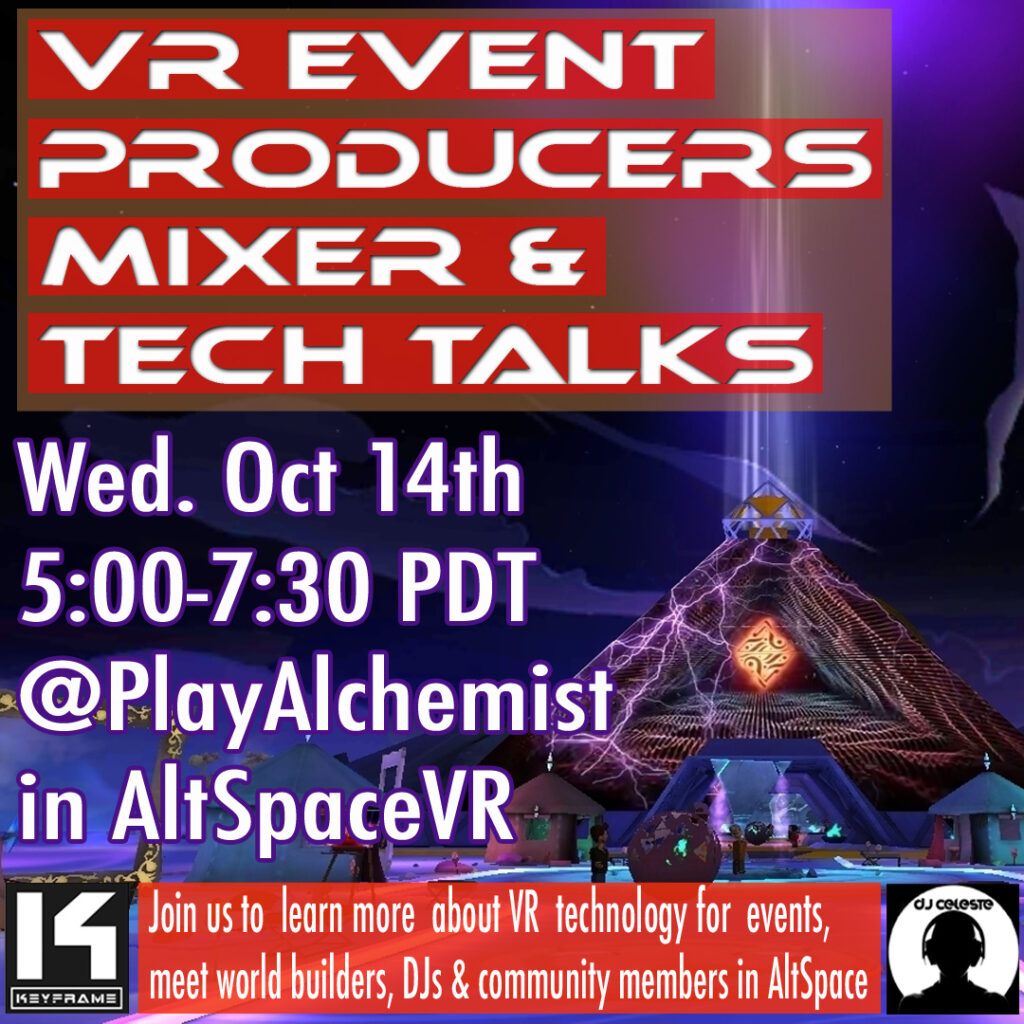 About the speakers
Artsy – Digital Illustrator and VR World Builder. In 2020, Artsy created multiple BRCvr worlds like Black Burner Project and Solar Shrine to bring Black culture into the VR space.
Some advice for aspiring world builders is to think outside the box and in a way that connects people back with something they're familiar with, like merging new elements with a familiar aspect (like unknown art with a dancefloor, for example). Also have an intriguing VR venue with great lighting as part of optimized event spaces in AltspaceVR.
Artsy is excited to be working on the world of "BRCvr Color Confidence with Artsy".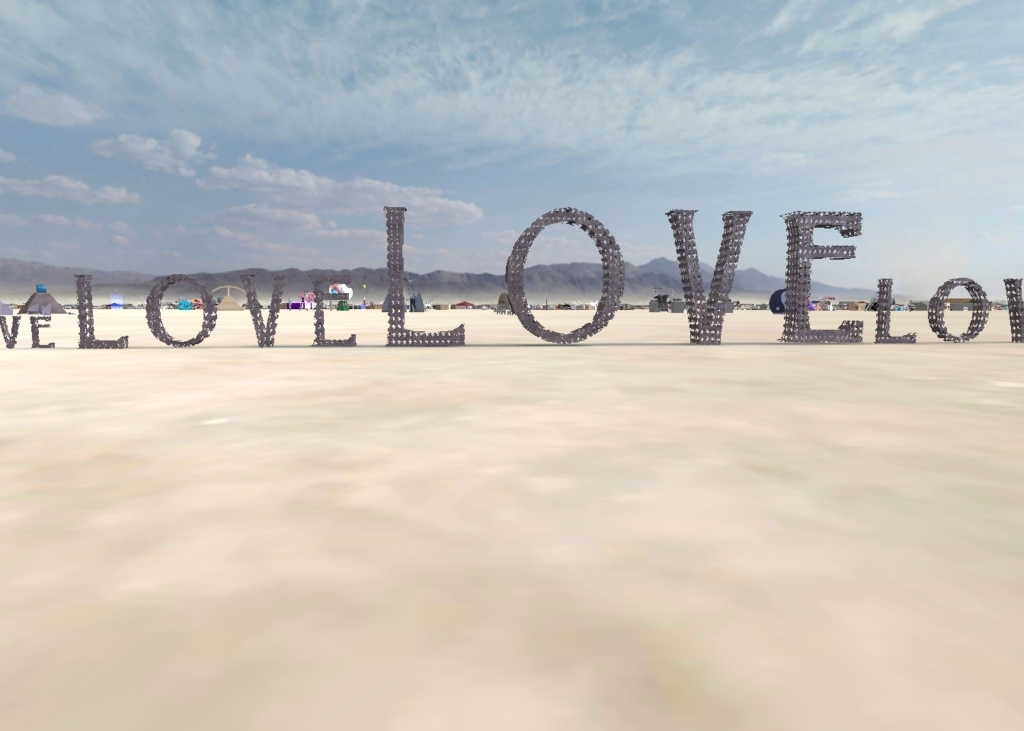 Athena – BRCvr co-founder. Community organizer for Burning Man.
Athena stated that "no one can do it alone"; it's the community effort that built BRCvr.
To rally friends to join and participate in community building efforts, she advises socializing in your world (while physically distancing), and providing a space for knowledge sharing; perhaps merging it with dancing, yoga, and ecstatic, as an example of modalities that Burners appreciate.
Cause – World Builder / Event Producer. Created The Flying Saucer, a retro future virtual nightclub. An advice he has in the creation process is to be patient because it's a new technology and things will go wrong. So take it easy and step back when needed, and have fun. Also, learn to 'self-edit' to avoid overwhelm.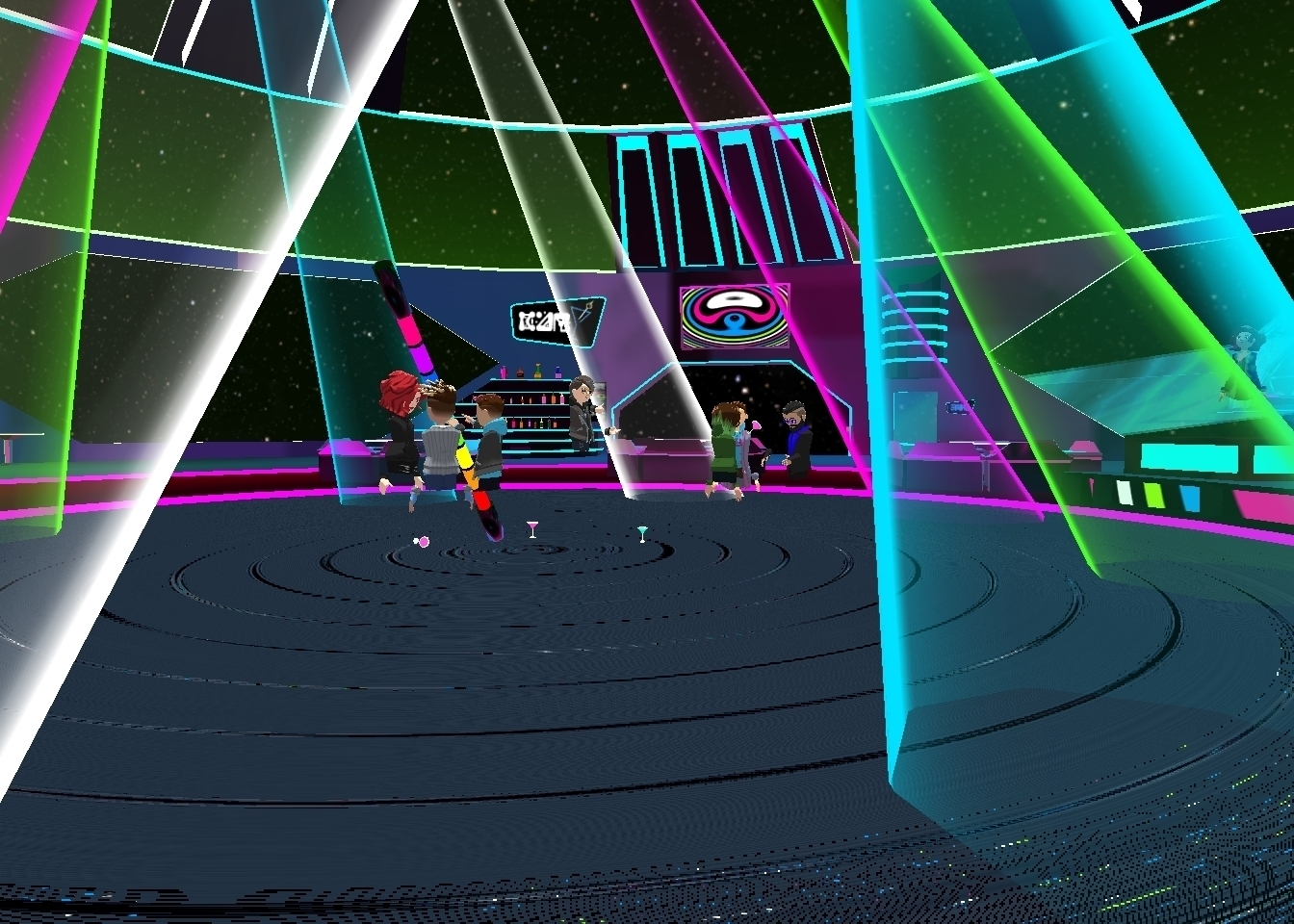 For world builders using Unity or Blender, everything he models he makes in Blender because you have more control of how things are going to look. Unity is good for shading, texturing, etc. He advises making and mapping it first in Blender so it looks like what you want, and when brought to Unity, it's all done so it's drag-and-drop into Unity. In short, create in Blender and play in Unity. There's also a huge Youtube community and videos he recommends watching.
Doug – BRCvr. Works in LA film community. His camp is the Black Rock Yearbook
He states that in the near future, BRCvr will start creating an events team to launch events, promote, etc. They're also moving to creating 'Mini Burns', like the upcoming Halloween weekend Day of the Dead Decom, and will also throw Friday night parties.
Two other upcoming events are Thanksgiving's Gratitude & Gifting weekend and the long New Year's weekend.
illuminatty – TribeXR DJ. Holds interactive VR events every Thursday in Altspace.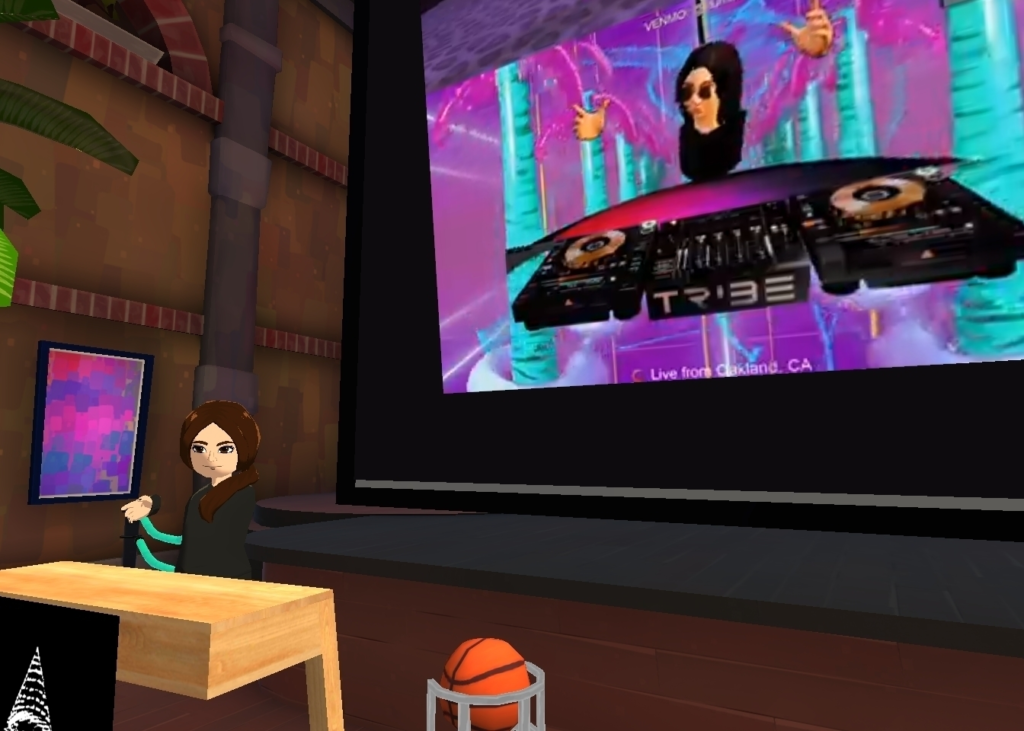 For some technical aspects on DJing in TribeXR, she states that she could DJ and flip back between TribeXR and Altspace. Most of the time was spent on TribeXR with moments of popping back in Altspace to interact. She's also in DISCORD with her team, and between all are 10 RTMP channels and 8 computers for live VJing. She and her team added Sensar for interdimensional and cross-platform viewing, with potential for adding Wave and Neos for even more interaction.
For self-broadcasting, she uses her Twitch to broadcast on TribeXR and AltspaceVR, which is easier for most people. But for her larger events she works with her team.
Kirill – (Event Organizer) States that the IDEATE structure was one of the few worlds where flying was a critical component.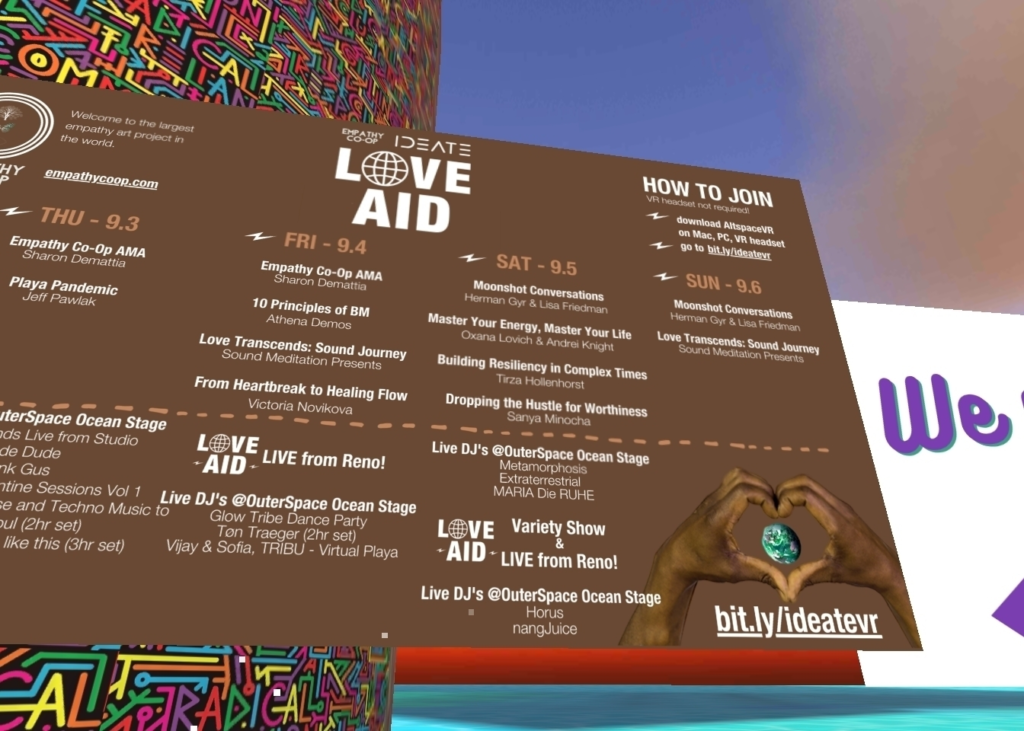 The IDEATE LOVEAID event was the camp's play on LIVEAID. The goal was to create a variety show and host events for fundraising for Burning Man. It was challenging to build, so he advises to be ready for things to fail and have multiple people there to help troubleshoot; you don't want to be the only person doing it all. Make the events weeks ahead of time and promote on Facebook. Livestreaming may fail but be ready for that, and have events start on time to avoid audience dropoff.
Sterling – Decadent Oasis
On some lessons using Unity, he states that Unity is a learning curve and may be more challenging than expected, but advises to keep working and experimenting. He was building the world when it started coming together through community suggestions; a 'build it and they will come' moment.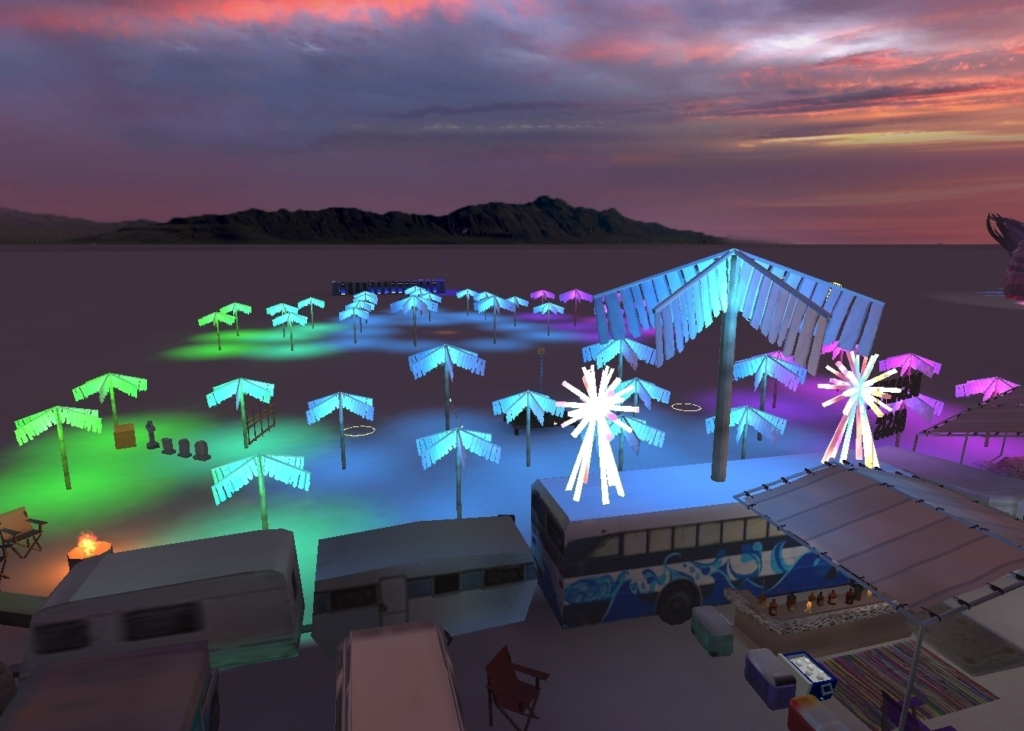 Keyframe and DJ Celeste are honored to have produced this VR mixer to bring so many world builders together and enhance communication across what is still a developing technology and platform. We look forward to growing and working alongside these amazing pioneers.
We want to send big thanks to the camera crew Carlos Austin (and Sjon, Tony Trudel, and Jens Kull) for doing such an excellent job at video capturing the event and streaming it for us.
A special thanks to BRCvr, AltspaceVR and PlayAlchemist!
ABOUT Julian Reyes / Keyframe (keyframe-entertainment.com) has worked as a 3D animator, design manager, and content creator. Julian is the founder of Keyframe-Entertainment, a creative technology agency that produces VR experiences for startups. As DJ "Keyframe", he spins Psychedelic Midtempo/Psychill and has performed at many Burning Man camps & International UG festivals. For our upcoming events, please bookmark: https://keyframe-entertainment.com/electronic-music/events/
ABOUT DJ Celeste: (www.djcelestelear.com/vr-artist) Professional digital entertainment and event industry specialist, DJ/music producer and virtual reality visual artist who has performed extensive work on both the creative, technical and business sides of the event industry over the past two decades. First in a new wave of DJs who perform as avatars in Virtual Reality and also specializes in immersive 3D festival & nightclub design. She performs regularly in VR nightclub platforms including, AltSpace, Tribe, Sansar, Second Life and WaveXR.
For our upcoming events, please visit our Events page.