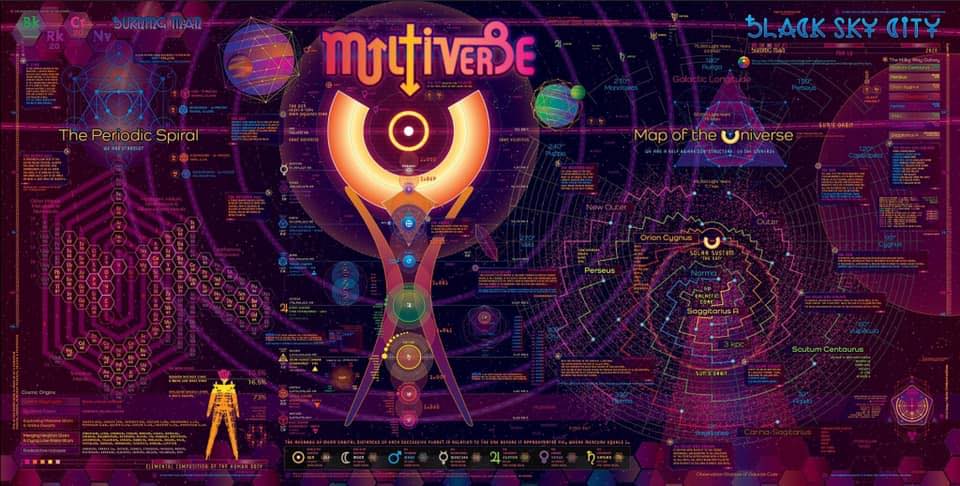 KEYFRAME has been involved in Festival Culture and VR for many years. We've compiled a list of VR & online Burning Man 2020 events, resources, and articles:
From August 30 to September 6, 2020, Burning Man is going virtual!
Jackrabbit Speaks UPDATE.
"During a time when many are unable to gather in person, something truly wondrous has emerged — dozens of imaginative Universe creators built an ever-expanding virtual Burning Man Multiverse comprising 8 virtual Universes described below, a virtual Temple, and a globally distributed Man Burn," says Burning Man. Dive into an ongoing collection of films, podcasts, pre-recorded meditations, sonic explorations and other experiences to enjoy in your own space, on your own time: LIST OF EXPERIENCES HERE. 
There will be 8 virtual universes to experience: BRCvr, The Infinite Playa, Dusty Multiverse, BURN 2, Build-A-Burn, MysticVerse, SparkleVerse, and The Bridge Experience.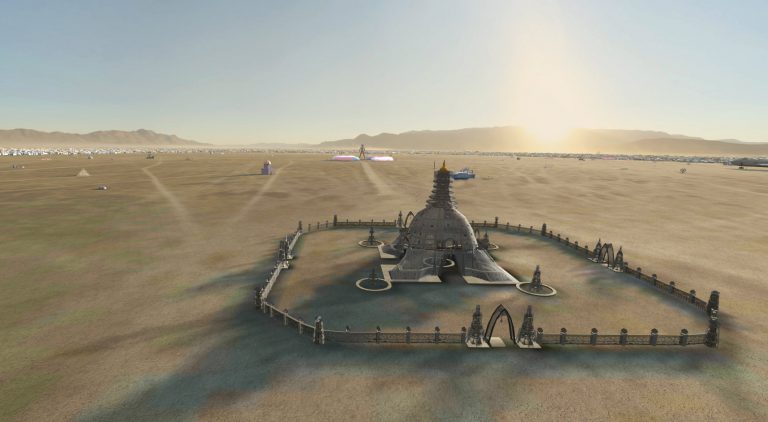 BRCvr is a recognized Universe of the Burning Man Multiverse. Home to a virtual version of Black Rock City, it is inclusive of its iconic art, camps, and most importantly, its citizens. BRCvr magically captures the same spirit, culture and Principles of the real-world event in an interactive VR-first expression that cultivates conversation, connection and community. 
Born in 2014 to keep the flames stoked 365-days a year, BRCvr is now accessible to global audiences via AltspaceVR, the premier app for live virtual events on a PC with Windows 10 (no Mac) and select VR headsets USE THESE INSTRUCTIONS TO ENTER. BRCvr offers people the chance to visit a simulation of the esteemed Playa, the site of the annual week-long event and city built on the dry lake beds in Black Rock City, Nevada . Everyone is welcome to participate from the comfort of their homes and join us as we make BRCvr a year-round collaborative world and archival tool. You can stay updated on BRCvr on Facebook: https://www.facebook.com/BRCvr.org
EVENT: https://www.facebook.com/events/3322707224476027/
DJ Celeste will be streaming a 1.5 hour set of deep house music at the Solar Shrine in AltSpace BRCvr AND Dusty Multiverse (duel sites) Thursday 10:00pm-Midnight PDT
The Solar Shrine is a large-scale Afrofuturistic art installation for Burning Man 2020 inspired by the architecture and art of Ancient Egypt and Nubia. It's a holistic space of healing and spirituality where people can share visions of the future. The Solar Shrine Project – Burning Man 2020
---
The Infinite Playa features a fully interactive, playable experience set to a photoreal rendition of the Playa — from the cracked desert floor to the surrounding mountains and the occasional dust storm, participants will feel right at "Home". Accessible via browser on a PC (no Mac) or mobile device, participants will be able roam the deep playa, ride on mutant vehicles and enjoy live performances and talks. Artists, camps and inspired individuals all have the opportunity to bring their unique offerings — anything from art pieces rendered with full 3D detail, to live-streamed performances. MORE INFO ON TIX HERE. – MORE INFO ON THEIR FAQ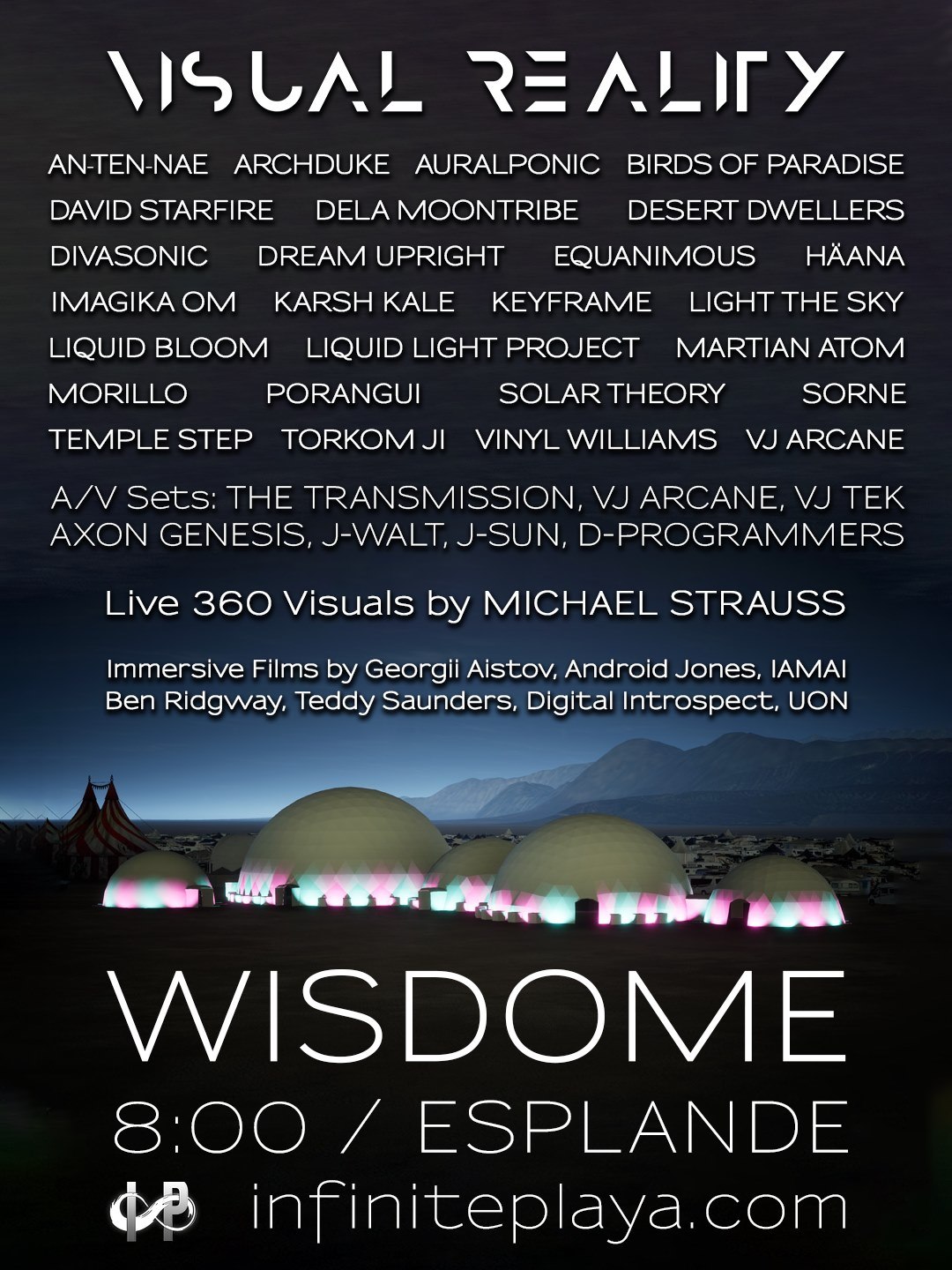 KEYFRAME is honored to be part of this line-up!
Visual Reality and 360dome.pro are bringing the WISDOME experience online to The Infinite Playa! Join us at 8:00 / Esplande to explore the multiverse in our massive virtual domes! A whole week of psychedelic dance parties, sound meditations, immersive art, and audiovisual performances – schedule coming soon… www.infiniteplaya.com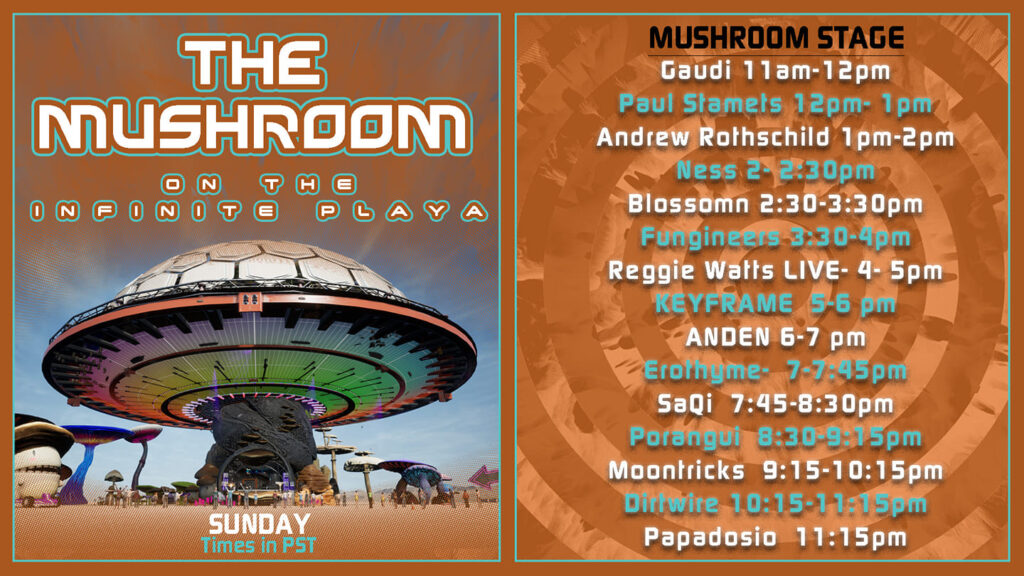 Stoked for KEYFRAME to be part of THE MUSHROOM!
From creative designer Android Jones with Vision Agency, in partnership with the foremost steward of mycology magic – Paul Stamets. The Mushroom art installation resides in The Infinite Playa (
www.infiniteplaya.com
) a platform at the cutting edge of technology for experiential viewing. Designed by dedicated burners, this virtual desert allows the user to get the most authentic experience the digital realm can possibly provide.
With two stages on the Mushroom, we have curated the week to host a broad selection of artistry and education with a lineup including Diplo, Clozee, Paul Stamets, Beats Antique, Lee Foss, Stephen Brooks, and Reggie Watts to name a few.
Tickets are based on hourly usage and priced to offset per user, server and streaming costs, programming, development, and the incorporation of community art work. Additionally, a portion of every ticket goes to support the non-profit Burning Man Project and the future of the event in Black Rock City."
The ticket tiers are as follows:
Visitor Two Hour Pass – $20
Weekend Warrior Five Hour Pass – $40
Dusty Explorer Ten Hour Pass – $75
Founder's Package 24 Hour Pass – $150 *includes executable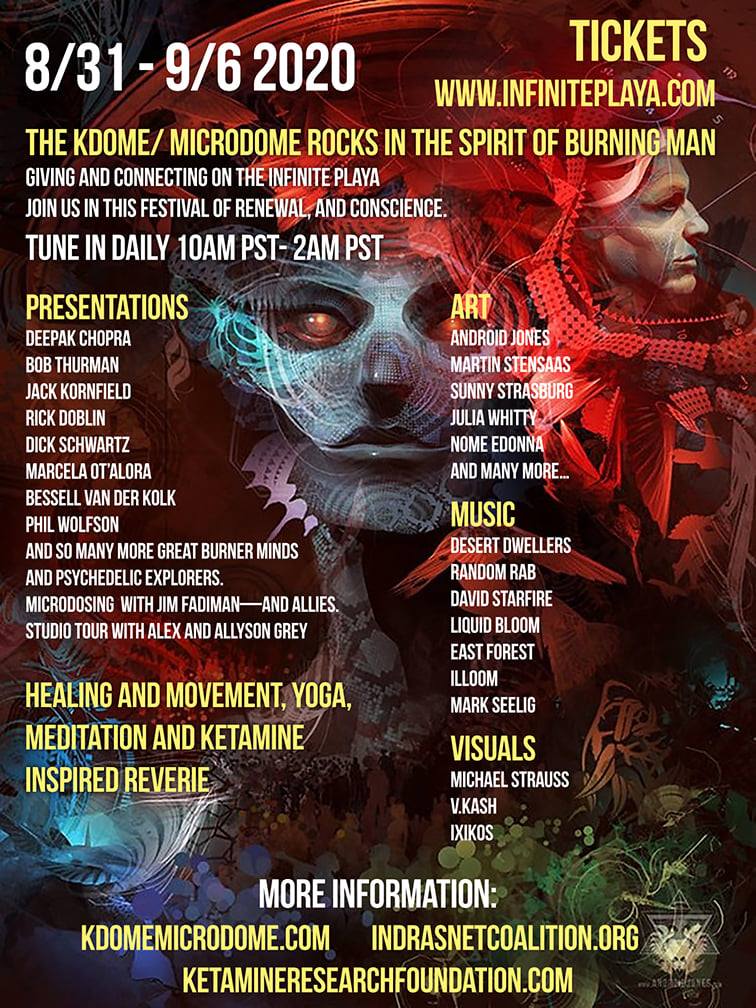 ---
BURN2 is an extension of the Burning Man culture and community into the world of Second Life. It is an officially sanctioned Burning Man Regional, the only virtual one out of more than 100 Regional groups worldwide SCHEDULE HERE. BURN2 is accessible via any device with a web browser and a Second Life viewer. During Burn Week, BURN2 will participate with past Man builds, art installations, and an authorized 3D replication and burn of the Empyrean Temple. Second Life Info

---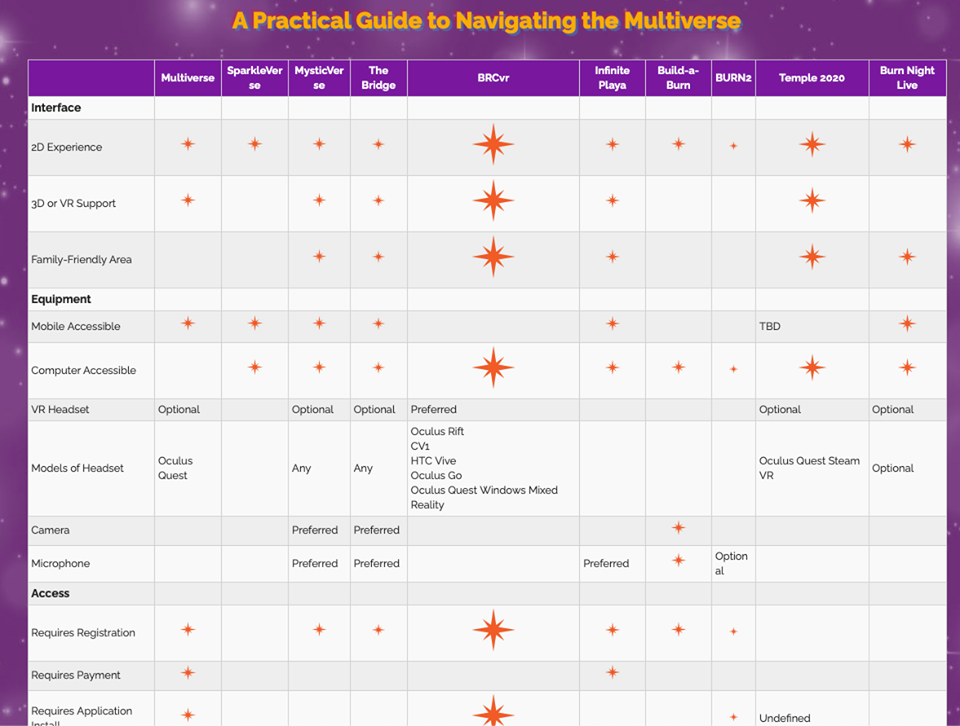 ---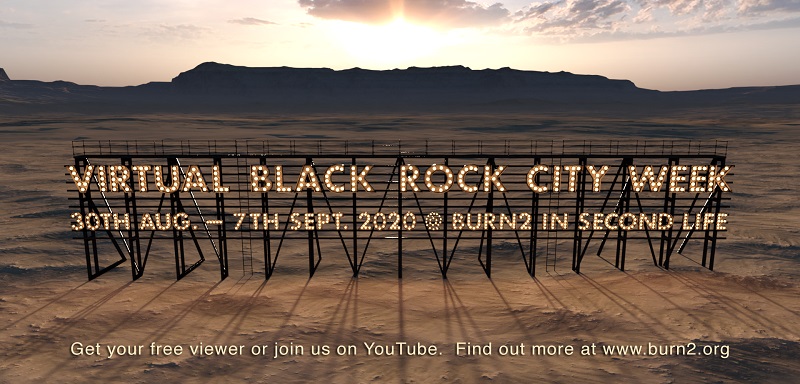 Build-A-Burn is an interactive digital space that has already hosted events, including fantastical remote Burns, all by empowering the community to celebrate their creativity. Using just a browser and webcam on any device, participants will be able to wander an art-filled playa with friends old and new. Prepare to bend the reality of time and space, authentically connect with others in facilitated workshops, stand too close to some of your favorite DJs, and more. Must Login and navigate in browser.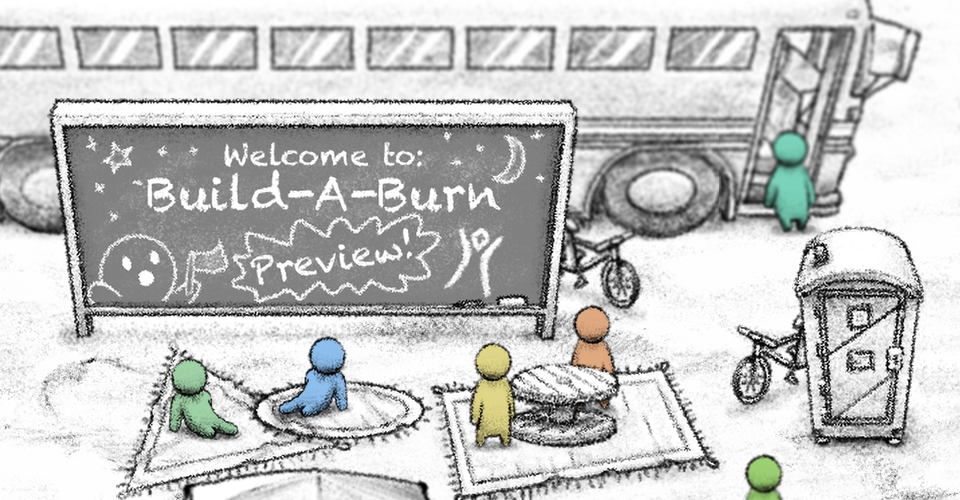 ---
MysticVerse is a fully immersive, interactive 3D Universe, a full expression of a virtual Black Rock City complete with theme camps, art installations, live events, deep playa, and more. Its VR platform is designed to empower anyone to harness their inner artist. Accessible via mobile, desktop, VR and any operating system. All are welcome to join the digital village of artists, 2D & 3D modelers, project managers, UX/UI designers, technologists, visionaries and communicators. The MysticVerse can be accessed from any device (mobile, desktop, VR headset) and on any operating system. RSVP here and be the first to know when the gates open to our universe.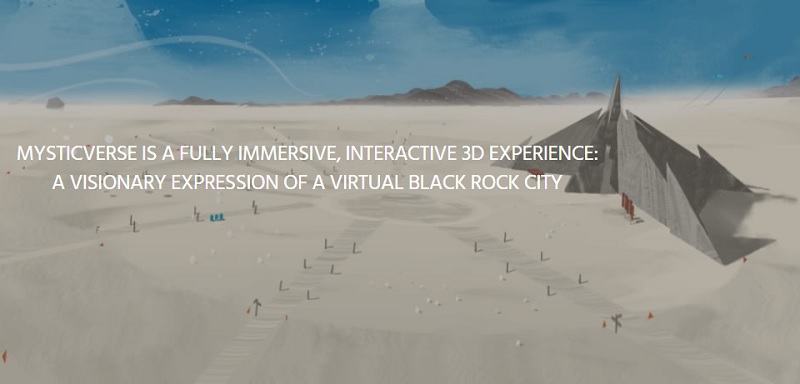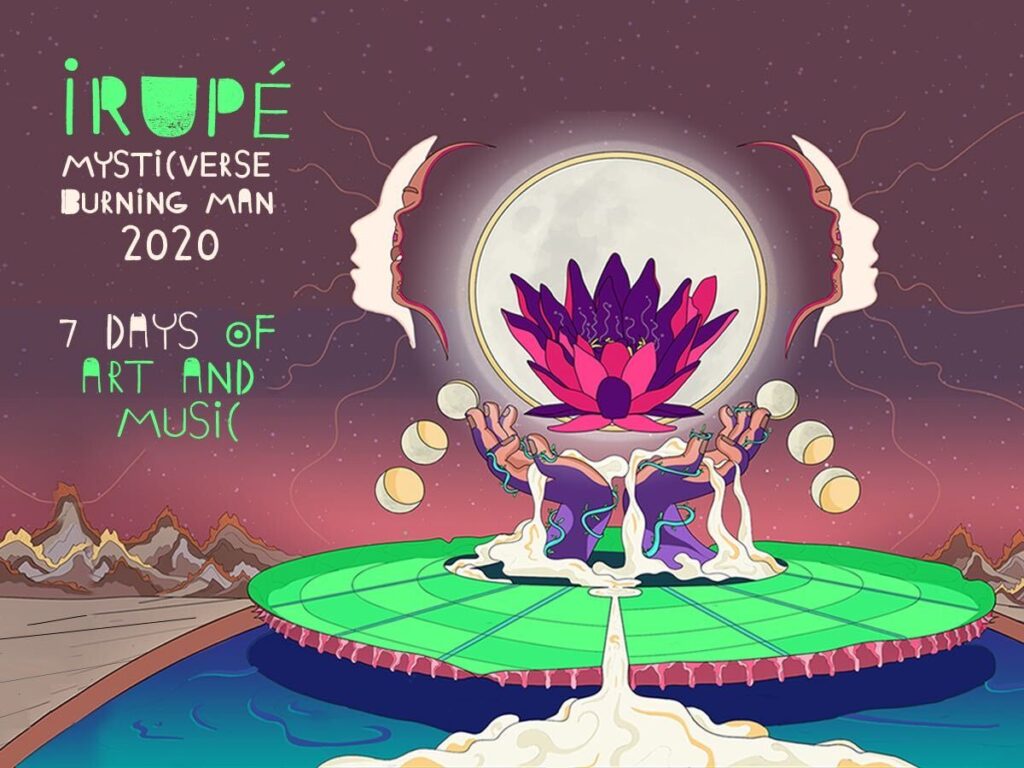 ---
SparkleVerse is a 2D web-based Universe — kind of like a cross between Google Maps and a video game — that enables participants to serendipitously mingle with other Burners who are in close proximity while co-experiencing magical spaces and performances. Anyone can join and share a performance, theme camp, art piece or a trash fence party. Accessible via any mobile or desktop web browser, experiences people create will sit on a 2-D explorable playa map, with its uniquely located video avatars and ambient audio. Must Purchase Tix via Donation (Zoom, Twitch, YouTube, Facebook Live, SparkleVerse platform)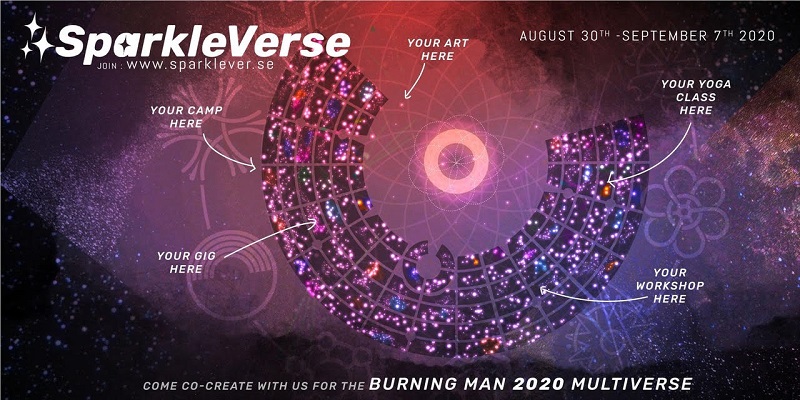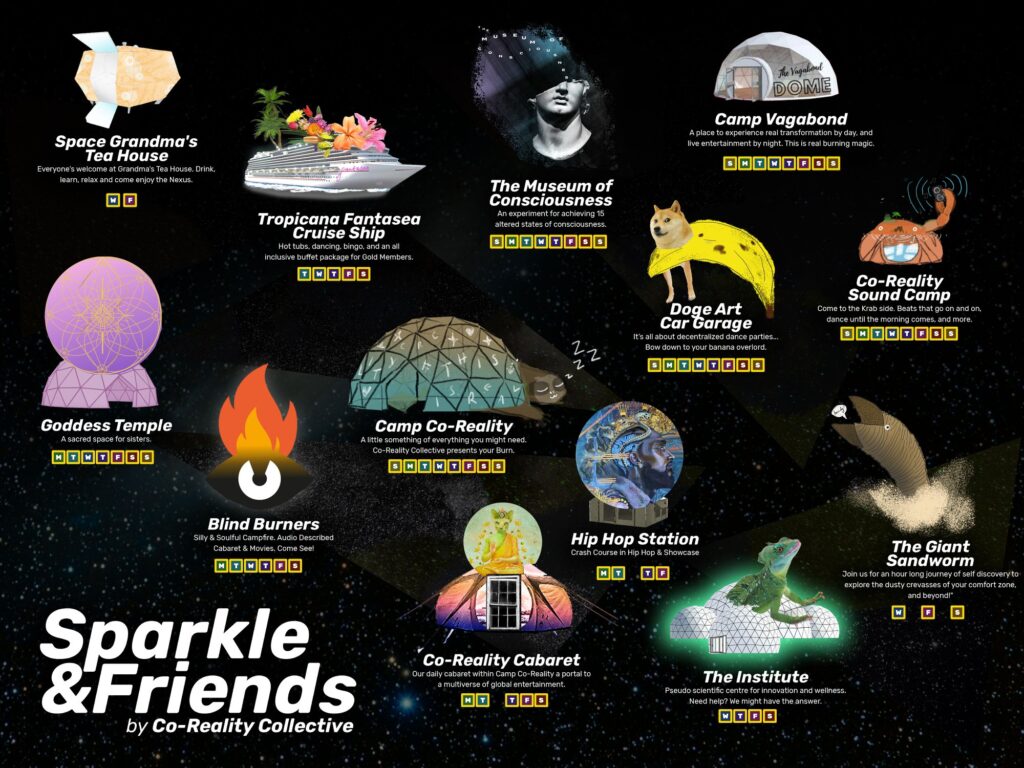 ---
The Bridge Experience – Created by the team behind the Love Burn, The Bridge Experience is an interactive, fully immersive, 3D web-based virtual reality (XR) Burn accessible via any device. It is a passion project built by new and old Burners who are committed to simplifying the barriers to entry by adjoining Extended Reality (XR) technology with the 10 Principles. The Bridge Experience team welcomes participation by artists, volunteers, greeters, organizers, creatives, techies, and camps. LEARN MORE + RSVP
---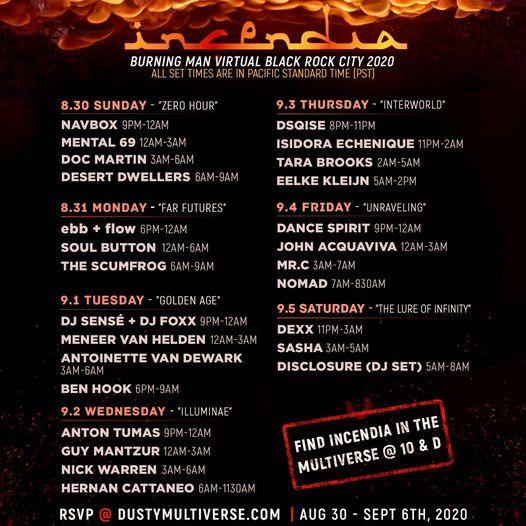 DUSTY MULTIVERSE: Explore the depths of this virtual Black Rock City simulated in its full seven square miles, revealing the official 2020 Burning Man honoraria art projects. Meet new friends and attend one of many live music events, featuring world-famous DJs. You can even attend a theme camp workshop and learn something new. You can experience Multiverse on iOS and Android phones as well as VR headsets. The best way to enjoy the full Multiverse experience is Oculus Quest INSTRUCTIONS HERE FOR SIDELOADING.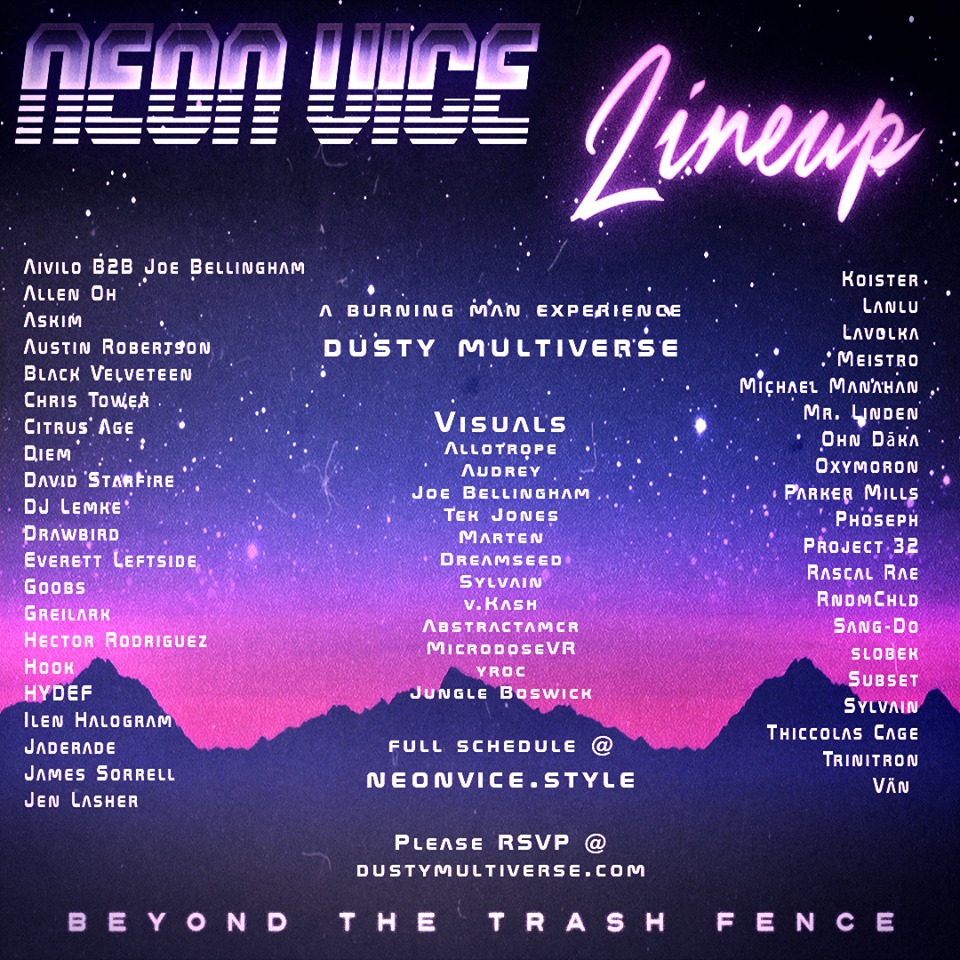 * Join NEON VICE in the Dusty Multiverse, and check out an all-star crew of amazing artists, musicians, and performers expressing their craft on the Neon Vice Art Car!  Bringing you some of the best of the Pacific Northwest and beyond: Aivilo B2B Joe Bellingham, Allen Oh, Askim, Austin Robertson, Black Velveteen, Chris Tower, Citrus Age, Diem, David Starfire, DJ Lemke, Drawbird, Everett Leftside, Goobs, Greilark, Hector Rodriguez, Hook, HYDEF, Ilen Halogram, Jaderade, James Sorrell, Jen Lasher, Koister, Lanlu, Lavolka, Maestro, Michael Manahan, Ohn Dāka, Oxymoron, Parker Mills, Phoseph, Project 32, Rascal Rae, RndmChld, Sang-Do, Saraphinn, Subset, Sylvain, Thiccolas Cage, Trinitron, Vän.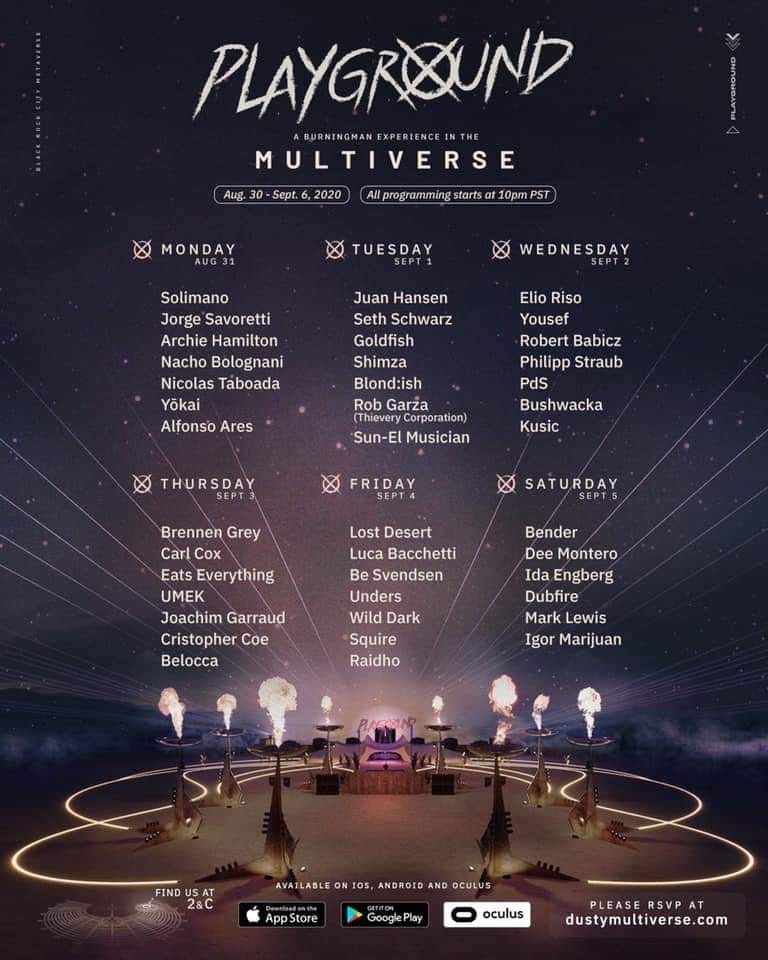 Line up for The Arrival stage. 2&C at www.dustymultiverse.com RSVP and get ready to download the app once the gate opens.Make your avatar, tell your friends and meet at the Playa. Chat in real time and listen and dance with the DJ's of our 2 stages. Set times soon. Arrival stage opens every night at 10PM PST
---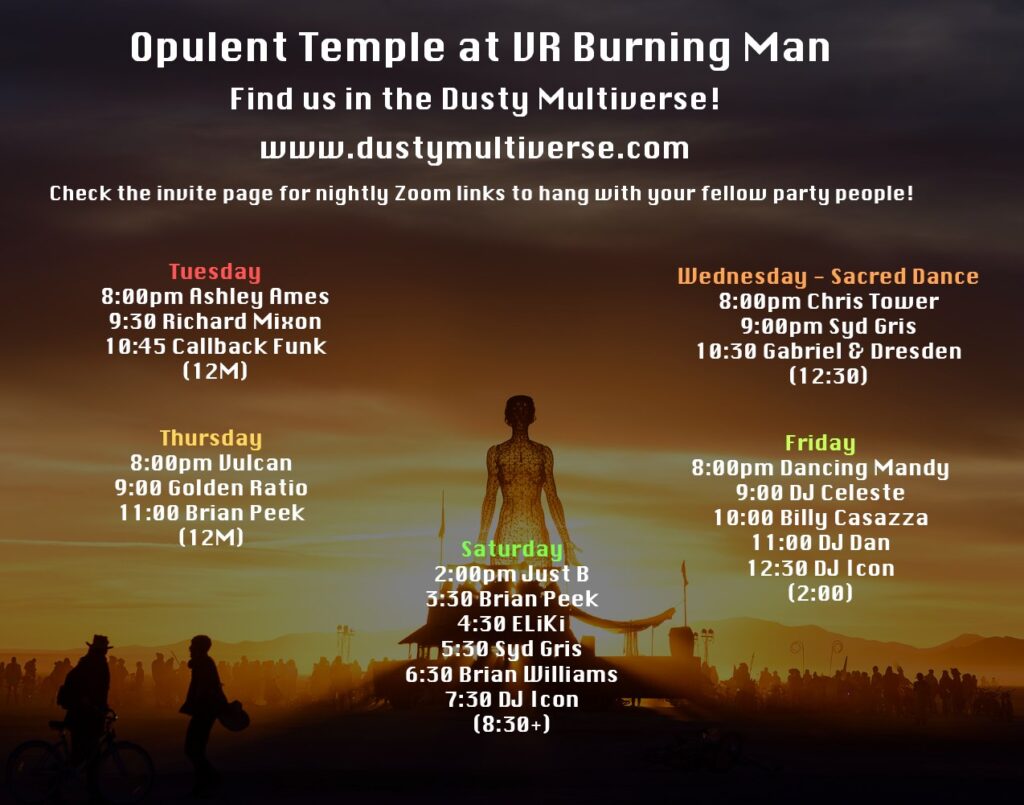 ---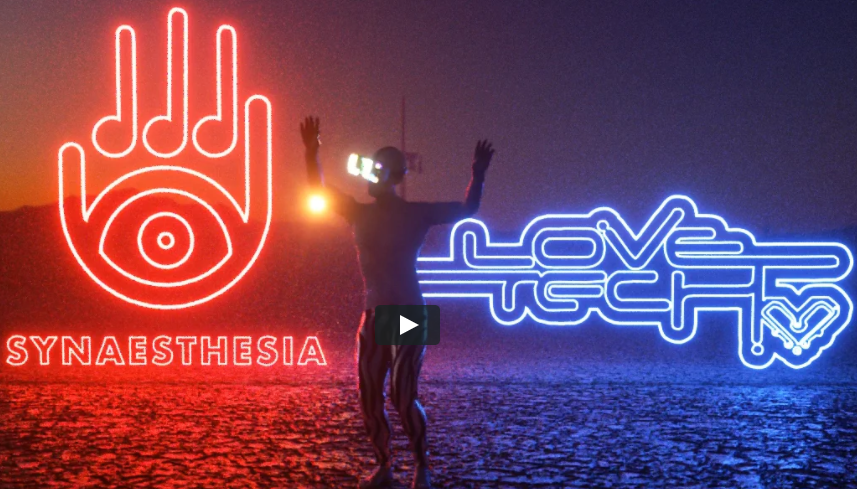 ---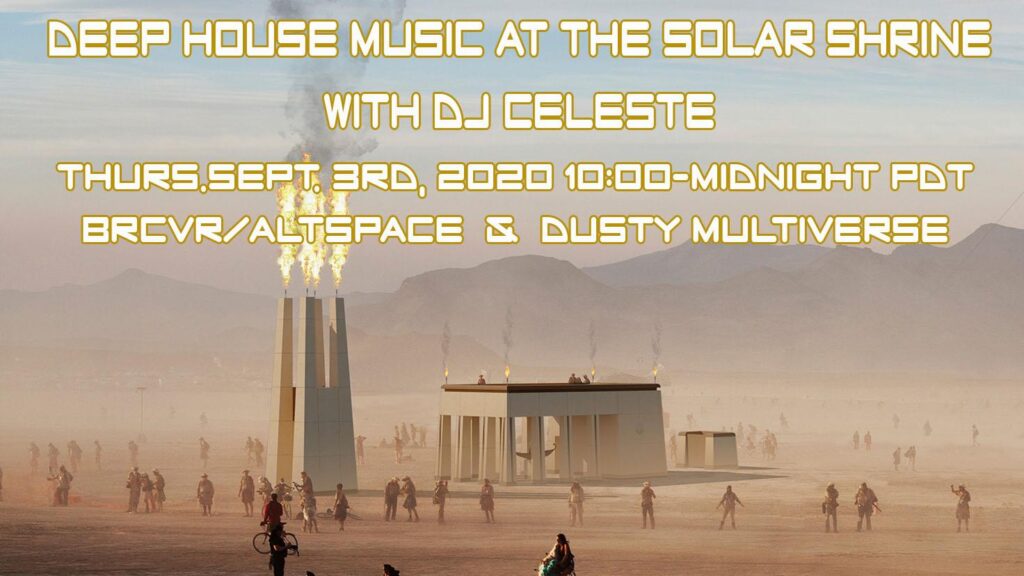 DJ Celeste
will be streaming a 2 hour set of deep house music at the Solar Shrine in AltSpace BRCvr AND Dusty Multiverse (duel sites)
Thursday 10:00pm-Midnight PDT
The Solar Shrine is a large-scale Afrofuturistic art installation for Burning Man 2020 inspired by the architecture and art of Ancient Egypt and Nubia. It's a holistic space of healing and spirituality where people can share visions of the future.
https://www.facebook.com/The-Solar-Shrine-Project-Burning-Man-2020-105276507676762
---
Learn how to get ready for the event in the Burning Man Journal: 
https://journal.burningman.org/2020/08/black-rock-city/building-brc/pack-your-virtual-playa-gear-and-get-ready-to-burn-in-the-multiverse/
Catch Desert Dwellers at Virtual Burn! They have a 3-hour journey set on the opening night and filled with unreleased music from Re-Imagined Vol 3 including the track featured in this video: https://www.facebook.com/watch/?v=290713392219937
---
Empyrean Temple VR Burn is ONLY on Sunday Sept 6th from 4:30-7:30 and they will burn the Temple during this time. Not to be missed, this international VR Rave community is STRONG and VIBRANT.
Empyrean Temple VR Burn Hosted by Wave Res DJs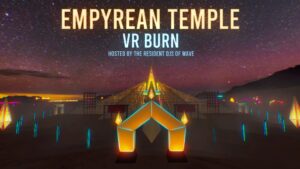 Join Wave's free VR or Desktop mode (found on the Steam Games store) or on Twitch (@resident_djs_vr) from any device to experience the festivities within the comfort of your home. Working with Empyrean Temple and various artists, they bring visuals not possible in the real world to virtual life on a global scale, including larger-than life centaurs, cities made of pure lights and more! Join this virtual playa, a safe-haven for all looking to escape the mundane quarantine life. DJ LINEUP for Sunday Sept 6th: (times in PST) 4:30 PM – Diamonddoge. 5:30 PM – Bonboru Tworie. 6:30 PM – Petroleum Blownapart
4:30 PM – 6:30 PM Virtual Art showing from various 3d artists around the world!   TO JOIN THE EVENT
1. Download "Wave Beta" on Steam.
2. Open Wave on PC or VR. If it is your first time in Wave, there will be a short tutorial to show you the ropes.
3. Once you are in your home cave, click the poster for the expanse.
4. When the event is open, click the poster for the Empyrean Temple event while in the expanse.
5. You will then be taken to the Empyrean event's home cave. Please allow up to 15 minutes for the home cave to load. (There's a lot of art in there!) The door will transform into a portal for you to join the event once you are loaded.    6. Go through the portal and enjoy!
---
The Take Me to Your Burn digital festival will take place between 31st August to 7th September 2020. To experience the event you can either download Somnium Space via Steam for free – whether you have a VR headset or not – or head to the festival's official website. The site will contain all the live streams, on-demand videos, chat rooms, event timetables with KAMINO RECORDS DJS and other information. In enormous collaboration with multiple talented individuals and projects. Absolutely FREE for you to enjoy it.
250+ Live acts and DJs, brought to you by Kamino Records, Mindspring Music, Own Spirit Festival and Fusion Culture.
70+ World famous digital artists. Holistic workshops, seminars, spiritual ceremonies and handcraft sessions
Live Bands and Musicians. VR experience, 2D access or Live stream platform.
Ideally though, you'll want a PC VR headset like Oculus Rift, HTC Vive or Valve Index for the best experience. FB EVENT INFO HERE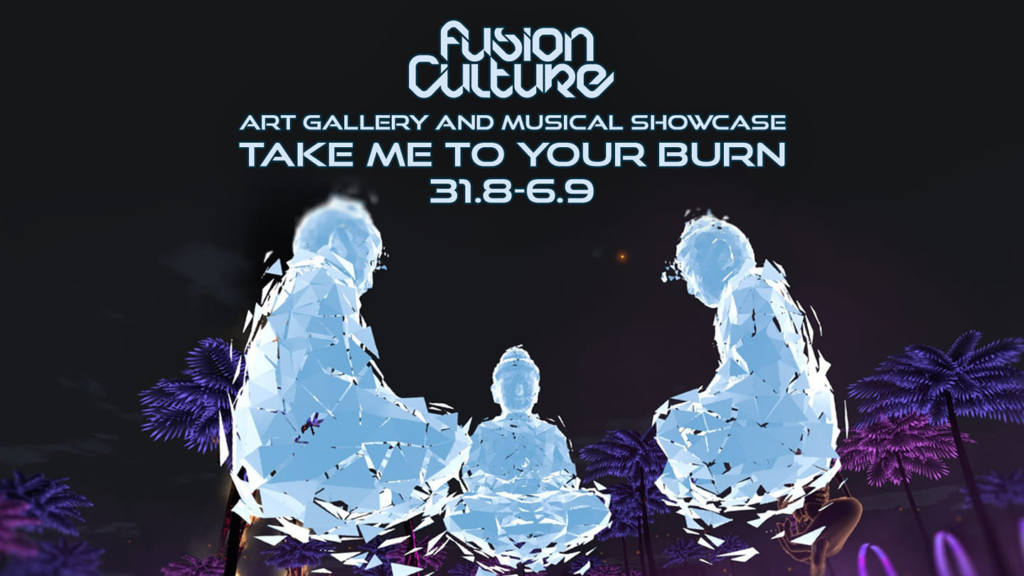 ---
Soundscape VR,
is a 24/7 virtual music festival world with beautiful virtual venues to explore. It was inspired by the Burn and was a tech-art installation in Deep Playa in 2018. The platform is a gift to the festival  community and is a completely free, ad-free and deccomodifed space. You can fly, live paint, dance, explore, listen to your own music and meet up with friends!
You can download it for your VR headset here on Oculus or Steam. See you on the virtual dance floor in SVR.
The Unicorns are overcoming months of isolation to bring you a hoof stomping, booty bouncing week of connection, and dancing for the first-ever virtual Burn!!! We've got house, techno, disco, and lots more music and mischief coming at you all week long with an amazing blessing of Unicorn DJs and special guests!
Every evening will be viewable via
twitch.tv/theunicornsca
. We highly recommend following The Unicorns CA on Twitch today so you will receive alerts when we go live.
Information on how to attend in one of the 8 official Burning Man VR worlds is at the bottom of this event.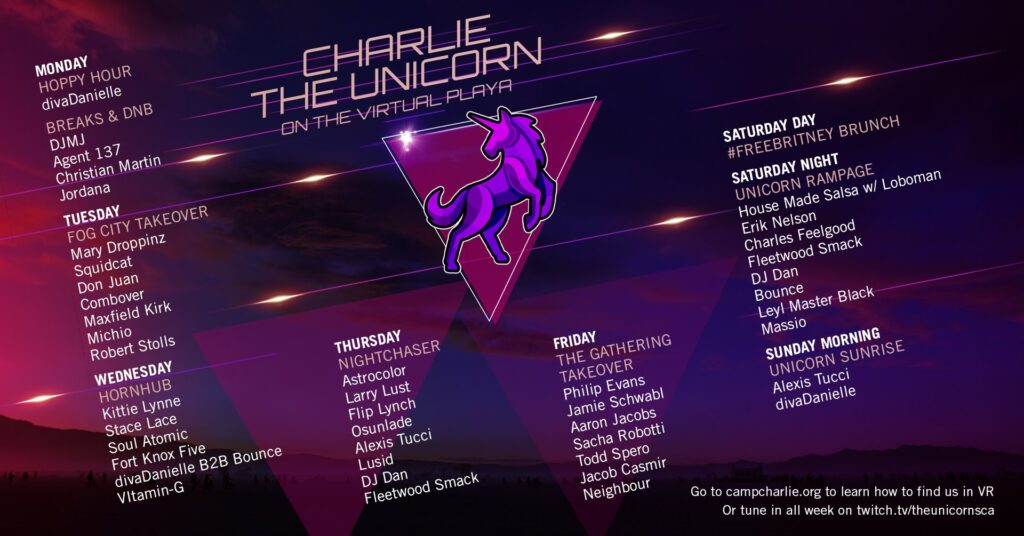 ---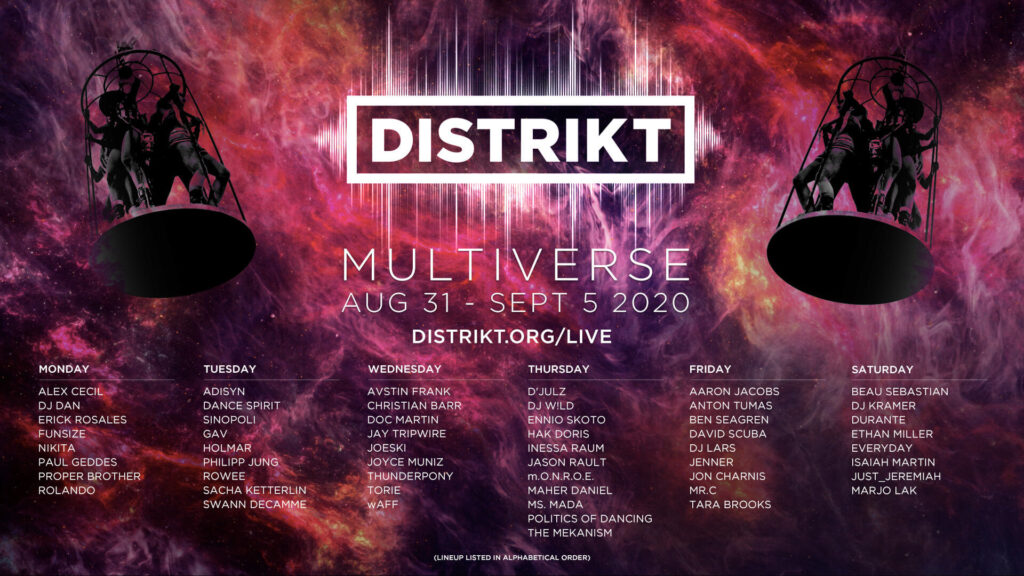 ---
Talk to God Virtual 2020 A Line to the Divine….. At the Burning Man festival almost every year for the last two decades there has been a symbol, a waypoint, an opportunity; to speak with God. There have been laughs, tears, concern and a most unique human interaction…..in a phone booth.A Line to the Divine….. At the Burning Man festival almost every year for the last two decades there has been a symbol, a waypoint, an opportunity; to speak with God. There have been laughs, tears, concern and a most unique human interaction…..in a phone booth.

---
ARTICLES and RESOURCES
"The Burning Man Multiverse is on like Donkey Kong" article on Boing Boing Aug 24th, 2020
"VR Burning Man Event Will Feature Live Music, Art, And Workshops" article on VR Scout
Post and share your BRCvr handle here: https://www.facebook.com/josh.reiss/posts/10158421009937310