Campaign Strategy & Marketing
Keyframe has been orchestrating the development of campaign launches for over two decades. Please contact us for more info.
Who this is for: Companies looking to supplement their marketing efforts through part-time support for their new product, technology, event, XR project or service.
Campaign Strategy & Marketing (3-month Subscription Package / 10 hours week)  
1-hour initial interview/consultation/research
Social media audit, strategy, and consultation (reshares, retweets, and tags)
Research of potential partners & partnership matching/sponsors/audiences/clients
Generate outreach templates (various communication strategies to achieve your goals)
Actively outreach to all relevant and potential clients/partners/communities/meetups/organizations/sponsors
Networking: We will connect you to our vast network, partners, and alumni support channel
Creative Media & Consultation: Advice on media creation, EPK, interview creation, Press Releases, copy editing, photo retouching, etc.
Event support: Hundreds of invites to your events from our network. Inclusion in our newsletter, e-mail blasts, and promotional support in various ways
VR consutling, creative direction, branding & social media management

The above 3-month part-time subscription package offers boosting support for your project. We start off with an introductory meeting to assess your project status and needs, which includes social media assessment. This provides an effective outline for campaign strategy and management. After researching and identifying potential audiences, partners, and sponsors, outreach letters are generated for project promotion and outreach. These templates are also useful in future endeavors. A press release may be created, if needed, to announce your project news and will be shared via our social media platform that entails a vast network of connections. We will also offer creative media consultation and weekly meetings to be determined.
CLIENT TESTIMONIALS
"Keyframe-Entertainment is nothing less than a conduit for the will of the universe. I received my copy of ReInhabiting the Village just as I was manifesting a successful festival. Julian is a truly selfless and humble collaborator. Also many thanks to Natacha for her otherworldly writing and promotional talents. Sending blessings!" — Malian Lahey, Founder of Mauli Ola Festival
"Keyframe-Entertainment know the ropes in getting your product or brand noticed through press and publicity. Even better, they are a transformational media company creating global positive change. With years of research, know-how and networking, Julian (founder) offers a highly effective approach to press publicity at local, regional or national level. Keyframe-Entertainment leveraging its prowess in transmedia and social media strategy for a unique media solution. They even go the extra mile reaching out to media outlets. I highly recommend their services and they are great people to collaborate with." — Adrian T., Owner and Creator of The Green Tiffin Company
"Keyframe-Entertainment is a generous supporter of leading-edge musical acts and creative projects that are bringing something fresh to the Electronic Music scene. I have been blessed to be a recipient of their support, which was pivotal to helping me to exceed my fundraising goal for my "Feminine Medicine" music album. Keyframe has helped me expand my reach and receive some high-level attention for the project. I am deeply grateful to have them as an ally." – ALIA, "Feminine Medicine" Project Creator
"Keyframe is consistently a supporter of media that is eye-opening, mind-expanding, and reality-shifting. I value the relationship Lucidity has developed with Keyframe as a result of working together on many projects, ranging from "The Bloom Series" to "ReInhabiting the Village" to Lucidity Festival." – Jonah Haas, Lucidity Marketing Director and Co-Founder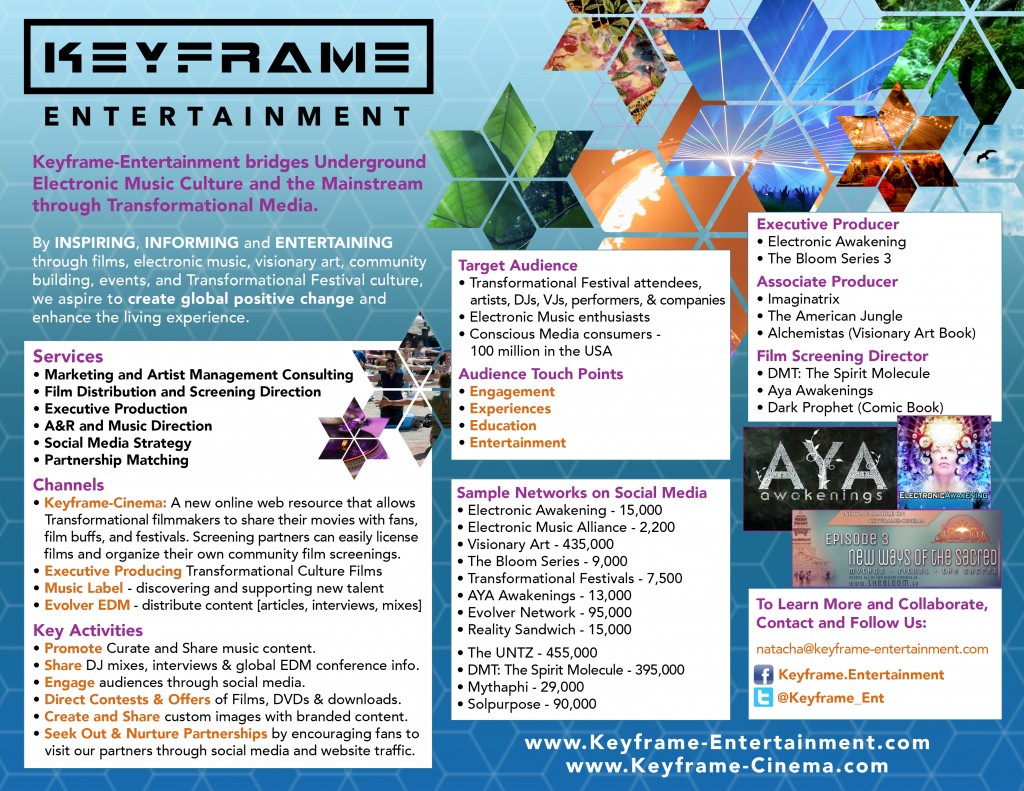 Crowdfunding Campaigns  
Keyframe has worked on a variety of successful crowdfunding campaigns.

Crowdfunding Campaign Marketing & Promotion:


Contact us to activate your project today! We look forward to working with you!