Welcome to Keyframe-Entertainment! We bridge underground Electronic Music Culture and the mainstream
through various modes of Transformational Media. We aspire to create global positive change
and enhance the living experience by INSPIRING, INFORMING and ENTERTAINING
through film, electronic music, visionary art, community building,
social networking, and Transformational Festival culture.
We believe that by sharing positive energy, we can nurture a creative, innovative,
collaborative global community. Please join us in our exploration of these endless possibilities.
Julian Reyes (Keyframe-Entertainment) Executive Producer/ CEO
In 2004 Julian Reyes created Keyframe-Entertainment, a company that bridges underground culture and the mainstream, and showcases a selection of San Francisco's best DJs, producers, and events. Keyframe's mission is to share the Bay Area underground sound globally and to create prosperity for the international electronic dance community.
Keyframe-Entertainment is also the official representative of The Quadrobe. Drawing influence from travels around the world, Asia to Africa, Europe and South America, JB Vries' motivations have always been based in rhythm and melody. Growing up in the Midwestern United States, he knew early on that his life's direction would be a musical one and, with this in mind, he took his show on the road. While studying Audio Engineering in Florida, he began learning the art of mixing in the studio as well as a DJing in the Orlando nightclub and underground dance scene.
Through producing a variety of dance genres, all with a driving and psychedelic undertone, JB has his sights set on sharing his flavor of progressive dance music to festivals and nightclubs the world over. Today, he lives in San Francisco where he continues to perform at festivals such as Burning Man alongside some of the worlds finest DJs as part of the Opulent Temple (www.opulenttemple.org). JB has performed alongside Christopher Lawrence, Carl Cox, and The Crystal Method, and has released music on labels such as Dichotic Recordings, Bootcamp Records, Drizzly Recordings, and Mizumo Music. His 2013 tour includes Transahara Music Festival, Opulent Temple's renowned "White Party" and more. You can visit The Quadrobe website at www.quadrobe.com.
Keyframe is the Executive Producer of the film Electronic Awakening (Directed and Produced by Andrew Johner) and is coordinating an extensive international screening campaign. Thus far, the film has screened at Harvard University, Yale University, Finland University, throughout Australia, Brazil, Canada, Europe, and Japan, and at Transformational Festivals including Symbiosis, Lucidity, Lightning in a Bottle, MEME, Photosynthesis, Atlas Festival, Earthdance, Burning Man, Boom Festival (Portugal), Rainbow Serpent (Australia), Eclipse 2012 (Australia), Cosmogenesis (South Africa), Synthesis 2012 in Mexico and many other events hosted by the EVOLVER network.
Julian Reyes has recently joined the Board of Directors of the Electronic Music Alliance, a collaboration that aids in cultivating and celebrating social responsibility, environmental stewardship, community building and volunteerism within Electronic Music culture. See website at www.ema-global.org.
Keyframe also promotes Visionary Culture and various projects within that genre of visual art. In addition to this, Keyframe-Entertainment is the Associate Producer and Screening Director of the web series/feature film: The Bloom, a Journey through Transformational Festivals. This 4-part Documentary Video Series follows a journey to 12 premier festivals in 2012 in order to explain this remarkable phenomenon. The goal is to promote cohesion among those in the culture while building a bridge of understanding with those outside of it–supporting growth and expansion while reserving the magic and integrity of this potent movement.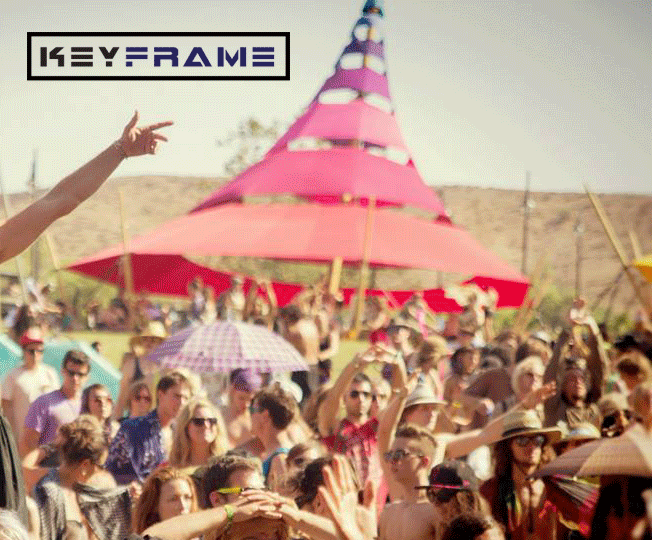 *Photo of LIB 2013 by Zac Cirivello