Keyframe-Entertainment VR
Thank you for visiting the Keyframe-Entertainment VR page! Below you'll find info on Julian Reyes' various VR projects, as a space dedicated to chronicling Keyframe's various VR endeavors.
---
UPCOMING EVENT: The xRS Week Keyframe Happy Hour: Electronic Music Culture & XR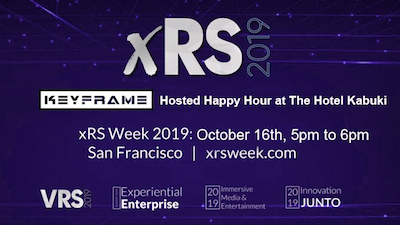 Julian Reyes will be hosting xRS Week 2019's Happy Hour October 16th, 2019 @ The Hotel Kabuki as a special session.
xRS Week is VR/AR's top executive conference and expo, offering strategic dialogue and insight into the future of virtual & augmented reality. https://xrsweek.com/special-sessions/
---
PAST EVENT: The SF pre-party of Mayan Heart Festival & Cosmic Convergence (November 30, 2018)

On November 30, KEYFRAME is honored to have hosted "COSMIC HEART", the San Francisco PRE-PARTY to two very special festivals held in Guatemala in December: Mayan Heart Festival & Cosmic Convergence 2018. The event took place at the Onedome Mixed Reality Art Experience, a space where Augmented Reality, projection mapping, soundscapes, food and drink, and even the physical space itself all work together to immerse you in a fantastical other world known as "The Unreal Garden."
Featuring the work of a visionary group of world-class artists, and created by a team of technologists, innovators and storytellers, "The Unreal Garden" merges multiple layers of perception to spark your imagination and engage your senses with a truly unreal experience like you've never had before.
Learn more about Onedome: Onedome to Open 'Unreal Garden' Augmented Reality Art Exhibit in San Francisco
---
PAST EVENT: Keyframe presents the Convergence of Electronic Dance Music & VR (October 17, 2018)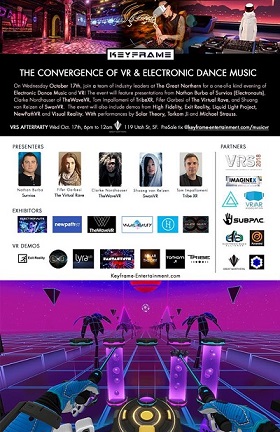 On October 17th @The Great Northern in SF, Keyframe showcased the intersection of VR and Electronic Dance Music with talks from Nathan of Survios (Electronauts), TheWaveVR, TribeXR, The Virtual Rave and SwanVR.
The event included demos from High Fidelity, Exit Reality, Liquid Light Project, NewPathVR, Visual Reality, and performances by Solar Theory, Torkom Ji, and Michael Strauss.
The event was co-produced with ImagineX Productions and ARTandVR, and had sponsor support from SUBPAC, Pyramind, Chronos Global Academy, VRARA, EMA and the VRS Conference.
View our trailer video below, and for more details, including talks and photos, please visit our VR and Electronic Dance Music event page.
---
MarsCity Dome Project (April to August 2018)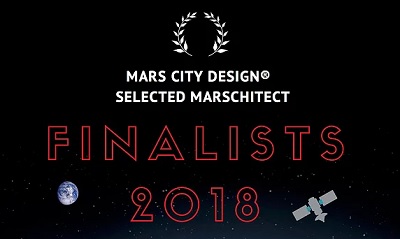 Julian and his team were selected as 2018 FINALISTS for their Mars City Design of BoreDome!
The team is honored to have had their work reviewed by a dedicated judging team that included prominent NASA personnel and renown architects, as well as be considered for a prize valued at $20k+!
To learn more, go to: https://www.marscitydesign.com/competition-2018.
This fly-through VR project builds off a basic dome structure that was a design selected at Mars City Design Challenge 2016. From the basic dome structure, the 4-person team created habitat spaces in Unity, populated with robotic activities (farming) or human habitat space (lounge, hotel room, or gym).
The project objective was to envision what life on Mars would be like if human life were sustained inside the BoreDome structure. Mars City Design is an innovation platform dedicated to creating the best blueprints of future cities on Mars, creating breakthrough technologies to give impactful sustainable solutions applicable for Earth.
Julian Reyes created two of the spheres in Maya, then imported furniture models from the Unity store, and animated the fly-through in Unity 3D. The project was completed in April 2018.
---
Damanhur (June 2018 release)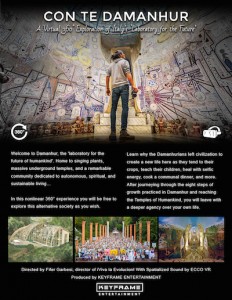 Julian was very impressed with Fifer Garbesi's piece ¡Viva La Evolución!, where she explored the origins of the Underground Electronic Music scene in Cuba in 360 video. They decided to collaborate on a project close to Julian's heart given his involvement in Reinhabiting the Village.
Julian Executive Produced the project that Fifer conjured up: the gamified documentary exploring Italy's 'Laboratory for the Future of Humankind': Con Te Damanhur. The experience offers a rare opportunity to glimpse into this ecovillage and spiritual community situated in the Piedmont region of northern Italy; home to singing plants, massive underground temples and a remarkable community dedicated to autonomous, spiritual and sustainable living.
The 'Con Te Damanhur' VR 360-Degree App has officially launched!
Read the press release and experience this gamified documentary now on Gear VR through the downloadable link here.
For more info, visit the Con Te Damanhur page.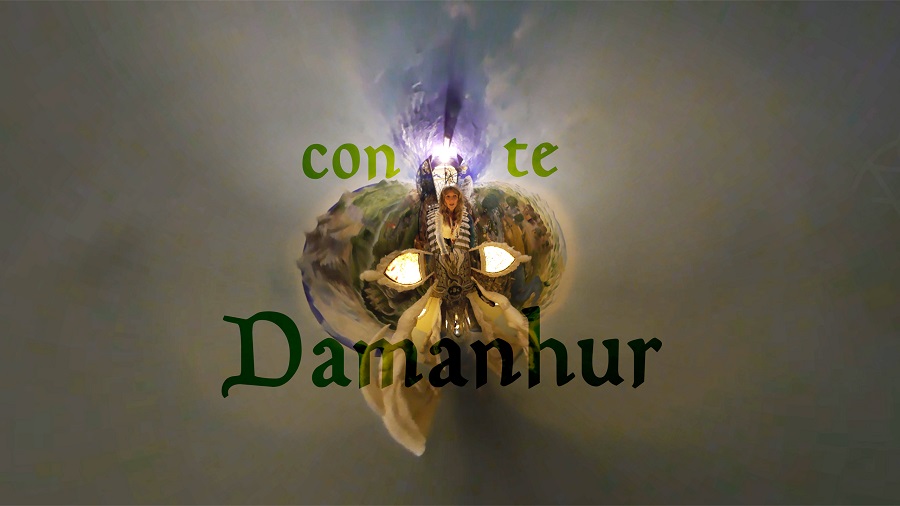 ---
EVENT: VRLA (May 2018)
Keyframe sponsored the Visual Reality area at VRLA on May 4-5, 2018.
VISUAL REALITY has been bridging the gap between art, technology and consciousness since 2016. They design experiences and produce events that open hearts, lift spirits, and blow minds.
Their pioneering multi-sensory events blending VR with psychedelic augmented art, live audio/visual performances, and sound healing meditations provide a unique perspective on conscious entertainment and transformative technology, as well as an engaging restorative experience.

---
INTERNSHIP: Stanford Internship (January 2018)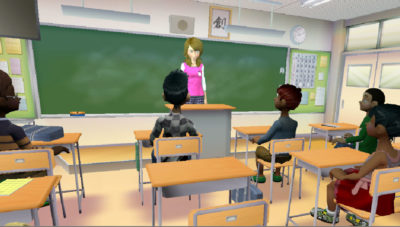 In a VR class, Julian worked with teammates on a VR immersive project for The Department of Pediatric Endocrinology & Diabetes at Stanford.
They imported the environment and characters from the Unity Store. The main animator Scott Kravits animated the interaction of the characters, and Effy Zhang focused on 3D modeling and rigging the user avatar. Julian's role was research, asset curation, admin, and advisory.
---
FINAL PROJECT: Multi-track VR interactive Music Video (2018)
In this experience the user is seated in a virtual music studio. They are able to push knobs on the mixing board that control the volume of 5 different parts of a music track: Drums, Bass, Synth, Voice, and Effects. With each movement of the knob, the specific channel is manipulated for each part of the song. The VR experience is coded so that the audio is manipulated through the channel knobs, and visual special effects fill the environment. These visual effects are synchronized with the movement of the knobs, by synchronization of the music. Using stock audio visualization effects from Unity, the user is able to control both the intensity of the sounds and the visuals. There is also a feature where the music studio walls fade away, and the user is immersed in a visual effects environment. Coding of the slider was created by the class TA's.
---
Further training: VR Development With Unity 10-week Night-Course Training – (2nd session) October to December 2017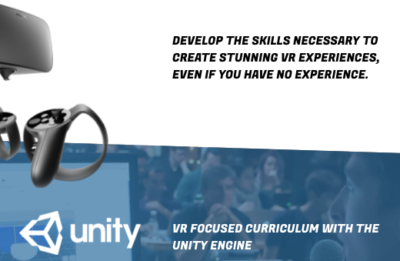 Learning Unity for VR
Creating Worlds
Lighting, Particles, & Spatial Audio
Bringing Things to Life
C# Weekend Bootcamp
Interaction Design for VR
VR Locomotion and UI
360 and System Architecture
Polish and Performance
---
FINAL PROJECT: Save XMAS VR (2017)
Julian, alongside his project partner, Mika, created a VR experience where the user sorts through Christmas gifts that are tossed into a floating magical wreath. The wreath captures the score, generating a "success" or "failure" sound, depending on if the toy goes into the correct wreath. Toys fall into two categories: toys that need to go into a box, and boxes that need to be wrapped. There is also a timer next to the score board that lets the user know when the game will elapse. They brought in the environment from the Unity Store as a warehouse asset and decorated it in a holiday theme. They created or textured most of the models in Unity. With the help of their instructors, they coded the experience so the conveyor belt moves the toys and the user must pick up the objects and toss them into their appropriate wreath. This experience can also be modified into practical applications, such as a sorting game, exercise for the elderly, or a counting game for kids. This was a final project for the Unity Development VR class at a VR school.
---
VR Development With Unity 10-week Night-Course Training – (1st session) May to July 2017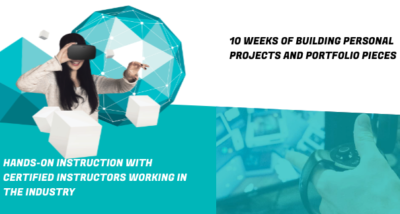 Provided by a VR class, this was a VR industry deep-dive, and emerging technologies introductory experience. With the course and tools, Julian developed a working knowledge of the technology, history, and major players in the VR industry. It also helped understand the markets that VR/AR are disrupting and learn about his biggest opportunities as a VR developer.
---
FINAL PROJECT: Armada Animation (2017)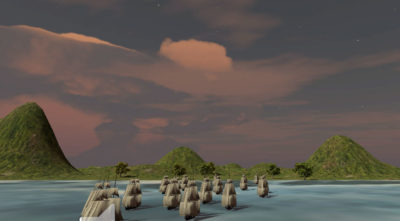 Julian's first VR project ever was focused on a cinematic experience. He coded an armada sailing toward an island, and incorporated a sky environment and ominous battle music in the background. Although interaction was covered in the class, Julian wanted to focus on a passive experience that transported him (and the user) to another realm. He also coded the ships to sail at different speeds for realism. He was astonished to experience this scene that he created in less than a weekend. Julian was able to create moving water with a special effects shader and pulled all of the assets from the Unity Store. Spending a few minutes in this experience solidified his love and commitment to VR.
---
San Francisco VR Weekend Workshop: Learn Unity VR for Vive (April 2017)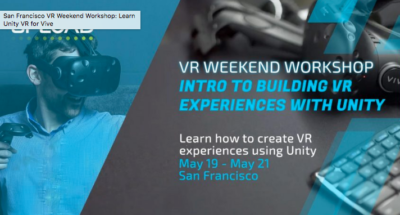 Julian's first experience in VR was the weekend workshop at a VR school. The workshop offered him the foundation and knowledge to start his VR journey, as he learned the basics of Unity and how to build a functional VR experience.
Learning the software was not terribly difficult as he's utilized Maya, Lightwave, and Electric Image in the past. It was a fulfilling experience as the class reminded of his years as an animator, introduced him to creating immersive experiences, and showed him C#.
---
EVENT: ARTandVR (February 18th, 2017)
Keyframe sponsored the February 2017 ARTandVR event.
On February 18th, the newly renovated HACK Temple hosted the San Francisco-based ARTandVR exhibition. With over thirty featured artists, performers, and exhibitors, every part of the church presented a novel experience.
Read the ARTandVR event review by Jesse Dimiani.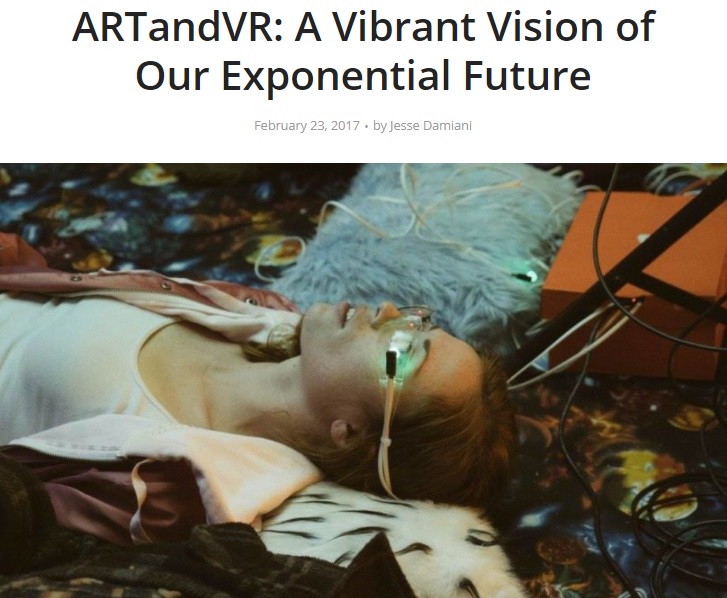 ---
3D Animation Experience
Julian's professional experience in 3D animation has been focused on Demonstrative Evidence: Accident Recreations, Forensics, Failure Analysis, Medical, Engineering, etc. In the past he's worked with Lightwave, FormZ, After Effects, and Maya. He's proficient in Photoshop, video editing, and design. Professional information and contact here: https://www.linkedin.com/in/keyframe