Keyframe Blog June 2017
Hello Keyframers!
Please enjoy this month's featured music, check out LOCZIdesign's crowdfunding campaign to bring the augmented reality installation to San Francisco Design Week's Opening Night, and read Scarlet Crow's interview on Reality Sandwich!
Malian Lahey's The Beat is Love:

Malian Lahey is a Hawaii-based artist, and creator of the Mauli Ola Festival. "The Beat is Love" EP is her first album.
States Malian: "Every day, I find my inspiration in people who dare to create from the best of who they are, to express their inner beauty and see the beauty in others. The greatest experience of our own happiness comes about when we live in a happy world. So, here's to music that makes us think of something greater than ourselves. Here's to music that brings us out of our personal pain and inspires us rise to co-create something higher and more connected than ever before. Here's to music that talks back to our demons and wins. This music is a love offering to the sublime spark within you."
Buy "The Beat Is Love" EP on Bandcamp: https://malian.bandcamp.com/album/the-beat-is-love-ep
Read her interview on Reality Sandwich: http://realitysandwich.com/320681/moving-mountains-starts-in-hawaii-a-dialogue-with-mauli-ola-festival-founder-malian-lahey/

---
CROWDFUNDING: LOCZIdesign AUGMENTED REALITY INSTALLATION, for SAN FRANCISCO DESIGN WEEK OPENING RECEPTION
LOCZIdesign has partnered with Heavy Projects, Props2c, and CULT | Aimee Friberg Exhibitions to bring San Francisco Design Week visitors an augmented reality immersive installation, exploring San Francisco's shifting landscape and this year's theme: Question Everything.
A GoFundMe campaign has launched to raise the additional $7500 needed, and we send a massive THANK YOU for all the generous pre-party support, which helped raise $2700! Please check out the campaign and rewards, donate and share with your networks! We look forward to bringing you this experience on June 14th! View the campaign & rewards: https://www.gofundme.com/sfdw-loczi.
About the opening reception art installation:
​Before entering the space, you're encouraged to interact with the art, displaying an alternate view-provided by Heavy Projects, confirming that there's no such thing as a fixed perspective. As you enter the building, you'll be lulled by an immersive visual and auditory experience created by Can Buykukberber, a Pier 9 artist in residence. As you emerge, you'll be encouraged to ponder that which you've seen as well as what you're giving rise to. Rhonda Holberton's work asks: "To whom do you give reverence to and what is your practice?" What environment do you cultivate and what structure do you crave from which to create? Above all, who are we as a city as we honor all who've come before. And, lastly, what happens when we embed technology into the fabric of our beings, into our society? How does it create separation or bring us closer to ourselves?
View the campaign: https://www.gofundme.com/sfdw-loczi.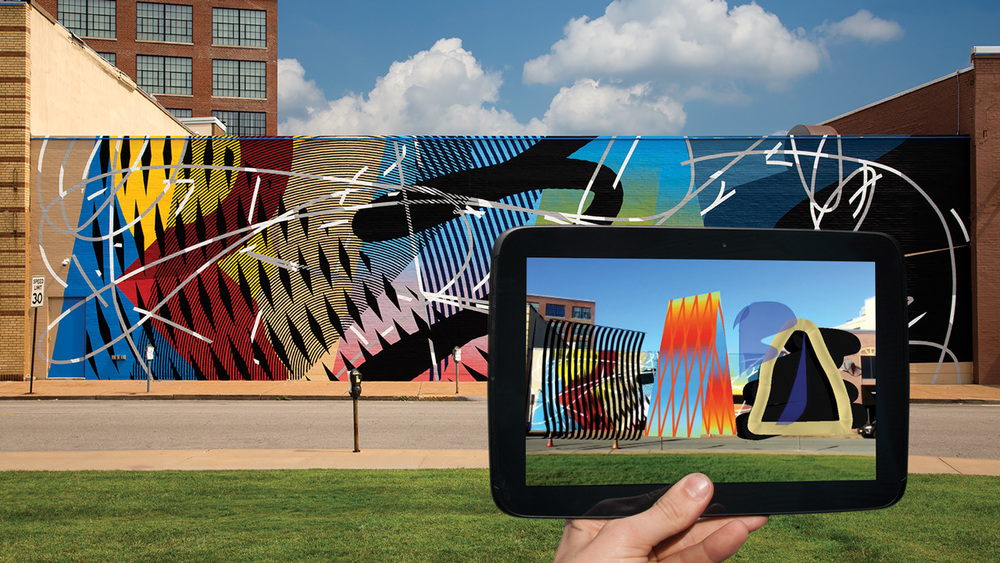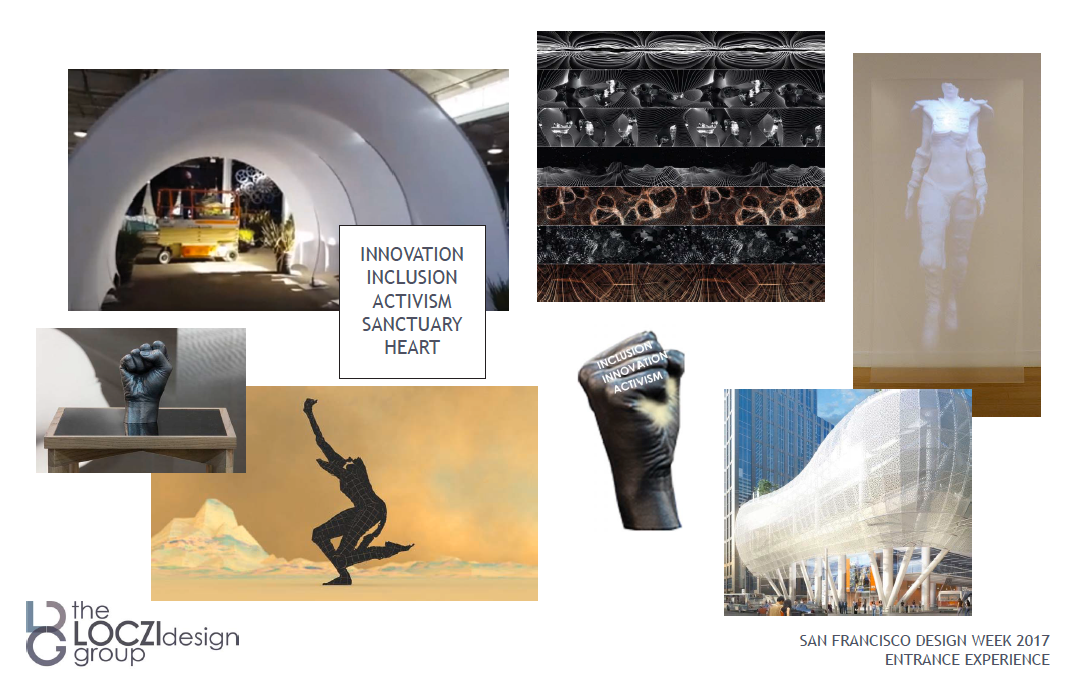 ---
REALITY SANDWICH INTERVIEW: SCARLET CROW
Keyframe has caught up with SCARLET CROW to discuss their new album, 'Remembrance'! Our favorite track is the beautifully intense "Bone Shaman Woman," so make sure you check it out!
Reweaving the forgotten tales and codes of the Great Mystery, powerhouse duo Marya Stark and Carmen Crow combine forces as Scarlet Crow to bring their unique musical medicine to the stage and community. Their performance can be felt as etchings from the ashes of the new moon's fire-ceremony. These two medicine bards delve into the wounding and healing of the magical feminine, interspersed with storytelling, prayer, and future dreaming. Two voices blend angelically, carrying enchanting songs of mystic folklore and urban avalon-inspired prose.
Read the interview on Reality Sandwich: http://realitysandwich.com/321839/scarlet-crow-an-interview-with-marya-stark-and-carmen-crow/.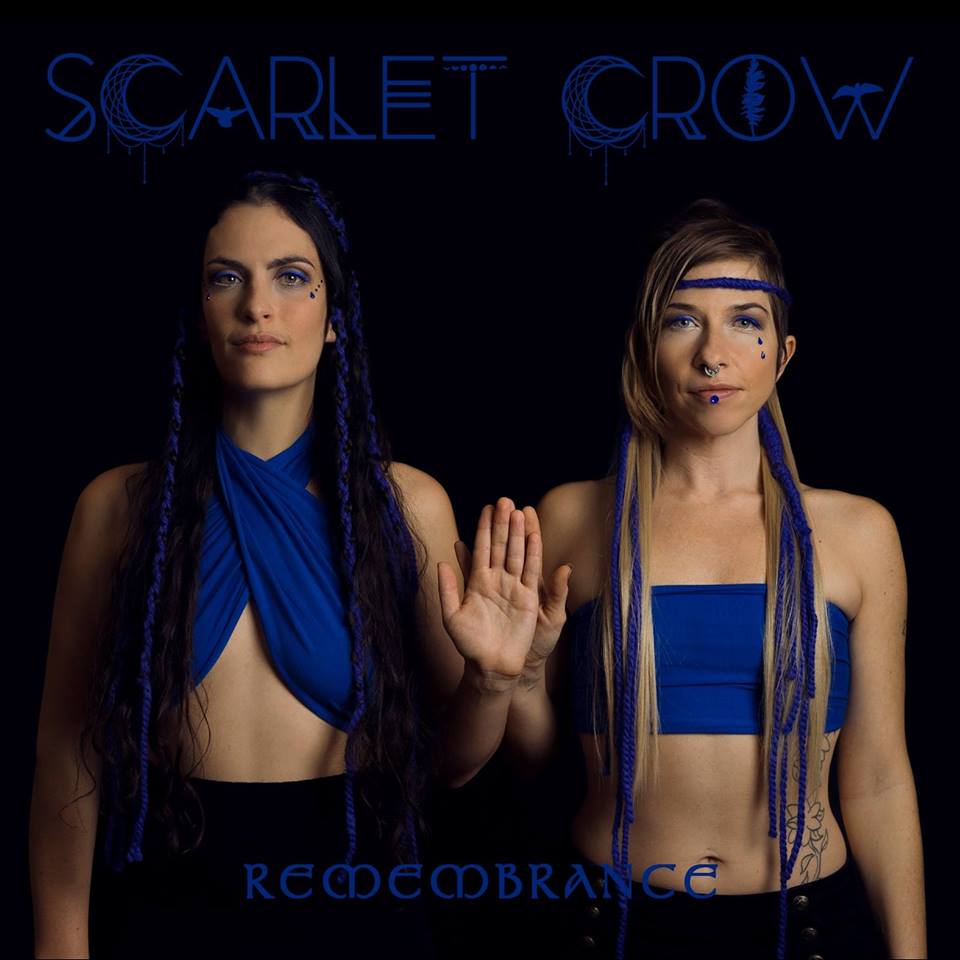 ---
ONEEDM: INTRODUCING KEYFRAME'S MUSIC VIDEO REMIX OF IAMEVE'S "STARMAN"
OneEDM is proud to announce the world premiere of Keyframe-Entertainment's IAMEVE "Starman" Music Video Remix!
Read the article and watch the video on OneEDM: http://oneedm.com/keyframes-music-video-remix-iameves-starman-breaking-new-ground/.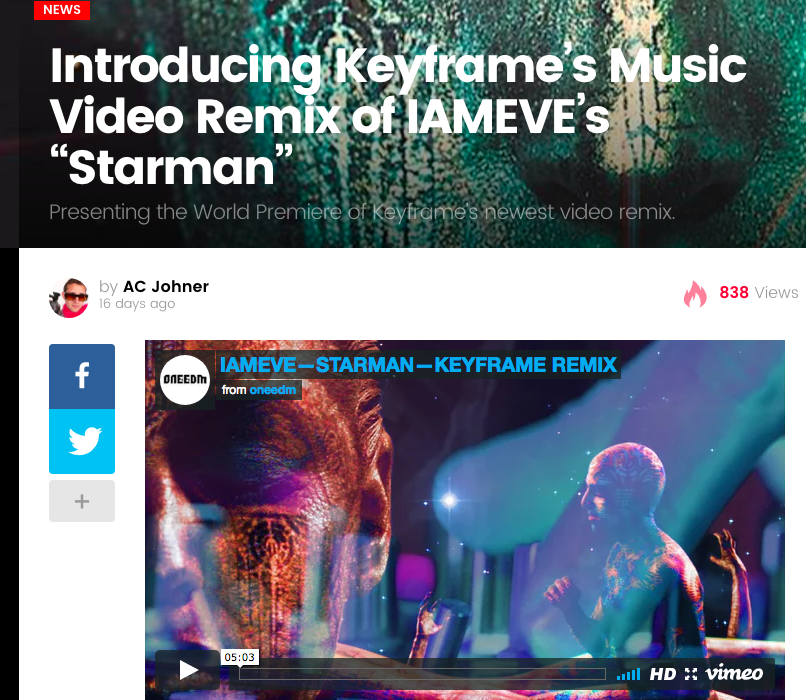 ---
Thank you for your continued support!
As always, feel free to share with us projects that inspire you so that we can we can post in our network. We strive to make this blog an avenue by and for the Intentional community.
If you have music mixes and memes that you'd like to have featured on Evolver EDM, send them to: Natacha .at. keyframe-entertainment.com.
Connect with us on social media: