Visionary Art
Keyframe-Entertainment is an avid supporter of and believer in the potential of Visionary Art—an artistic style that portrays varied states of awareness through elements like spirituality and mysticism. Through the use of exploratory methods like dreams, meditation, transcendental states, and plant medicines, the art channels meaning of the mind and soul through the representation of alternate realities that transcend the physical world. Its unique creation process of combined community presence and ecstatic setting is a direct celebration of life that makes it an important component of festival culture.
Bloom Spotlight: "Vessels of the Divine"
The Bloom showcases the emerging culture and movement of Transformational Festivals. Each episode illuminates 3 themes that create the alchemy of the Transformational Festival through potent moments, stories and interviews filmed at over 30 festivals around the world.
Phadroid Live at MAPS 25th Anniversary
Android Jones is at the forefront of the visionary art movement, a wave of artists who emphasize creativity as the foundation of consciousness and an agent of social change. In Android's live art performances, including the acclaimed Phadroid dance performances with wife Phaedrana, he incorporates elements of chance and improvisation, inviting synchronicities that additionally exceed the individual artist's intentions and allow for unscripted moments of beauty to shine through. To this end, Android's art serves two related functions: it bears witness to realities accessible through heightened states of consciousness, and it also engenders heightened awareness through the processes of creation and audience interaction. Digital art becomes a tool for navigating reality and human awareness, and Android's art invites others to join the advancing evolution of consciousness by speaking to the artist in everyone.
Visionary Art Book: Darren Minke's "Alchemistas"
Darren Minke's "ALCHEMISTAS" features works of Visionary Art: the child of surrealism and fantasy, but with a stronger message of conscious evolution. Art that captures the depths of imagination, the infinite potential of other dimensions, the journey of altered states of being, and the quest for spiritual enlightenment. It is a glimpse into other worlds, or what our world could become…
Features these Visionary Artists and more:
Andrew Gonzales, Andrew Jones, Luke Brown, Cameron Gray, Robert Venosa, Martina Hoffman, Mark Henson, Mariela de la Paz, Amanda Sage, Carey Thompson, Darren Minke, Chris Dyer, Xavi Panneton, Adam Scott Miller, Michael Divine, Hans Haveron, Ishka La, Autumn Skye Morrison, Michael Garfield, Brian Paul Smith, Mark Lee, Krystleeyez, Jessica Pearlstein, Dave Lawell, Viandara, Justin Totemical, Mugwort Artemisia, Geoglyphiks, Tourmaline Todd, Michael Heltebrake, Adam Fu Reed, Keerych Luminokaya, Ka Kathryn June Amorastreya, Jamie Kaminskas, Laura Borealisis, Ashley Foreman, Emma Watkinson, Brig Marlin, Laurence Caruana, and many more.
Solpurpose

Solpurpose is an online and event based media project, marketplace, and visionary community epicenter that specializes in providing inside access into the innovation behind this emergent transformational way of life. Through offering unique expressions of visionary online media paired with workshops, artistic installations & events on the ground level, their catalog includes the provision of unique, one-of-a-kind goods, insight into the inner workings of the foremost creative minds of our time, and the cultivation of pioneering projects and events that push the boundaries of community advancement for the greater world community.
View their Visionary Artist index here.
Gateways of Illumination
A journey through visionary art, narrated by SolPurpose's own Ehren Taytakura.
Chapel of Sacred Mirrors (CoSM)
Founded by Alex and Allyson Grey, the Mission of the Chapel of Sacred Mirrors, CoSM, is to build an enduring sanctuary of visionary art to inspire every pilgrim's creative path and embody the values of love and perennial wisdom.

Visionary Art Galleries
Visit the links below to explore various Visionary Artists: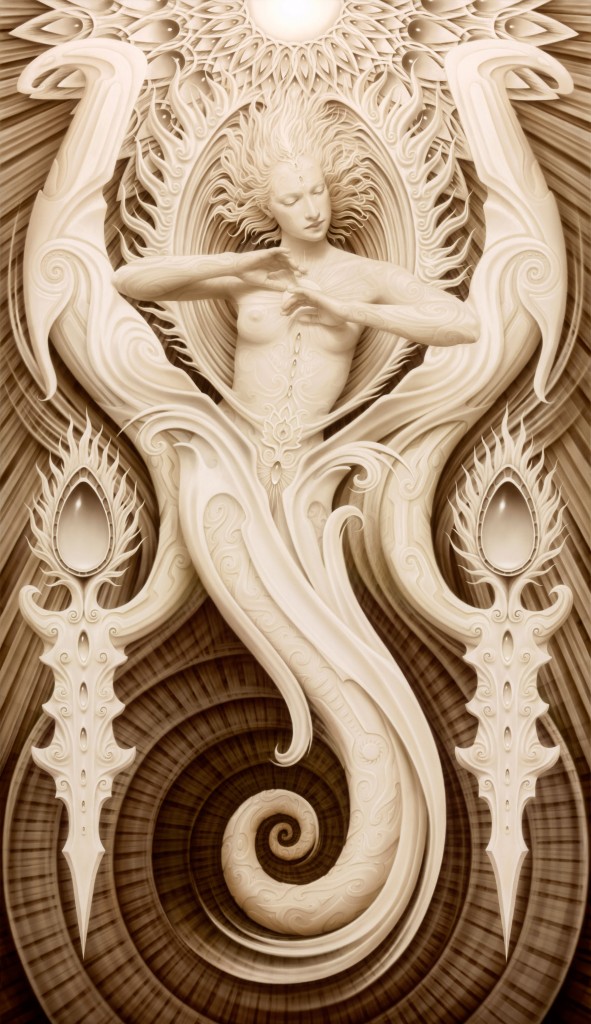 *Art by Andrew Gonzalez – The Creatrix