Continued Past Events
Keyframe-Entertainment has been involved in the production of music events and film screenings for many years. We welcome the opportunity to work with you on future events or festivals. Please contact us to explore ways to collaborate.
---
APRIL 6-8, 2018: LUCIDITY – RISING DAWN
More Than A Festival, Lucidity is a collaboratively built "village" with a vision. Following an ongoing storyline, this year's theme, Rising Dawn, invites attendees to "Awaken the New Story", and create a world where humanity can thrive. As groups of attendees bring their piece of the vision to the experience, a village is built for all to enjoy over a three-day campout weekend.
Stages offer a wide range of music, as well as dance, flow arts and theatrical performances. A healing arts village offers everything from massage to chiropractic to herbal remedies. Beyond the art gallery are interactive installations and immersive environments that are sure to evoke the inner child. The festival features a plethora of yoga classes, as well as workshops focused on personal growth, technology, environmental activism, creativity, and more! Also, an entire realm for families features fun activities for little people and their taller sidekicks. There will also be a Courseweek prior to the festival event.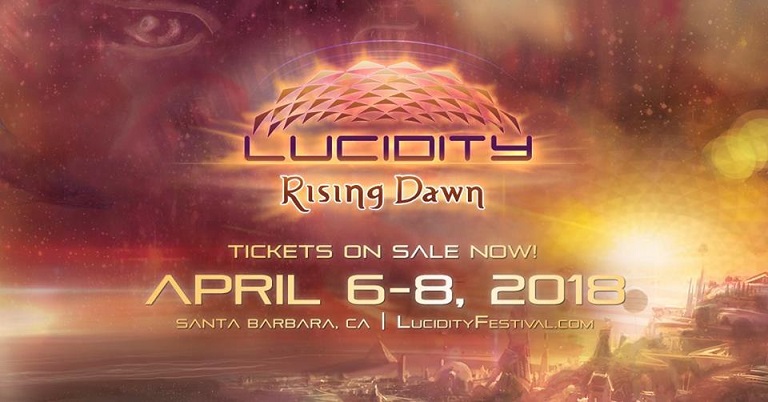 ---
MARCH 8TH, SAN FRANCISCO – Keyframe & FilmHero presents: Amplify Her SF + International Women's Day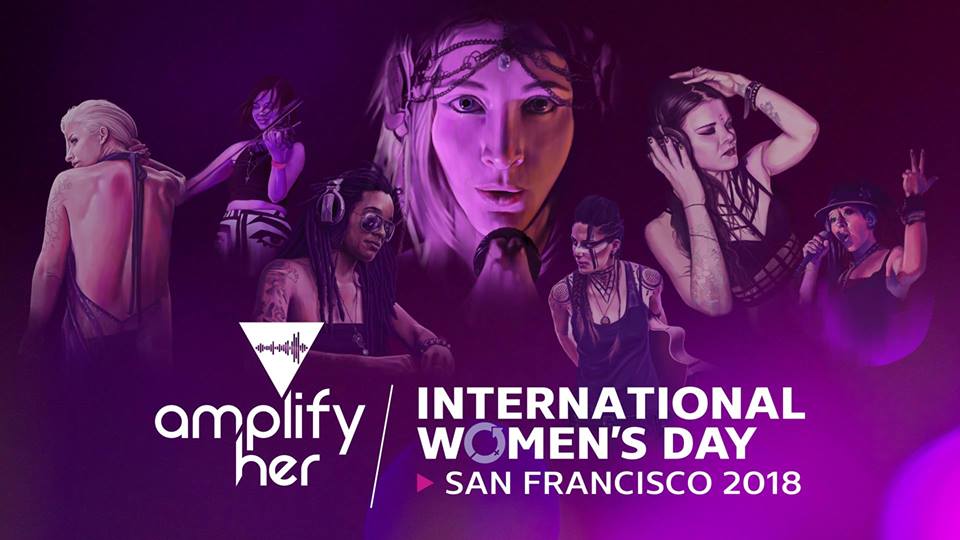 ---
FEBRUARY 9-11 – MAULI OLA FESTIVAL, Pahala, Hawaii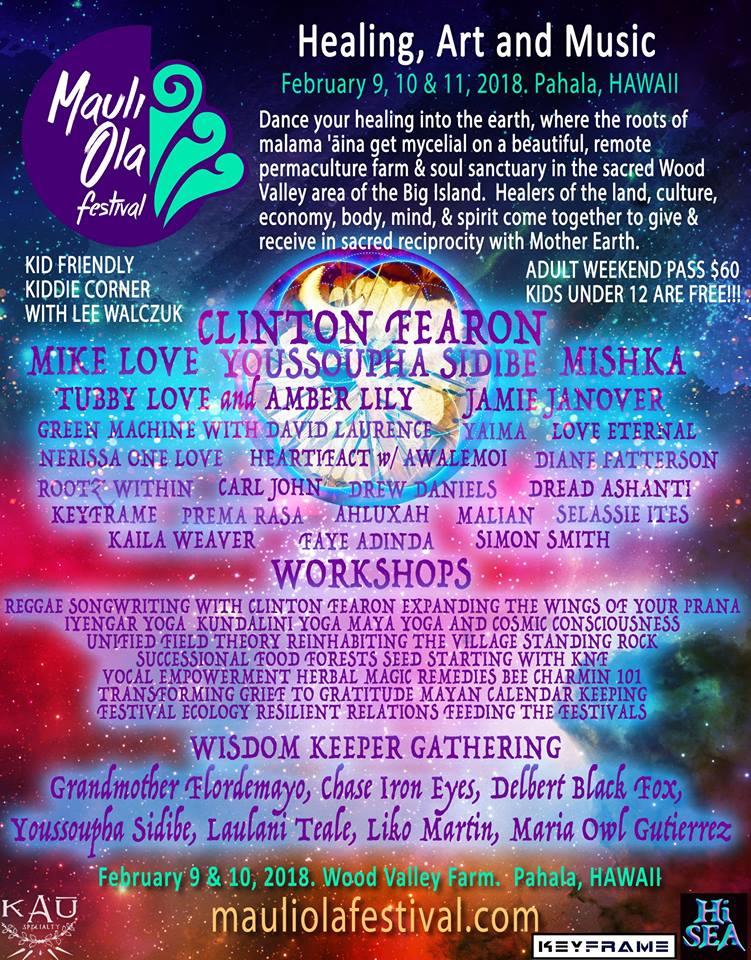 ---
JANUARY 20 – 21, 2018 – ANNUAL FLORIDA FLOW FEST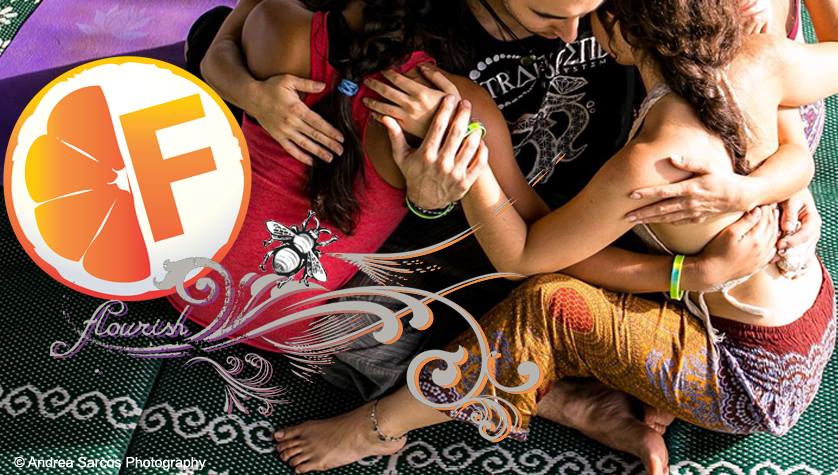 ---
JANUARY 18th: Keyframe presents THE AMERICAN JUNGLE SAN FRANCISCO film screening
Keyframe-Entertainment and Public Works hosted "The American Jungle" San Francisco Film Screening & After Party!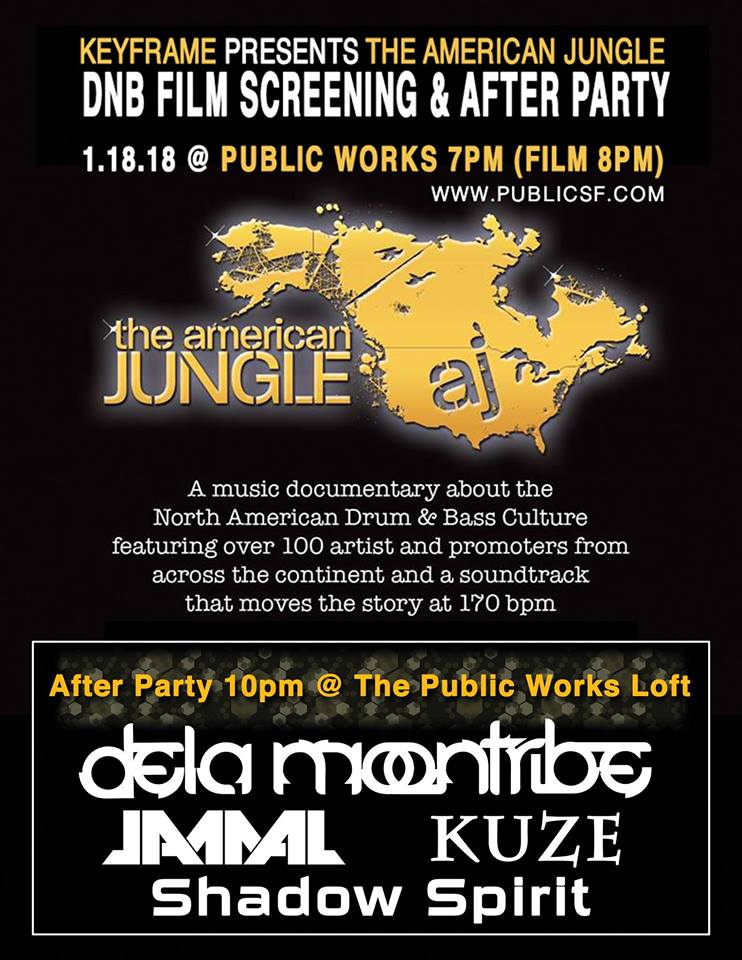 ---
JANUARY 12TH: KHROMATA NIGHTS! – F8, SAN FRANCISCO
Khromata Nights, We Out Here Events, and Keyframe-Entertainment are pleased to have celebrated the third installment of Khromata Nights at F8 1192 Folsom in San Francisco with a night of psytrance and fun! Featured music by Khromata, DJ Christine, and Coral, and more.

---
NOVEMBER 16TH, 2017: 'AMPLIFY HER' SAN FRANCISCO PURPLE CARPET PREMIERE – CASTRO THEATRE
"Amplify Her" is a cross-platform project encompassing a feature documentary, a graphic novel, and an animated motion comic series – imagined and brought to life by female creators across North America.
Keyframe showcased Fifer Garbesi's "¡Viva La Evolución!" and HelloEnjoy's "Fantasynth" in the Castro Theatre lobby.
Fifer Garbesi's "¡Viva La Evolución!" is a 360° Documentary set in Havana, Cuba. As American culture streams into Cuba for the first time in 50 years, DJ Joyvan Guevara struggles between the new opportunity for global success and a responsibility to the culture he helped build in the face of commercialization.
HelloEnjoy's "Fantasynth" is an audio-reactive experience designed for Virtual Reality. Glide through a procedurally populated environment that comes alight with the music. Featuring the song Chez Nous by N'to.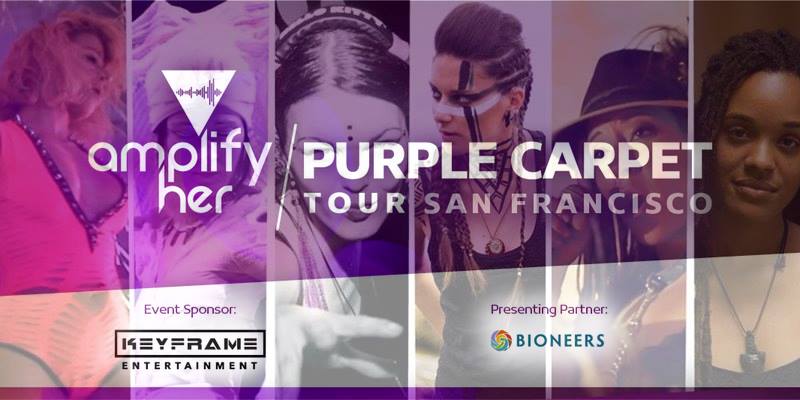 ---
AUGUST 17TH – 23RD: OREGON ECLIPSE, Big Summit Prairie, OR
We're thankful that REINHABITING THE VILLAGE was featured, with several contributing authors in attendance such as: David Casey, Andrew Ecker, Wren LaFeet, and The Polish Ambassador! Other attending partners included: Michael Gosney, Phutureprimitive and Random Rab.
There is nothing like the spectacular phenomena of a Total Solar Eclipse. One part beautiful, one part mystical, and one part mathematical, a Total Solar Eclipse is an experience that inspires the mind, body, and spirit and demonstrates the elegant nature of our cosmos.
We added the massive Psytrance SUN STAGE in our "PSYTRANCE ASCENDING IN NORTH AMERICA" article, along with interviews with DJs Khromata, Ace Ventura, and Symbiosis founder Bosque Hrbek, to name a few!
DESERT DWELLERS also performed at the event, and released their album compilation "Autumbral Shadow" on August 14th in honor of the eclipse. Check out our album review, and exclusive track preview by GUMI here!
View the WEB OF LIFE DOME!

---
MAY 13th, SAN FRANCISCO, LOCZIdesign STUDIOS: LOCZIdesign & KEYFRAME present: SANCTUARY: FUNraiser for San Francisco Design Week's Opening Reception
LOCZIdesign – INNOVATION : INCLUSION: ACTIVISM: HEART: SANCTUARY
The event's intention was to come together to celebrate the many things that make this city great, get an exclusive look at what we're designing for SFDW's Opening Reception at Pier 27 in June, meet the artists and contribute to help make this vision possible.
The VISION: Transport the participant through a visual and sonic experience. Proceeds went to fund the Opening Reception for SAN FRANCISCO DESIGN WEEK, June 14th, at Pier 27.
Featured project collaborators HEAVY.IO, Props2c, Can Buyukberber, Rhonda Holberton, and Aimee Friberg, and music by Mystik (Downtempo), Kuze (Tech House), VITAMINDEVO (Bass House), and Emanate (Techno).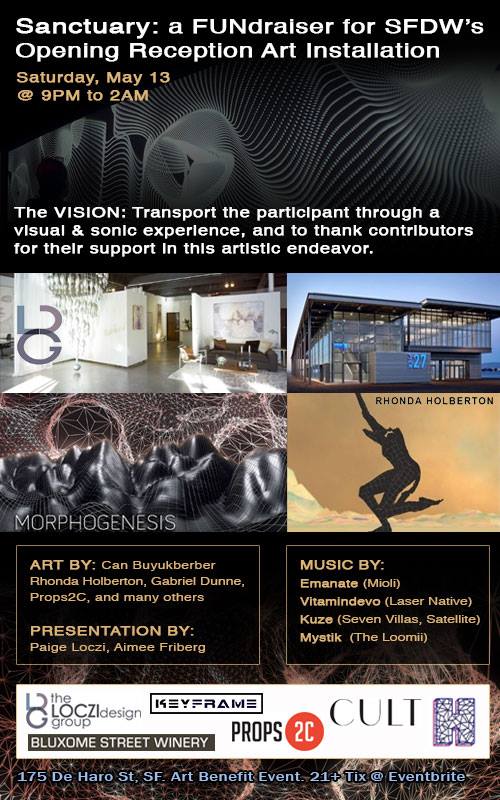 ---
MAY 6th, SAN FRANCISCO – LIBERATION MOVEMENT @ The Independent
We sponsored the Liberation Movement + The Dogon Lights at The Independent!
A Live Liberation Movement performance consists of a 50 channel analog Live PA sonic journey with live instrumental contribution from a variety of musicians and vocalists. The LM live journey travels through many levels of depth and experience and can at times be challenging, inspirational and empowering.
LM was founded in the Peruvian Amazon in 2010 in collaboration with participants from the Shipibo Tribe. Since that time it has grown to include more than 75 artistic participants from 6 continents and it represents more than 1000 years of combined collective mastery in a variety of revolutionary fields.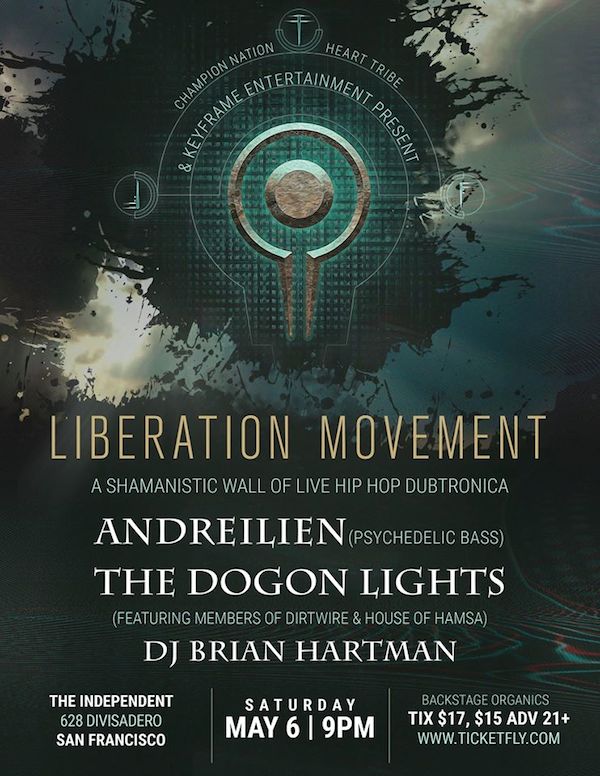 .
---
APRIL 28TH, SAN FRANCISCO at F8 – Khromata Nights presents: S>Range (Spiral Trax, Sweden)
Says Khromata: Pulse SF is focusing on the awesome Pulse Family Gathering 2017 coming this September and no longer doing indoor events. I would love for us to keep what we have going and I have decided to start my own Khromata nights! I cordially invite you all to come dance it up with me and the pham as we feature the best in progressive and #psytrance!
Front room was hosted by Khromata, back room was hosted by KEYFRAME-ENTERTAINMENT, with some Keyframe PsyDub and Techno: Chloro Djinn / Xipil / Asiga Mind / Jeff Richmond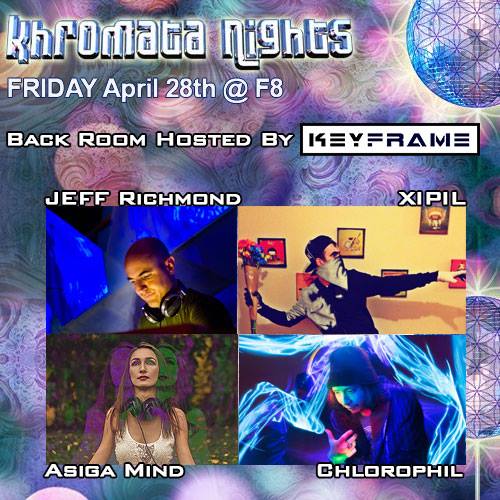 ---
APRIL 14: MINNA ART GALLERY, Genesis Blockchain Collective Social : Where tech meets art
Keyframe supported the SF Blockchain Collective's social gathering of cryptographers, bitcoin/cryptocurrency enthusiasts, entrepreneurs, artists and musicians; a night intended to celebrate the strides the blockchain community has made since the dawn of bitcoin in 2009.


---
APRIL 7 – 9TH, LIVE OAK CAMPGROUND – LUCIDITY FESTIVAL 2017
Keyframe is honored to have Sponsored Lucidity Festival 2017 AND had its talented collaborator Dissolv perform at the main Lucid stage! Lucidity also showcased "ReInhabiting the Village: CoCreating our Future", a project for which they are Associate Producer.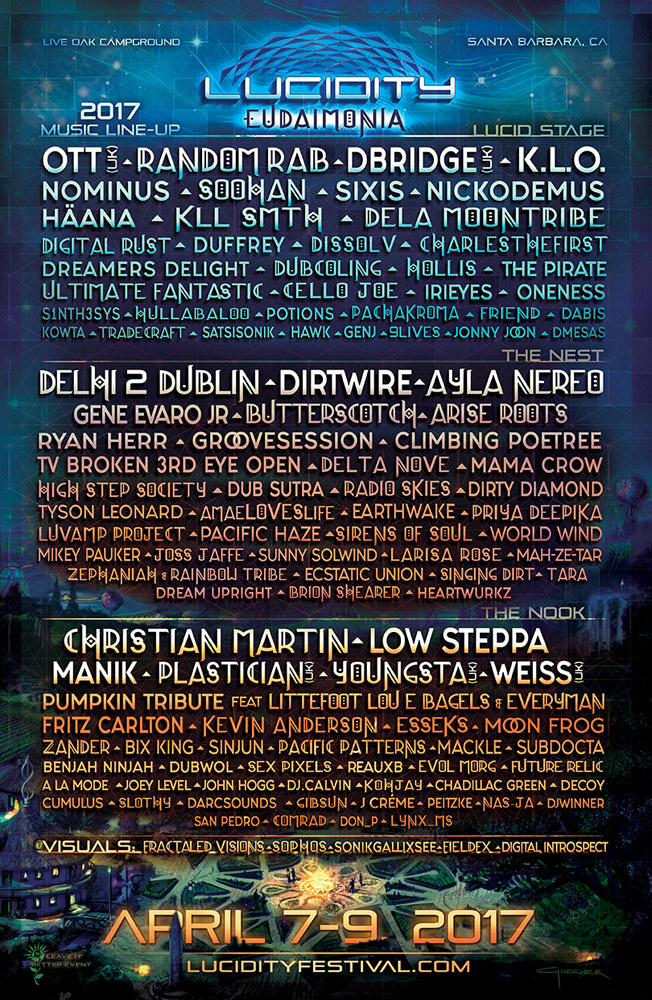 ---
THURSDAY MARCH 16TH, 7:30 – 11:30pm – HOME, TREASURE ISLAND SF
ALIA AND KEYFRAME-ENTERTAINMENT PRESENT: A NIGHT OF FEMININE MEDICINE: ALBUM RELEASE EVENT
Keyframe is proud to have sponsored and celebrated the release of ALIA's album "Feminine Medicine™ Volume 1", whose album can be listened to here: https://aliamusic.bandcamp.com/

.
---
ARTandVR – February 18th, 2017 – Hack Temple
On February 18th, the newly renovated HACK Temple hosted the San Francisco-based ARTandVR exhibition. With over thirty featured artists, performers, and exhibitors, every part of the church presented a novel experience.
Read the ARTandVR event review by Jesse Dimiani.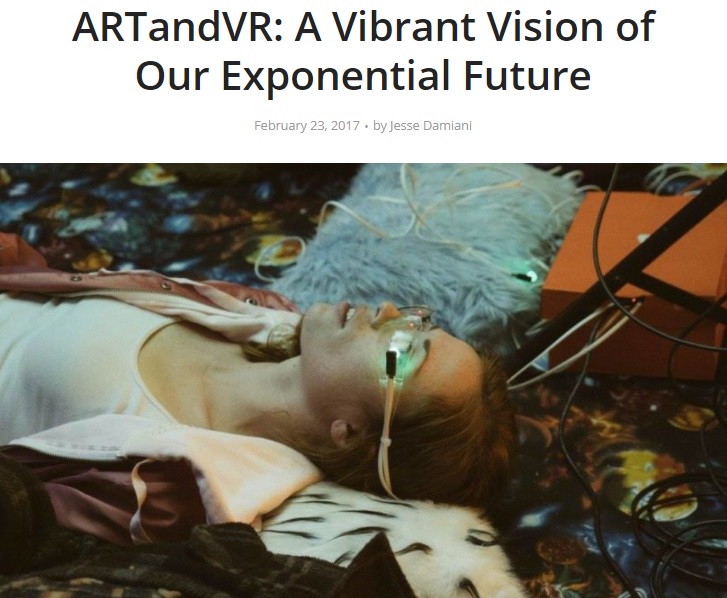 ---
Produced by Keyframe-Entertainment. Filmed on March 18th @ Mighty in SF, CA.
ROAD TO ULTRA, Pre-Party for The Ultra Music Festival.
---
ZEN AWAKENING FESTIVAL – NOVEMBER 18 – 20, 2016 – Orlando, Florida
ELECTRONIC AWAKENING screened at the festival!
Zen Awakening Festival is Orlando's transformational, music and arts gathering. Featuring Celebrity DJs, Jam Bands, Yoga, Meditation, Spiritual Teachers, Holistic Teachers, Cirque Performers, Flow Dancers, Drum Circle, Group Chants, Fire Performers, Central Fire, Healing Sanctuary, Workshops, Theme Campsites, Permaculture, Kirtan, Camping, Organic Food Vendors and Art Installations.
Zen Awakening Festival community is open to all seekers in search of spirituality, personal transformation, raising consciousness and selfless service to humankind. Our mission is to create a sacred environment for each individual to realize that they are a unique emanation of the Great Creator, the Love-Intelligence governing the Universe.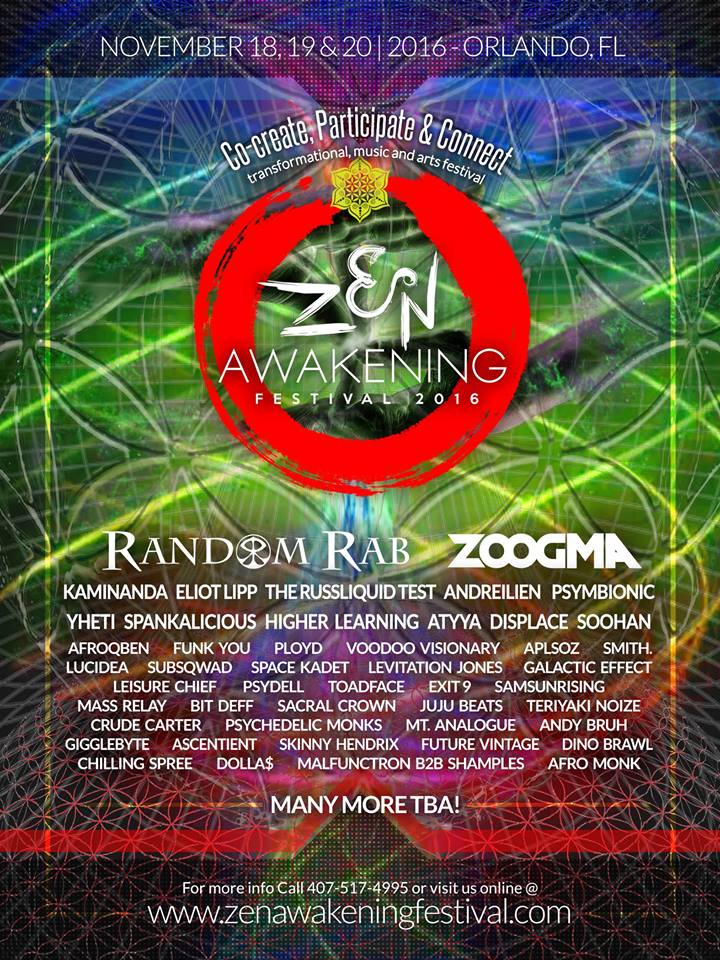 ---
SATURDAY SEPTEMBER 17TH – SAN FRANCISCO PEACE IN THE PARK @Golden Gate Park
SEPTEMBER 21-24TH – MAULI OLA FESTIVAL – PAHALA, HAWAI'I
Keyframe worked as Marketing Manager for the Peace in the Park and Mauli Ola Festival events.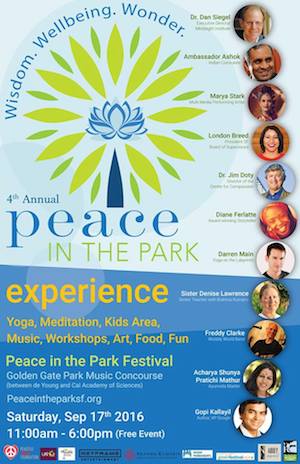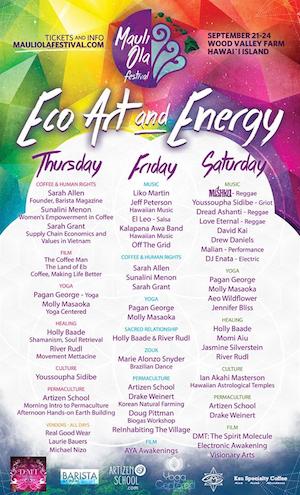 ---
THURSDAY APRIL 7th 2016 – F8 at 1192 Folsom – featuring Johnny Blue, ill-esha, spacegeishA, and TRIBONE! A night of PsyChill, PsyBreaks, and Techno!
Johnny Blue (First U.S. appearance!)
Johnny Blue comes from Cyprus. He started dj-ing 17 years ago. His first influence was rock and especially psychedelic rock (Pink Floyd, Ozric Tentacles, etc). In 2000 he got into the electronic scene with a main interest chill out and psychedelic trance music.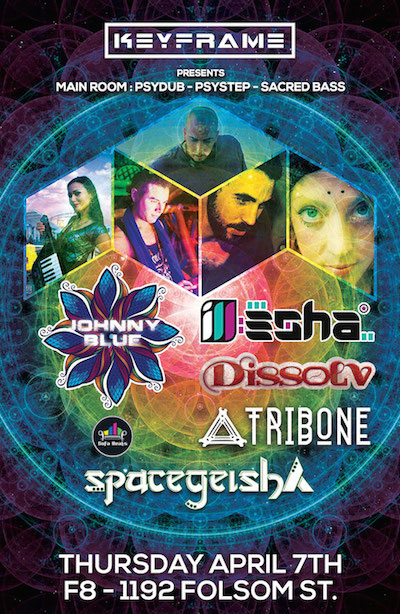 ---
July 28th, 2015 – F8 at 1192 Folsom. UNDERGROUND NOMADS TWO YEAR ANNIVERSARY!
The Wisdom of Shankara, Dulce Vita | Tessera, Jordan Daniel (Salimpour School), Lady G Schmidt, Verbatim, Tatyana, Calamity Sam
Check out a minimix by our guest musical act
The Wisdom of Shankara
:
https://soundcloud.com/fetch-9-1/live-minimix
The Wisdom of Shankara (Brendan Evans and Elijah Wilson-Kelly) is an electronic music duo from Lyttelton, New Zealand on an exploration through the musical galaxy to discover the possibilities of sound. Collecting inspiration from the farthest reaches of the globe and condensing them into sonic vibrations and evolving entities, expect to hear a wide range of genres rolled together with hypnotic bass lines, ethnic melodies, deep tribal energy and psychedelic dub effects.
More info
Facebook event page
.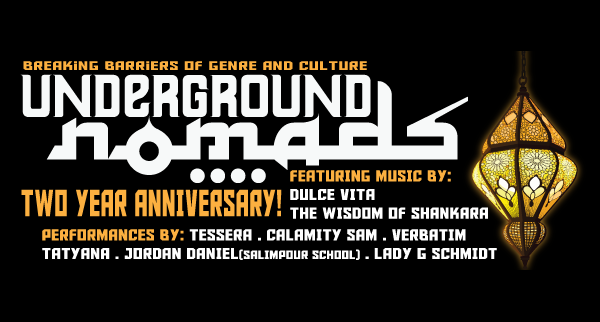 ---
ALIA & Keyframe-Entertainment Present: A NIGHT OF FEMININE MEDICINE, FRIDAY JULY 10TH 8PM-2AM
https://www.facebook.com/events/100157846994645/
A Luscious night of Feminine bass music, exquisite performances, and community connection and co-creation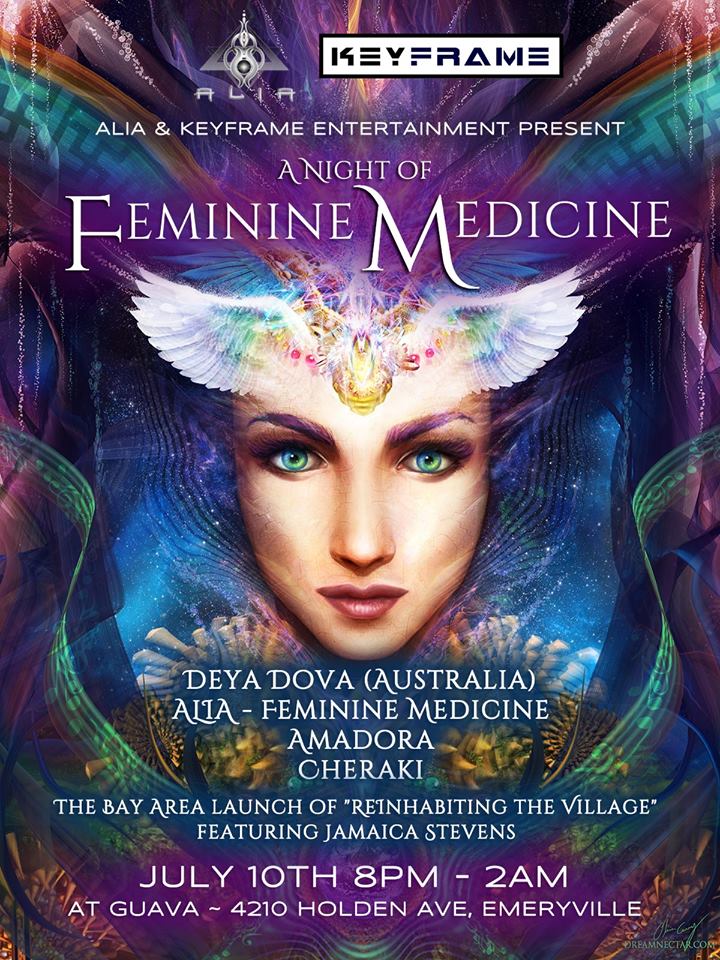 FEATURING MUSIC FROM:
Deya Dova bringing her transcendent tribal beats all the way from Australia. https://soundcloud.com/deya-dova
ALIA presenting a Feminine Medicine themed show featuring music from the forthcoming album including live vocal performances from Heather Christie aka Cheraki, Aleksandra Dubov, and Eden Amadora along with dance performances from The Serpent Sanctum, Cyrena Giordano and members of the Quimera Tribe, aerialists and more. https://soundcloud.com/alia_sounds
Amadora Music sharing their special flavor of devotional, archetypal electronic music. www.soundcloud.com/amadora-1
Cheraki bringing her soulful downtempo electronic sounds. www.soundcloud.com/cheraki
This is the Bay Area launch event of the groundbreaking book project ReInhabiting the Village featuring an opening talk from the Creator and Community Visionary Jamaica Stevens.
---
Transformational Culture Forum: Permaculture – November 19th 2014, 6:30pm at ECOsystm

Keyframe-Entertainment is pleased to announce the second Transformational Cultural Forum. November's event will be focused on Permaculture. We will present permaculture advocates, educators, and community organizers, discuss the benefits of permaculture education, and bring communities together to collaborate.
Keyframe believes that cross-pollinating different groups contributes to the growth and education of the permaculture movement. We invite attendees to network, share interests and knowledge, learn about the film "Edible City," and be inspired to apply what they learn in their own lives.
---
Foreverland 2014 – September 19 – 21
Paradigm Shift Collaborations presents FOREVERLAND, landing at Lake Lodoga, CA in Colusa County, just two and a half hours north of the Bay Area, from September 19-21st.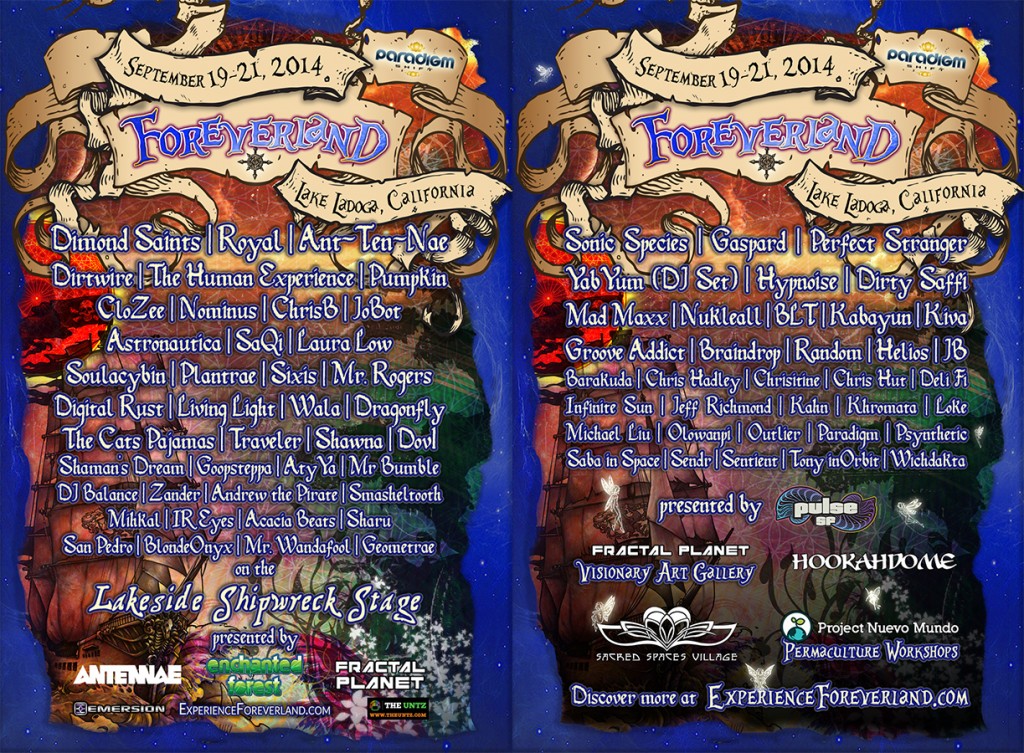 Click each artist's name to be taken to their Facebook page:
Dimond Saints – An-Ten-Nae – Dirtwire – The Human Experience – Pumpkin – CloZee – Nominus – ChrisB – JoBot – Astronautica – SaQi – Laura Low – Soulacybin – Plantrae – Sixis – Mr. Rogers – Digital Rust – Living Light – Wala – Dragonfly – The Cats Pajamas – Traveler – Shawna – Royal – IR Eyes – Zander –
DOV1 – Shamans Dream – Goopsteppa – AtYya – Mr Bumble – DJ Balance – Andrew the Pirate Smasheltooth – MiHKAL – Acacia Beats – Sharu – Amae Love – BlondeOnyx – Mr. Wandafool – Geometrae – Sonic Species – Gaspard – Perfect Stranger – YabYum – Hypnoise – Dirty Saffi – Mad Maxx –
BLT – Kabayun – Kiva – Groove Addict – Braindrop – Random – Helios MetaTek – BaraKuda – Chris Hadley – Christine – Chris Hut – Deli Fi – Infinite Sun –
Jeff Richmond – Kahn – Khromata – LoKe – Michael Liu – Olowanpi – Outlier – Tony in Orbit – WichdakTa – San Pedro – Paradigm – Psynthetic – Saba in Space –
Sendr – Sentient – Nukleall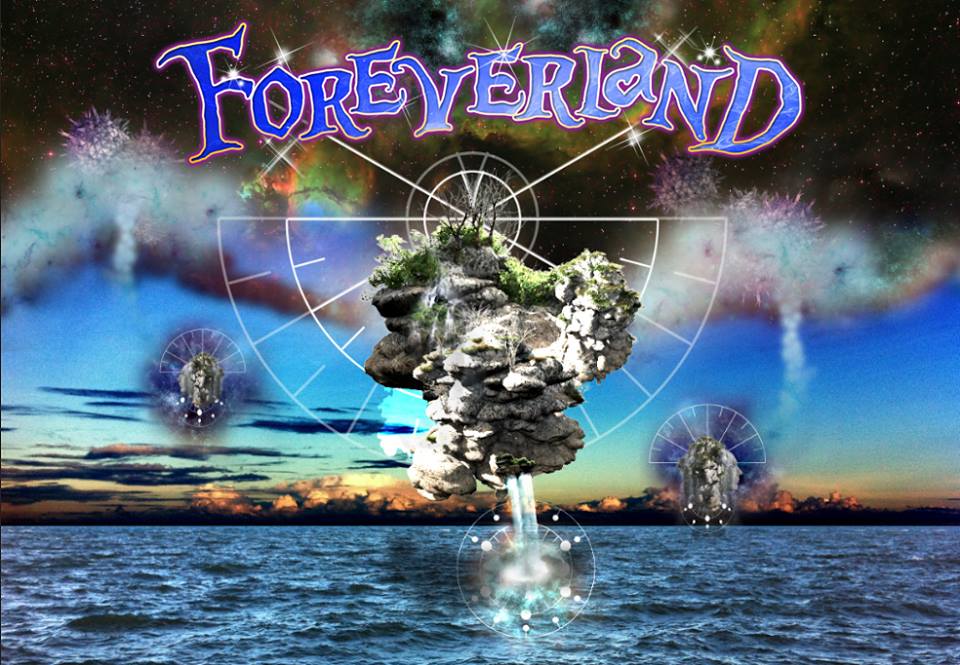 ---
Lucent Dossier Experience: Light of the World Spring 2014 Tour

Los Angeles-based avant-garde performance troupe Lucent Dossier Experience are taking their mystifying show on their first North American Headlining Tour titled "Light of the World" this spring 2014. After headlining Coachella's Gobi Stage, they are set to mesmerize each city with a unique visionary spectacle complete with captivating aerial arts, acrobatics and contortion alongside fashion-forward styling and high energy, eastern-inspired electronic bass music tied together in a seamless 90 minute show.
The "Light of the World" tour begins May 23 at Lightning in a Bottle music festival in California and then heads to the east coast for 15+ dates ending in Austin, Texas on June 13. A west coast and Canadian tour will follow this summer including Shambala festival in August. A unique local act will open in each city.
This is a rare opportunity to see a special Lucent Dossier show. As ambassadors to a creative revolution, this world-renowned act seeks to redefine the live experience by tearing down walls which separate artists and observers. Lucent Dossier's show embodies a futuristic turn towards high-art, with the overarching goal of creating transformative experiences for their audiences. Their shows craft a window into a new vision of humanity where other-worldly conceptions can be realized. LA Weekly describes their performances as a "world that doesn't exist, a place where the future and past happen simultaneously".
The show is set to live music from Lucent's soon to be released new album, Light of the World. The release showcases the production and vocals of Lucent leader Dream Rockwell alongside singer Sarah Llewellyn and band members Atla Gadret and Metaphase. Their original sound represents a collision of eastern-ceremonial sonnets and deep sub-bass frequencies.
Throughout their 10 year rise from the LA underground to international limelight (having swooned audiences in over 12 countries), Lucent's journey has been forged from the creative genius of Dream Rockwell, a visionary within both the transformational art events and avant-garde performance communities alike. The troupe consists of around 21 core performers with a stream of unique acts set for each city.
---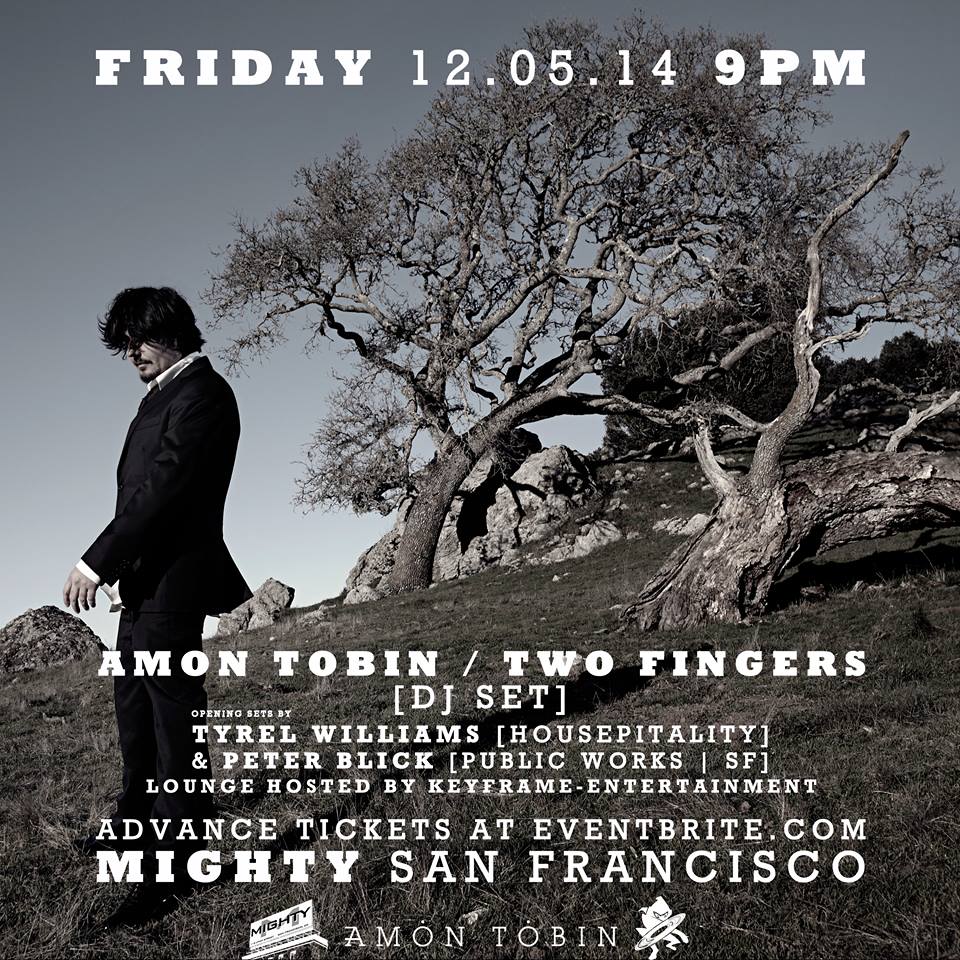 ---

Produced by Keyframe-Entertainment on Wednesday May 7th 2014:
Keyframe-Entertainment Transformational Culture Forum
JOIN US for an inspiring evening where you can Learn Flow Arts and Poi, Be inspired by visionary professionals, Get Insight on how electronic music is created, Eat local Vegan Organic Food, Relax with a massage, Learn about visionary culture, the Evolver Network, The Electronic Music Alliance (EMA), Keyframe-Entertainment and Transmedia Marketing strategies
Keyframe-Entertainment is a Transformational Media Network that bridges Underground Electronic Music and mainstream culture.JOIN US for an inspiring evening where you can Learn Flow Arts and Poi, Be inspired by visionary professionals, Get Insight on how electronic music is created, Eat local Vegan Organic Food, Relax with a massage, Learn about visionary culture, the Evolver Network, The Electronic Music Alliance (EMA), Keyframe-Entertainment and Transmedia Marketing strategies
This first event will encompass a selection of transformational arts, flow, and media professionals:
6:00 – 6:30pm – Doors Open, snacks and networking
6:30pm – 6:45pm – Julian Reyes (Keyframe-Entertainment)
6:45pm – 7:00pm – Monica Salazar (EMA update)
7:00pm – 7:15pm – Isa "GlitterGirl" Isaacs of Temple of Poi (Flow Class)
7:15pm – 7:45pm – Break
7:45pm – 8:00pm – Zenotope (Zaak Kerstetter) music production basics
8:00pm – 8:15pm – Maya Zuckerman (Transmedia and Branding)
8:15pm – 8:30pm – Magenta Imagination Healer (Evolver Network)
8:30pm – 9:00pm – Networking and close out
Featuring: A basic electronic music production class, organic food, flow arts, transmedia strategy, visionary art, film screening of Electronic Awakening http://www.electronicawakening.com/ and much more…
~Keyframe-Entertainment is a Transformational Media Network that bridges Underground Electronic Music and mainstream culture. http://keyframe-entertainment.com/
~Electronic Music Alliance (EMA); a non-profit and global membership alliance of dance music fans, artists, and industry idealists. http://ema-global.org/
~Temple of Poi; a school and community dedicated to supporting a community of individuals seeking greater understanding of them Selves through movement and Flow Arts. http://templeofpoi.wordpress.com/
~Zenotope; the future bass musical project of producer and educator, Zaak Kerstetter–with a focus on building diverse soundscapes that envelop the listener in a multilayered story. http://www.zenotope.com/
~Maya Zuckerman; Transmedia producer, emerging technology aficionado and futurist. She co-founded TransmediaSF in 2012 – a meetup group and agency that explores the connectivity between storytelling and technology and our evolving human story. She is also the CIO of the MYTHAPHI project – a media production and distribution platform for the socially conscious consumer looking for emerging culture and technology.
~Magenta will give an introduction to the Evolver Network, an open-source community platform for sustainable planetary culture. The network spans 60 cities worldwide, and is doing a launch campaign this summer to take the organization to its next stage of action. Magenta is the Executive Director of the Evolver Network, an artist, healer, and systems designer. She created HiveMind, an urban festival to network organizations and leaders devoted to healthy ecology, spiritual realization, and right use of technology. She calls herself an "imagination healer" – reminding people of our collective power to create the reality we truly want to live in. www.imaginationhealer.com
---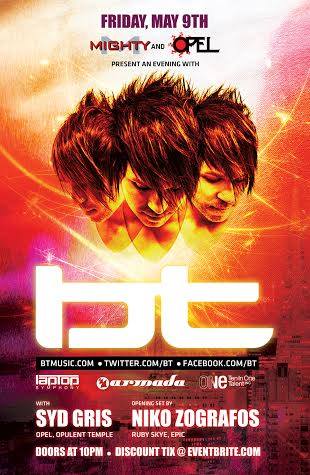 Friday May 9th 2014:
Mighty and Opel Present a very special intimate evening with Grammy-nominated producer, remixer, and American dj BT. Support from Opel Production and Opulent Temple founder Syd Gris with opening set by Niko Zografos.
Keyframe-Entertainment will be hosting the after-party at Mighty on FRIDAY MAY 9TH, 2014.
JOIN US for A Night of SF Techno & The Electronic Music Alliance and benefit for the Electronic Music Alliance (EMA).
Side Room Line-Up:
10:45pm to 12:00am – Lick The Micron
12:00am to 12:45am – Ethan Miller
12:45am to 1:30am – J:MIAH
1:30am to 2:30am – Jeff Richmond
---
Produced by Keyframe Entertainment. Filmed on March 18th @ Mighty in SF, CA.
FEATURING MIGHTY, DAVID CHRISTOPHERE, TREAVOR MOONTRIBE, STEADY, INFINITE SUN, VAHID, *CHRISTINE*, XIPIL, SATURNIA, HIL HUERTA, DR. PARADISE, SOLAR FLARE, PSYLOTUS, ISA "GlitterGirl" ISAACS, TEMPLE OF POI, SHREDDER, MINA, EVENTBEE, NITEVIBE, Chris Ellis, Tribal Existance. Electronic Awakening SF launch www.electronicawakening.com.
Here is a partial list of flyers from past events.