Keyframe Blog May 2019
Hey Keyframe fans!
Enjoy our mixes, upcoming event and Onedome offering!
Here's a Livetronica mix by Heartwurkz, who will be playing at our May 24 event hosted at Onedome!
Enjoy Keyframe's mix @Serenity Gathering! Keyframe will also be playing Anthropos Festival in June in the UK! Anthropos is a new kind of festival with stunning visual art, diverse electronic beats and live acts.

---
EVENT: MAY 24 – Keyframe presents Illuminertia's "Mystery School" and Heartwurkz @Onedome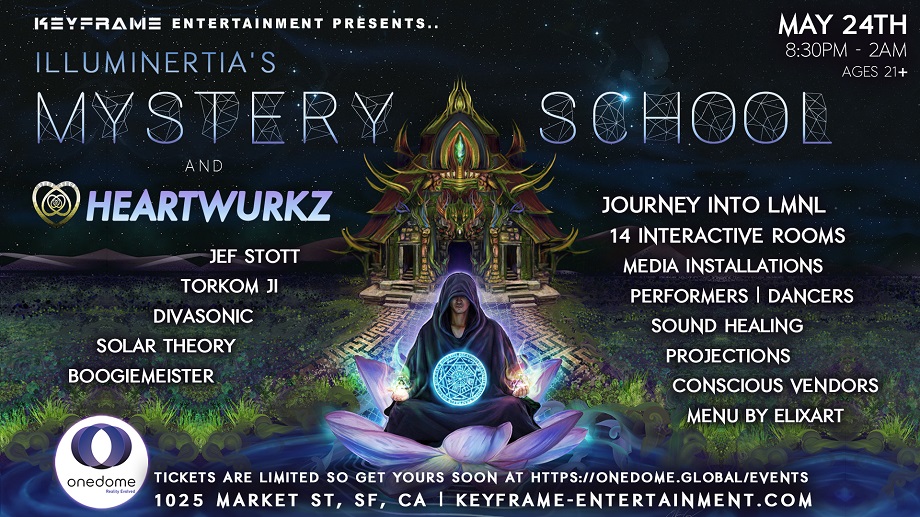 Join us for an epic event as Illuminertia shares his "Mystery School" sonic offerings and takes us on a journey from Onedome to the beyond, alongside Heartwurkz, Jef Stott, Solar Theory, TORKOM JI, Divasonic, Boogiemeister, and yours truly!
Hosted at Onedome: an interactive arts & entertainment venue. Onedome creates and curates immersive entertainment in partnership with global visionaries, artists, technologists and storytellers. View Onedome event photos: https://photos.app.goo.gl/dxXXehPtjd5ZP2Ax5
*ABOUT THE LINEUP:
Illuminertia – https://illuminertia.bandcamp.com/album/mystery-school
Illuminertia is the creation of Eric Mantras a multimedia producer and sound engineer. He is a multi-instrumentalist and audio visual alchemist who's released over 20 full length albums throughout his career thus far. His songs have made it to the top of the billboard charts in two categories and he has performed on and engineered tracks with many world class musicians.
Heartwurkz – https://soundcloud.com/heartwurkz
Heartwurkz is the Livetronica group created by prolific bass music producer Chris Adams (aka AHEE) and Singer/Songwriter Ash Tree. This duo fuses elements of Future Bass, Tropical House and World Music with uplifting lyrics and instruments to create a truly unique sound.
Jef Stott– https://soundcloud.com/jef-stott-embarka
Composer, producer and performer JEF STOTT has been deftly navigating the realms of world fusion music for over a decade, where he has consistently been at the forefront of the International Global Bass movement. His sound is a conscious blend of the sacred in global bass culture which simultaneously reaches back to ancient traditions while pushing the future of music forward.
Solar Theory– https://www.facebook.com/solartheorymusic
The two universes of Torkom Ji and Divasonic collide to form Solar Theory, their collaborative electronic performance and production project. Torkom and Lynda weave deeply mystical and spiritual compositions. Lynda's vocal and instrumental musings about the universe and evolving consciousness, stories of our journey through time, space and love through connection to source, float over Torkom's signature 432Hz electronic grooves and soundscapes.
TORKOM JI – https://www.facebook.com/TorkomSound
TORKOM JI is a sound healer and electronic music producer from Los Angeles. He has been facilitating group sound healing experiences since the summer of 2012, and has provided deep meditation and rejuvenation for thousands of people using his unique and powerful modality.
Divasonic– https://www.facebook.com/divasonicmusic
Lynda Arnold is a certified Sound Healer, Vocalist & Multi-Instrumentalist, Composer and seasoned Performer on a life long mission to build healthy communities through the power of sound and music.
BOOGIEMEISTER – http://boogiemeister.com/
Styles ranging from Global Bass, House, Latin, Moombahton, Future Cumbia, Electro-Swing, Downtempo, Dub, Funk….His "Remix The Earth" project is taking him around the globe to gather & share elements of Afro-Latin-Brazilian-Indian-Arabic fusions of post-modern whompiness that has become one of his signature styles.
GET YOUR TICKETS: ILLUMINERTIA EVENT TICKETS
CONFIRM YOUR ATTENDANCE ON FACEBOOK:: https://www.facebook.com/events/314467852522634/!
*We also want to share this amazing video with music by Jef Stott, who will be playing at our event! Music by Jef Stott 'Deep Playa' from the album 'Arcana', featuring Hannah Mermaid!
We're honored to host yet another event at the Onedome venue! Be sure to check out their many new upcoming events!
If you are and/or know photographers, location scouts, models, etc., who'd like to learn more about renting the Onedome space for project(s), please contact Katrina at: katrina.jefferson[at]onedome[dot]global

---
As always, feel free to share with us projects that inspire you so that we can we can post in our network. We strive to make this blog an avenue by and for the Intentional community.
If you have music mixes and memes that you'd like to have featured on Evolver EDM, send them to: Natacha .at. keyframe-entertainment.com.
Connect with us on social media: