Keyframe Blog November 2019
Hello dear community,
We're back at you with our selected mixes, exciting upcoming events, album review and dive into Electronic Music entities doing good in the world!
Enjoy 'Heart Logic,' and read our review of Bluetech's new album, "Holotrope"!

And here's Bluetech's 'Helix' (Living Light Remix)! Released by Liquid Sound Design, the label specializes in chilled out soundscapes, sonic beats and mellow grooves. You can catch both Bluetech & Living Light at Cosmic Convergence!

---
NOVEMBER 30: Shpongle (Simon Posford Live), Android Jones, Kalya Scintilla @Midway SF
Euphonic Conceptions & The Midway SF present RE:CREATION : SHPONGLEDROID SF : Shpongle (Simon Posford) LIVE with visuals by Android Jones, plus Kalya Scintilla, Plantrae, DJ Dragonfly, & MUCH MORE!
* Art Gallery * Live Painting * Dance Performances * Tasty Food & Drink * Vendors *
Get your tickets and confirm your attendance on Facebook!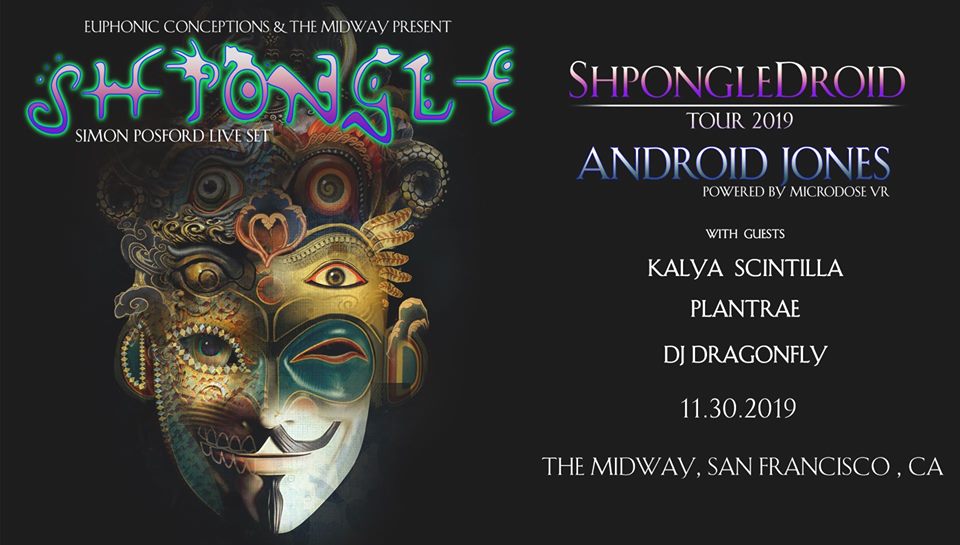 ---
SAVE THE DATE! EVENT: DECEMBER 12 – 13: VRX Conference & Expo @SF
Are you an XR professional who wants to experience an awesome event?
VRX Conference & Expo provides a forum between some of the world's largest brands and investors to discuss strategies for getting XR successfully integrated into the workplace, the public domain and into people's homes. VRX 2019 will highlight case studies from global brands spanning more than 10 key verticals across the XR ecosystem. Learn more at: https://events.vr-intelligence.com/vrx/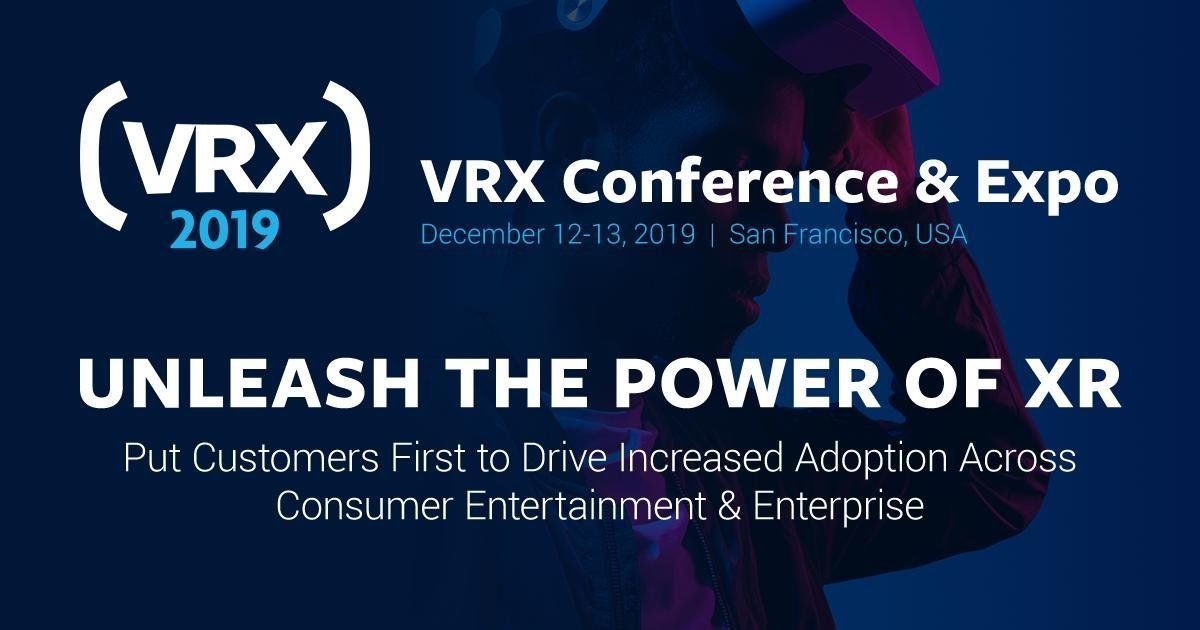 ---
EVENT: DECEMBER 29 – JAN 1: COSMIC CONVERGENCE @LAKE ATITLAN, GUATEMALA
Cosmic Convergence 2019 – "Recode" : The systems that uphold contemporary industrial society are neither adequate nor future-ready. Simultaneously, there has never been a time where individuals and small communities have had more access to tools and technologies with the power to recode the operating systems that underpin this reality.
As the technological singularity approaches ever closer, we have the opportunity to code new systems of abundance. By remaining passive passengers on Spaceship Earth, we may encounter runaway artificial intelligence programmed to extract value from the material world, leading to the extinction of the human species.
Drawing from forgotten ancestral technologies and emerging breakthrough exponential technologies, our the power to recode the matrix draws from the Akashic records of the past, present, and future. By channeling information from the æther through neural networks and into the material realms, we can reshape the currents leading us through time and redirect them towards a future only limited by the boundaries of our collective imagination as a species.
We're honored to have been invited to play a set at Cosmic Convergence 2019! Get your tickets and confirm your attendance on Facebook!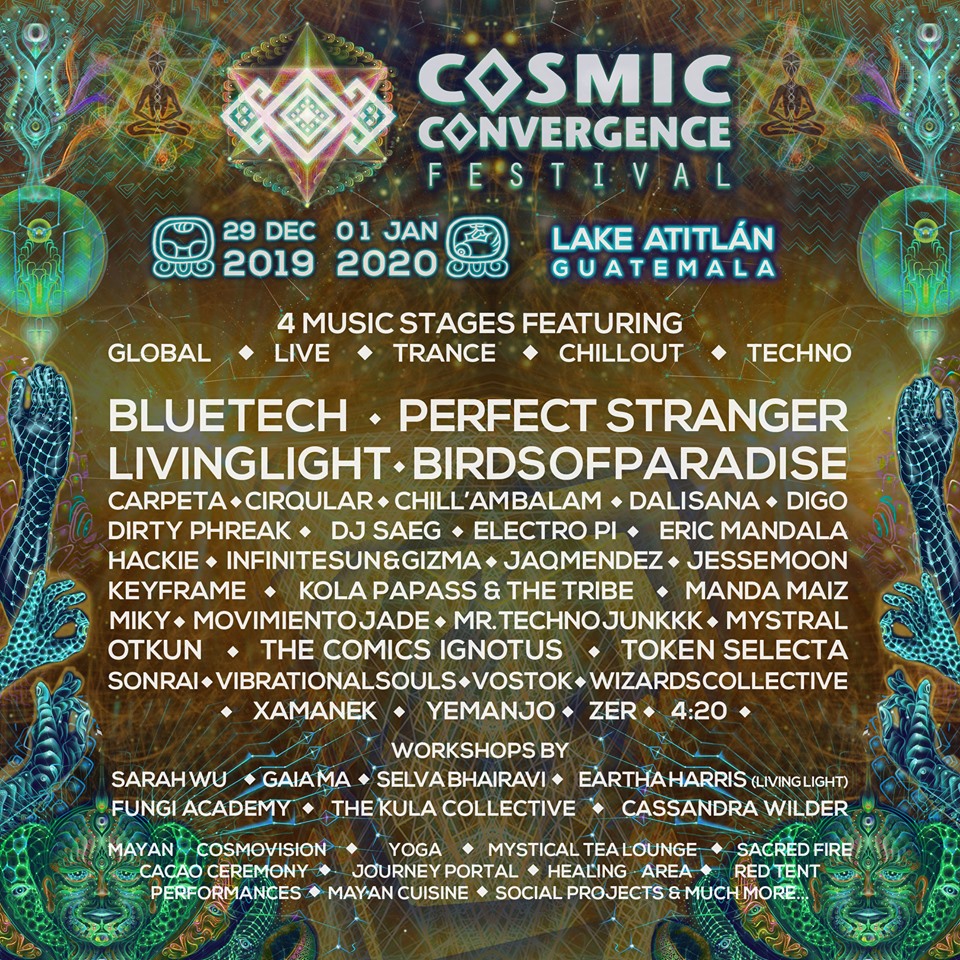 ---
BLUETECH: HOLOTROPE ALBUM REVIEW
Fresh on the heels of his #10 Dance/Electronic Billboard-charting album "Sci-Fi Lullabies" (#1 on Bandcamp), Bluetech returns with a deep dive into genre-defying electronic music on his new double LP "Holotrope." Imagined as a psychonauts journey into inner space and back, "Holotrope" contains 4 distinct continuously mixed movements.
As an internationally recognized touring music producer with over 27 album / EP releases and a seasoned portfolio of video game and film scoring credits, Bluetech masters the analog and modular sound synthesis and DSP audio manipulation. His music transcends the constructs normally associated with a calculated "electronic artist," pursuing music with meaning and purpose with downtempo, future bass and progressive electronic music, and poly-rhythmic percussion. Evan Bartholomew has been performing electronic music for nearly 20 years as Bluetech, Evan Marc and Invisible Allies (with Kilowatts).
We look forward to seeing him at Cosmic Convergence 2020 and check out our KEYFRAME – BLUETECH's "Holotrope" review on EMA!
---
List of Electronic Music Organizations doing good
We've written an article featuring some of the Electronic Music Organizations doing good. Check it out and if you have others you'd like to share, please reach out and let us know! Read it on EMA: List of Electronic Music Organizations doing good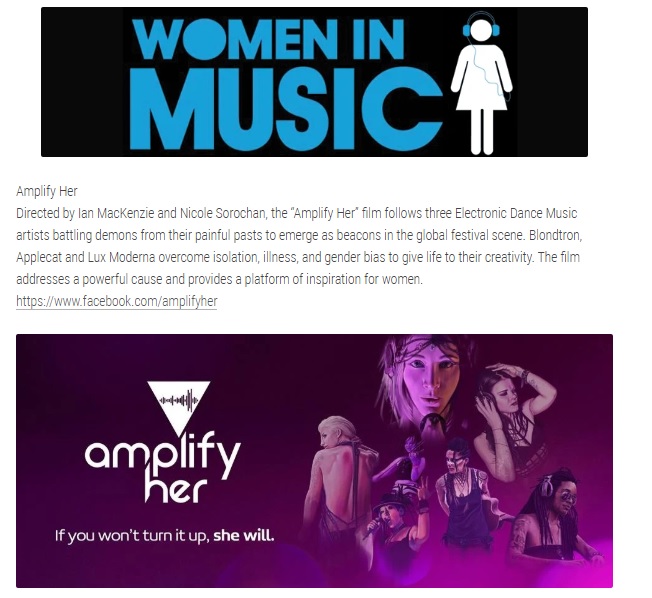 ---
As always, feel free to share with us projects that inspire you so that we can we can post in our network. We strive to make this blog an avenue by and for the Intentional community.
If you have music mixes and memes that you'd like to have featured on Evolver EDM, send them to: Natacha .at. keyframe-entertainment.com.
Connect with us on social media: