Natacha Pavlov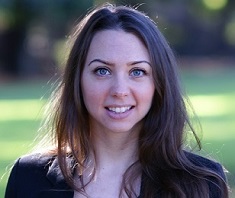 Natacha is the Copywriter / Communications Assistant at Keyframe-Entertainment. She oversees the writing and editing of various content, including but not limited to: webpages, outreach letters, press releases, contracts, artist management documents, artist interviews, and social media, to name a few. She also lends her organizational skills by assisting in general office management.
In October 2014, she joined the "ReInhabiting the Village" project as Copy Editor and also supported the campaign's Kickstarter reward fulfillment process.
As a Comparative World Literature graduate who wrote her first poem in French at 7 years of age, Natacha is also a dedicated writer. Belgian-born and raised and multicultural to boot, her literary style borders on creative nonfiction and historical fiction with doses of spirituality, magical realism and myth / folk tale elements. She is bilingual in French and English and has knowledge of Spanish. In addition to the Bay Area, she has lived in Brussels, Belgium, Paris, France and spent extended time in Jerusalem, driven by her desire to observe and participate in the traditions of her Christian Palestinian roots during Easter celebrations.
As a lover of culture and travel, she strives to bring about these experiences whenever possible. Backed by her spiritual path, she's committed to her writing craft and bringing light upon little-known and/or nearly forgotten eras in history, and looks forward to her historical fiction novels adorning the shelves of bookstores (actual and virtual :)).
She has published her first short story collection (2015), the story of her grandfather (2017), and is currently at work on her first historical fiction novel set in pre-Islamic Arabia.