Tribal Revival book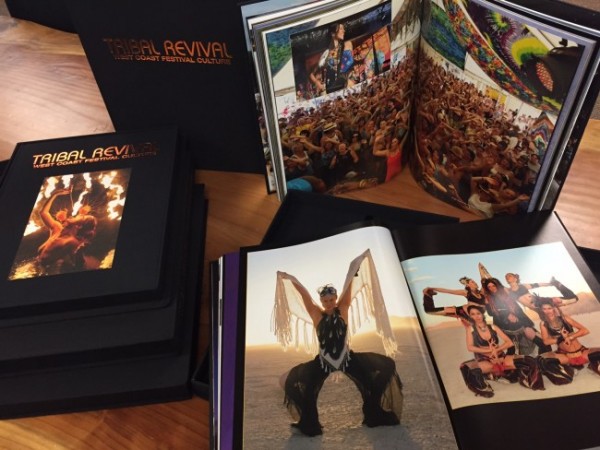 Keyframe is a distributor of the unique book "Tribal Revival: West Coast Festival Culture." This hardcover SPECIAL EDITION volume is narrated by Eric Davis and photographed by Kyer Wiltshire.
Book is limited hardcover SPECIAL EDITION and comes encased in its own protective box.
13 x 10 inches, 214 pages.
Dive into the TRIBAL REVIVAL book:
There is a cultural revolution / evolution exploding at West Coast music festivals where mythic and urban fantasy fuses with dramatic, iconic lifestyle fueled by music and unbounded imagination. For the first time, TRIBAL REVIVAL reveals and vividly documents this burgeoning phenomenon, depicting the pantheon of extraordinary characters and living avatars who inhabit these events. Photographer Kyer Wiltshire captures the sensual, primal energy that flows through all of these amazing individuals as they boldly release, exhibit and surrender to the glory of their inner, magical selves. Reaching far beyond the iconic "flower power" images from the festivals of the 60's, the walkers of these worlds are radical, radiant, unafraid, majestic beings, embodying a spectrum of influences from faerie, streampunk, techno, hip hop, urban circus and global native cultures. A true testament to these transformational times, TRIBAL REVIVAL delivers a kalideoscopic visual carnival that will amaze, astound and perhaps shock all who enter its mind-altering domain.
RAVE REVIEWS:
"Tribal Revival uncovers the stunningly beautiful bodies and wildly creative souls of California's visionary festival culture. Kyer Wiltshire's camera exposes the painted, masked and costumed character of each festival, as his panoramic views document the dramatic spectacle. Erik Davis' essay digs into the historic context and articulates the mythic depth of the festival phenomenon. Meet the tribe that lives their dreams!" – Alex Grey, Artist / Author
"Certainly no one I am aware of captures the human condition as well as Kyer. His demeanor and ways of working with people seem always to bring out the best as anyone who views his portfolio may become immediately aware. In the product shoots that Kyer has done for my studio, shooting glass which is notoriously difficult, he manages to coax from the inert and the transparent much of the same magic he urges from his delightful human subjects."
– Michael Honack, Artist and Founder of Claritas Glass