DJ Culture and Livestreaming: Industry Voices. May 2020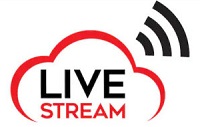 In these days of social distancing and staying indoors, people are reaching for different ways to stay entertained-connected-streamed and informed about giving back. One of these outlets is livestreaming, with a new Streamlabs report sharing that Twitch viewership has reached an all-time high for hours both watched and streamed.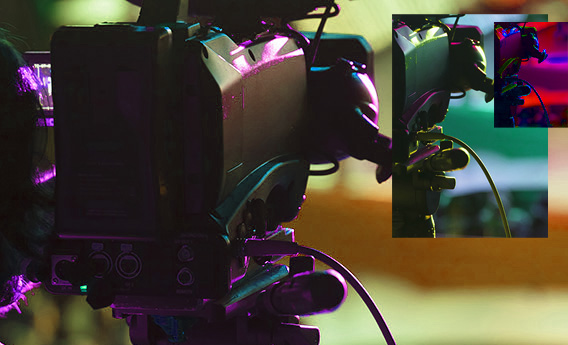 Some of the top benefits of such events have been access to this free, interactive community-based entertainment, that helps people feel connected, and potentially physically active when dancing to the music, always a bonus in these restricted times. Inclusivity is another draw, as location and physical disabilities are no limits to enjoying and participating with these online events. Depending on the DJs' level of interaction with their audience, it could also be a more personal way of getting to know them. While DJs are generally hosting these events for free, there's still the opportunity to earn through direct donations. Some larger events have even raised large sums, such as the online dance music store Beatport that held a 34-hour streaming marathon called ReConnect, which featured artists like TOKiMONSTA, A-Trak, and Carl Cox, and raised more than $180,000 for COVID-19 relief funds:
However, this rise of livestreaming isn't without its concerns, Keyframe would like to share industry voices and more…
POV from Pitchfork.
~ It's likely that once people leave their homes, viewership will decrease. In addition to overwhelm, burnout, and general loss of interest from audiences, issues of live copyright and licensing can impact how, and if, music is being played. Also, once archived, music without licenses can be put on mute, potentially leaving DJs improperly compensated, if at all.
Still, even amidst the uncertainty, many report doing it for the love of it, and may well resort to crowdfunding, if and when it gets to that. In an age of 'content is king', it may also be a factor in sustaining continued interaction and success.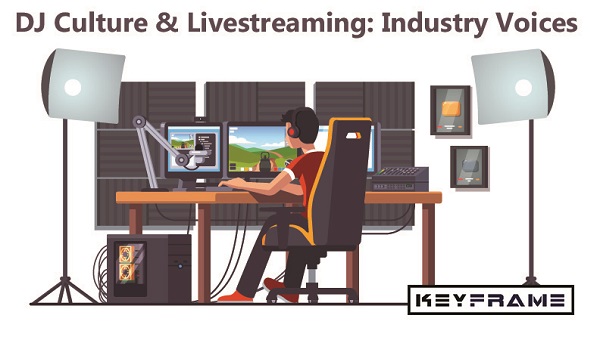 Here are some different industry perspectives on the current and upcoming state of Live Streaming:
Pitchfork (April 22, 2020) – DJ Sets Are Going Online—But Is Anyone Getting Paid?
"A desire for community and connection are certainly valid motivations for livestreaming, but the fact remains that few of these events are paying artists. That may change, especially once brands and their marketing teams shift their focus from real-world events to online ones."
DJ Tech Tools (April 17, 2020) – Streaming L(O)Ive In The Time Of COVID-19: What's The Future For DJ Live Streaming?
As artists have started sharing their passion on Facebook, Twitch, Youtube, Instagram Live, and beyond, this post dives into 5 potential ways that livestreaming may evolve in the near future.
Positive.News (April 17, 2020) – Rave on: how livestreamed DJ sets are keeping club culture alive
"From empty nightclubs, DJs are streaming sets into people's homes, supporting closed venues and creating new ways to party. It's helping people feel connected, active, and interactive with each other. Online ravers are encouraged to make donations, which go towards saving shuttered venues and supporting thousands of people in the nighttime industry who've lost work because of coronavirus."
Billboard (April 9, 2020) – Coronaraving: The Business Implications Behind All Those Livestreamed DJ Sets
"One byproduct of the EDM era — in which DJs were branded as rock stars and encouraged to nurture their own cult of personality — is that some artists have robust social followings they can reach organically, without paying for promotion, telling them to tune in."
---
As "we" track the evolution of Twitch Live Streams, here's 3 of our favorites from last week. We were really impressed with the amount of visual effort, pre-planning, and sonic curation. * Keep your eye on these forward-thinking artists!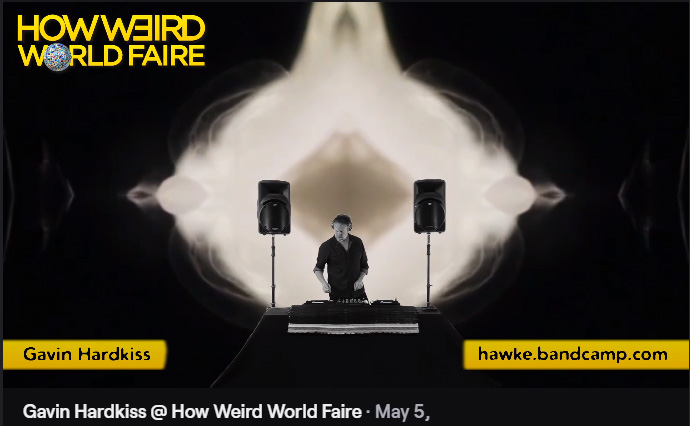 Hawke – Gavin Hardkiss is a South African born DJ and music producer based in California. He makes albums under the name Hawke and runs a little outfit called Hardkiss Music.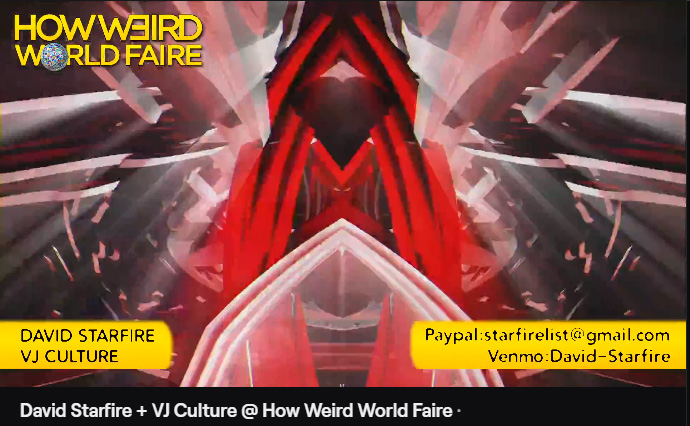 David Starfire – Named by BBC Radio as "One of the most brilliant world-fusion producers of our time", David Starfire is known as the pioneer of the Global Bass genre. His unique sound has led him to share the stage with top artists including direct support for Bassnectar, and Skrillex. He's performed at prominent festivals such as Winter Music Conference, Coachella, Outside Lands, Burning Man, Eclipse, and Lightning in a Bottle. He's collaborated with the likes of Afrika Bambaataa, Sizzla, Ooah (The Glitch Mob), Beats Antique (Sidecar Tommy), Alex Grey, and the Grammy-nominated vocalist Chaytanya. His Ascend album reached. on the iTunes World Music chart and he had two #1 remixes on the Hype Machine. He's traded remixes with Desert Dwellers, iLL Gates, CloZee, and Beats Antique. Billboard summed it up best, "David Starfire brings a unique perspective to EDM."
VJ Culture
Grant is an award-winning VJ ranked among the top visual performers worldwide. He gave up his collegiate ideals of working with deaf children when he first experienced a live VJ environment in Black Rock City in the late 90's. As a Communications Disorder Specialist, he found visuals to be a unique way to interpret music for the deaf. Since then, under the name VJ Culture, Grant has provided sight and sound for audiences around the world. As VJ Culture Grant has worked or toured with Tiesto, Beck, Mary J Blige, P-Diddy, Dash Berlin, Common, Eryka Badu, Jazzy Jeff, Paul Oakenfold, Pearl Jam, and about every other top 100 DJ.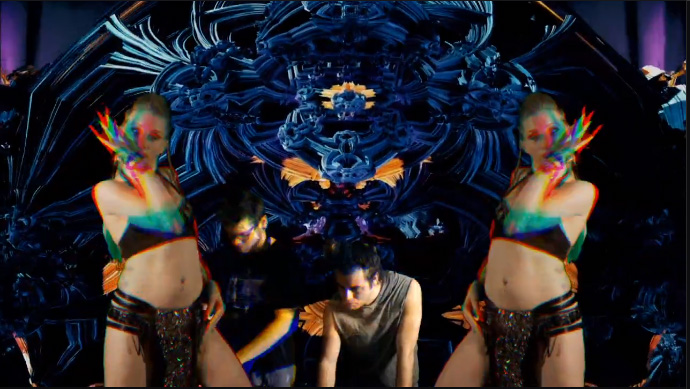 DISSØLV is a live hybrid electronic dance music project fusing global instrumentation, electric violin and dance performance. Their sound rides through waves of mesmeric melodies; from deep dubstep with ethno rhythms to high energy tribal trap. Their live experience is brought to life by electric violin and tribal fusion dance theatrics.
Wooden Mirror Visuals specializes in mixing psychedelic and metaphysical imagery for live electronic music events ft. VJ Mattaphor.
---
Here is more information about setting up your OBS/Twitch stream AND HOSTING Twitch streams
Resource article from Pyramind: How to Broadcast High Quality Audio to Every Streaming Platform
---
Big shouts outs:
~ To How Weird World Festival for putting together an amazing line up.
~ To Ambient Mafia, Friends and Family, Space Cowboys, and Stream Equinox for: Unison— DJ simulcast and benefit for the Domestic Workers Alliance COVID-19 relief.
~ Chlorophil and Headroom.tv for the "Flowers in Bloom" Livestream.
~ Moontribe for their amazing multi-genre EPIC event.
~ PLAYABLE AGENCY Creates Experiential Social Engagement for places, events, groups & brand plays at Live Events, XR, Livestreams, and more.
~ Illuminatty for her counsel & work with Tribe XR and Wave & DJ Celeste for her efforts in Second Life, curation, and flow.
---
We've also been enjoying a range of Twitch music streams, check these out:
*www.twitch.tv/beatportofficial
*www.twitch.tv/anjuna
*www.twitch.tv/bluetechofficial/videos
*www.twitch.tv/moontribecollective/videos
*www.twitch.tv/evolvedproductions/videos
*www.twitch.tv/hotbeatstv
*www.twitch.tv/mystery2k
*www.twitch.tv/djsep
*www.twitch.tv/emanatesound
*www.twitch.tv/shanefontaneofficial/videos
*www.twitch.tv/nursenoise/videos

https://www.twitch.tv/redmarineslive
As we continue to shelter in place, it's important to find ways to support artists, venues, and festivals. While this article highlights the progression of livestream culture in these times, it invites you to support artists locally and abroad.
---
We Highly recommend the interactive Anthropos Stream https://AnthroposFestival.org/
From Friday 12 June at 19:00 BST / 12:00 MST until Sunday 14 June to 22:00 BST / 15:00 MST
In support of artists, musicians, practitioners, lecturers & performers, 100% of the donations will go towards all people on the programme! This is a collaboration project of volunteers, organisers, festival goers, creatives and everyone on the programme. Local and international humans coming together to create something new. A continuous online collaboration of over 50 hours including stunning: LIVE ART – LIVE MUSIC – LIVE WORKSHOPS – LIVE LECTURES & PANELS – LIVE PERFORMANCES – LIVE CEREMONIES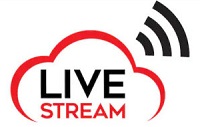 ---
---
On Monday, May 11th, the ESA will be sharing their "Event Safety Alliance Reopening Guide". Please look out for it as it is an important resource to help venues/events/festivals transition from Sheltering to safely hosting attendees: https://www.eventsafetyalliance.org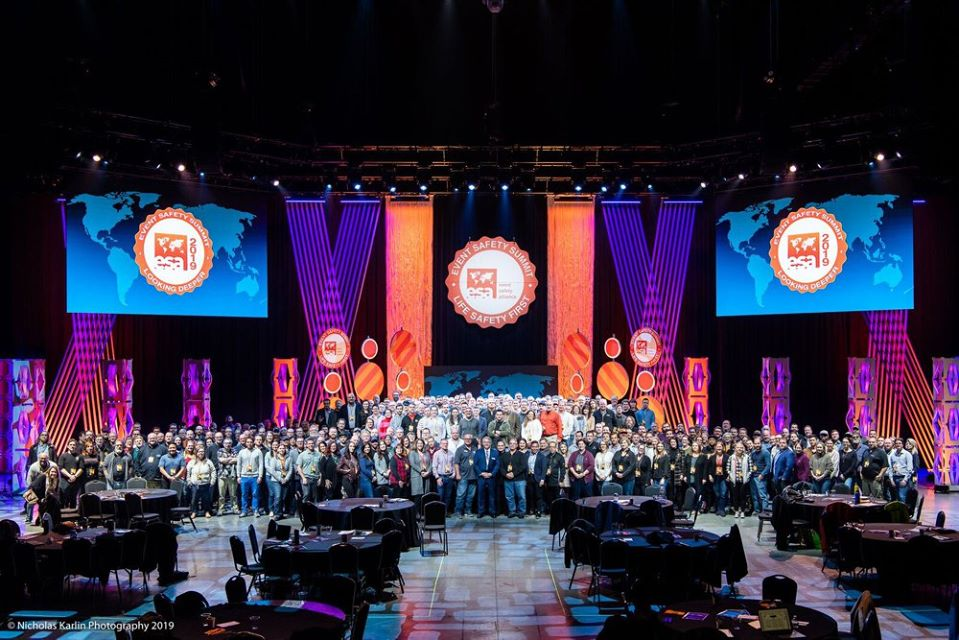 The Event Safety Alliance® (ESA) is dedicated to promoting "LIFE SAFETY FIRST" throughout all phases of event production and execution. They strive to eliminate the knowledge barrier that often contributes to unsafe conditions and behaviors through the promotion and teaching of good practices and the development of training and planning resources.
---
As always, feel free to share with us projects that inspire you so that we can we can post in our network. We strive to make this blog an avenue by and for the Intentional community.
Connect with us on social media: