Keyframe 2019 Year-End recap and Looking Ahead
As we close out the year, we're grateful to look back on yet another year of growth, collaboration and expanding network. In the past years we've produced and supported many films, events, and showcased art and cultural projects in the Bay Area.
This year we helped a range of exclusive music releases, hosted unique XR events, and were invited to DJ at multiple festivals. We're grateful for our multilayered journey and the amazing partners we've met along the way. We look forward to 2020 and beyond!
Music News
We're happy to share news of our talented network of musicians. In 2019 we shared the releases of multiple tracks, which can be enjoyed on our Soundcloud page.
*Bluetech – 'Heart Logic' from Holotrope album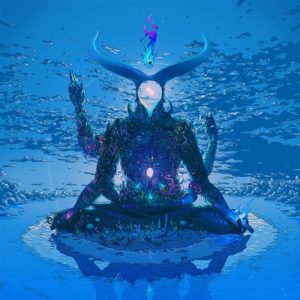 The Electronic Music genre-bending legacy that Bluetech has created over the past two decades is undeniable. How different would the world be if we adopted different beginnings? We are all one and have forgotten the deep truth that we are not just "connected" to nature, we are nature = "Heart Logic." As this movement ends, the beat emerges forward and takes center stage. "Heart Logic" is our favorite track of the album which is perfectly nestled at the center of the work, reminiscent of a playful and groovy alien organism finding its way home.
Check out our 'Holotrope' album review & interview with Bluetech on Electronic Music Alliance.

*Music Organizations doing good


We believe in giving back to the community and are committed to addressing global social issues. We appreciate the hard work being done worldwide to spread that message, and want to highlight other organizations that are doing good in the world.
Read our List of Electronic Music Organizations doing good on Electronic Music Alliance.
*Kalya Scintilla's new Merkaba release: 'Gaian Code'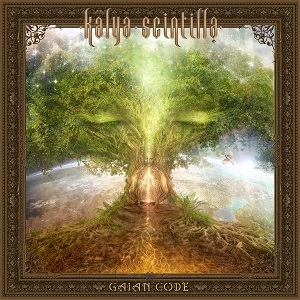 As longtime fans and supporter of Kalya Scintilla, we're happy to share his new release, 'Gaian Code'! Set to be released on December 21st, the 21-track album features Marya Stark, Irina Mikhailova, Youssoupha Sidibe, and Estas Tonne.
Preview the album on Bandcamp and check back to purchase the album!
*Desert Dwellers – Breath album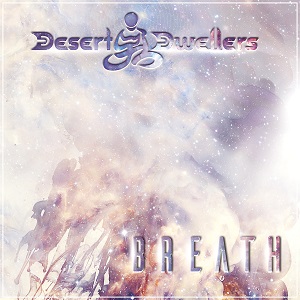 As avid fans of duo Amani Friend & Treavor Moontribe, we're honored to support their amazing work.
Drawing listeners into the sensuous atmospheres and windswept soundscapes of nomadic world-fusion, Breath is the fourth elemental entry in the electro-mystical odyssey that is Desert Dwellers' iconic Downtemple Dub collection. A caravan of musical heritage that infuses the open energy of slow house grooves and tribal rhythms with the evocative beauty of global folk melodies, this sonic odyssey is an exotic exploration of hypnotic vocals, seductive instrumentation, and stirring psychedelic progressions. Bridging the ambient serenity of a deep meditation with the indulgent motion of ecstatic dance, Breath manifests as a soothing breeze in one moment and a whirling tempest in the next. Get the album on Bandcamp.
XR News
When it comes to AI, VC's continue to be aggressive with their fundings. During the third quarter, 965 AI-related companies in the US raised a total of $13.5 billion. In fact, this year should see a record in total fundings (last year's total came to $16.8 billion), states Forbes. According to AR insider, there will be almost 1.5 billion AR-compatible smartphones by the end of 2020 and 3.4 billion by 2023.
Most investors in the VR space are looking for an experience that drives adoption, and with a current trend being applications that assist in well-being and fitness… trend lines show that VR games have great potential, ie: BeatSaber.
Enterprise applications are very successful, but they have a long sales cycle. Developers in this area need to learn how to retrieve metrics quicker, and understand that they're not building just for solutions. The content also needs to plug in to existing infrastructure.
VR futurists expect that by 2022, 50% of all companies will have some type of XR component. Facebook's past investments are huge signals to industry leaders and drive investment, ie.: Oculus Quest, Beat Saber purchase, and Medium (Adobe).
Here at Keyframe, we continue to track these developments and contribute to the growing XR ecosystem. Learn more about our partners and our advancements in XR:
*Partners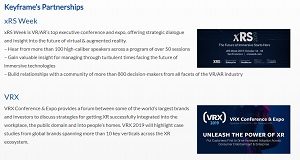 We're grateful for our expanding community of partners dedicated to uplifting our world through consciousness in various ways. Some of our partners include conferences, event production company, VR companies, music festivals, media, organizations, and other projects. Visit our Partners page to learn more, and contact us to discuss ways to collaborate.
*Keyframe XR page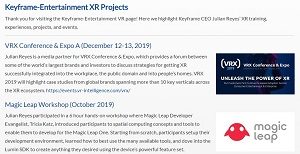 Make sure you bookmark this Keyframe XR page to review our efforts in XR, including Julian Reyes' XR training, experiences, projects, and events that Keyframe co-produced and supports.
Festivals
Keyframe has been a part of the Transformational Festival world in many capacities. As producers we've helped create, and supported, many film projects in the genre. We sponsor some festivals, have media partnerships with others, and also speak or share DJ performances.
*Festivals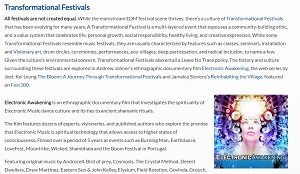 Our Festival page features a range of top Transformational festivals, many of which we're connected to through years of collaboration. While some Transformational Festivals resemble music festivals, they are usually characterized by features such as classes, seminars, installation and Visionary art, drum circles, ceremonies, performances, eco-villages, deep participation, and radical inclusion, to name a few. Given the culture's environmental concern, Transformational Festivals also entail a Leave No Trace policy.
*Anthropos review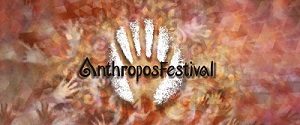 Hosted in Baldok, UK, Anthropos Festival was one of our favorite experiences of 2019. Despite the grim weather, that did not affect the festival production or the overall vibe of the experience. The sun came out during the drum circle ceremony and we embarked on a beautiful journey of amazing music, with headliners such as Desert Dwellers, Ott, CloZee, Johnny Blue, Hedflux, and Globular. Right before the main ceremony on Saturday night, DJ Keyframe got to share this mix:

The dancefloors were nestled within the forest, with visionary art surrounding the beautiful landscape. Even though it was their first year, the Anthropos team delivered an excellent experience to attendees with vegetarian food, visionary art dome, and healing and flow arts areas, with no glass or plastic in sight. With the second edition returning on June 11-15, 2020, we highly recommend this festival for those seeking more than just music and want to experience a unique and mythical festival.
Meaning 'human' in both ancient and modern Greek, Anthropos is a celebration of all of humanity throughout all time: past, present and future. The event invites you to explore the unique nature of our consciousness – our drive to create beauty through the arts and music, combined with our innate ability to gain wisdom through introspection.
*Red Marines review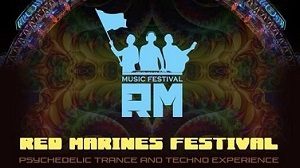 Hosted in northern California, this 2-stage festival had an excellent Psychedelic lineup which also included Techno and Chillout music. The Red Marines crew is very tight and well-seasoned, thus the entire festival took place like clockwork. DJ Keyframe had the honor of opening the first DJ set at Red Marines festival this year. Event featured DJs such as Perfect Stranger, Gizma, XIPIL, Jahbo, Gaspard, Penta, Acid Black, Shove, Parus, and Olowampi, to name a few.

*Serenity Gathering review


Serenity Gathering had the best music programming that we've seen in a while, with many genres represented and multiple stages. Also, their visuals were jaw-dropping and not to mention their deco were strikingly beautiful. DJ Keyframe also dj'ed there and we look forward to attending next year!
Serenity Gathering is a 3-day experience of art, music and open air education. Diverse musical lineups, innovative artists, experiential art and natural environments invite you to escape your day-to-day and find your Serenity.
*Lucidity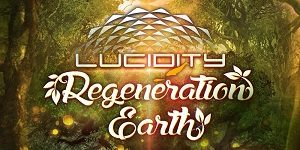 Lucidity is one of our favorite festivals of all time. We've partnered up on many different projects in the past and we're honored to be part of the evolution of such an intentional festival. Look for some surprises 2020; announcements coming soon!
Lucidity Festival LLC is a collectively owned organization dedicated to creating transformational experiences for individuals and communities; they are a production company, a creative lifestyle for expanding consciousness, and an interconnected community of friends and family. Everything they do revolves around the mission of advancing their core values in the world.
*The only disappointment of 2019 was Free Earth festival in Greece. Our team had a bad experience with the Chill stage manager and he was very unprofessional. While the festival landscape is remarkable, their food choices were limited and there were no accessible ATMs. This festival can definitely be world-class once they tighten ship.
Conclusion
As Keyframe goes into 2020, we'll continue our pivot away from music and film and into XR. We look forward to continue meeting and working with a range of talented partners uniquely positioned as industry leaders.
Some companies that we see doing great things in the Bay Area include:
Enklu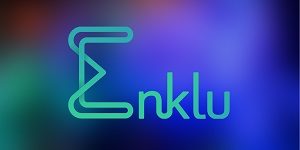 Enklu is a Microsoft Mixed Reality Partner and has been deployed globally in the worlds first consumer-grade applications on the Microsoft Hololens for Fortune 100 enterprises. Enklu creates critically acclaimed location-based-entertainment technology for AR headsets and mobile AR with stunning visuals and captivating interactivity. Enklu provides venues with a platform for creating and operating compelling first person narratives.
TribeXR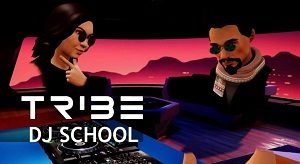 Tribe XR is an immersive VR application for aspiring and seasoned DJs. Play, learn and perform with their pro mix deck. Tribe XR features a fully functioning pro-style CDJ mix deck where you can upload your own music and refine your own unique sound.
Learn more about TribeXR in these videos from our Convergence of VR and Electronic Dance Music event hosted at SF's @The Great Northern:
*Tribe XR by Tom Impallomeni
*David Starfire performs live in Tribe XR onto Twitch and into The Great Northern
NewPath VR


NewPath VR creates research-driven apps for psychological and emotional well-being that exercise the power of virtual reality to change behavior. They create experiences using its proprietary Active Psychology™ platform which is based on psychological research with the goal of evoking positive change through transformative technology.
In the new year, we will continue producing events within the XR space. If you'd like to collaborate on our efforts, please contact us.
Thank you for visiting this page! Feel free to share it and we wish you happy holidays and a fruitful new year!